I love a good recipe request!
Emailed from one of my subscribers, I was recently asked to recreate the Subway White Chip Macadamia cookies as a healthier snack option. The brief was very simple, with Louise asking if I could clean up the ingredients list to improve the nutritional content as well as veganise the recipe for her.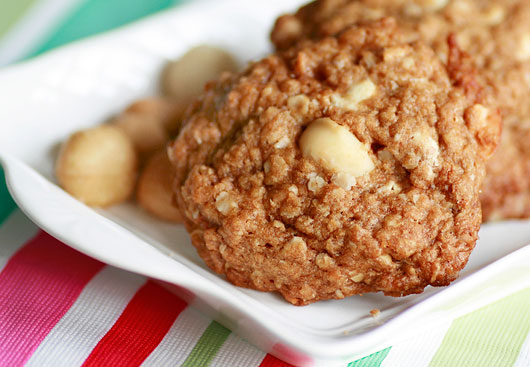 I remember enjoying these cookies in the past and before busting out the kitchenware I went and ordered some from my local Subway store. Typing up this post I can still taste how melt-in-the-mouth sweet they were. This wasn't just a pleasant 'om nom nom' sweetness, this was the kind that induced a headache of moody proportions from my blood sugar spiking and then crashing violently. How much sugar did this palm-sized snack have in it? The answer – 17.7g, A LOT. While I've seen amounts of 86g recommended as a daily sugar intake, I've also come across more appropriate figures of 20g for women and 35g for men taking into account added sugar vs naturally occuring simple carbohydrates in foods. Eating just one of these cookies would therefore take up quite a large chunk of your sugar intake of the day. Worth it or not?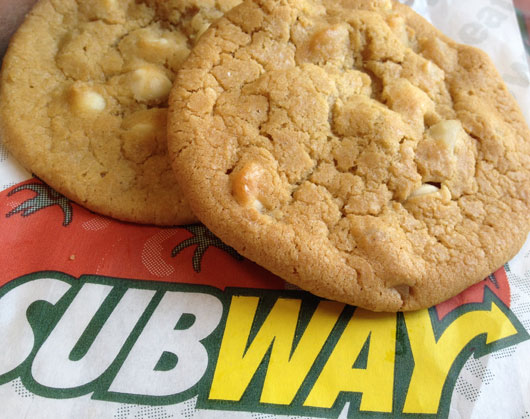 First up for this challenge was to find the ingredient list; to have a good looksie at what needed tossing out and substitutions. Luckily the Aussie Subway website has some handy PDFs to download.
Subway cookie:
Ingredients: Wheat Flour, Sugar, Margarine (Palm Oil, Butter, Water, Salt, Emulsifiers: E471, E322, Natural Flavour, Vitamin A Palmitate, Beta Carotene), White Chips (14%) (Sugar, Partially Hydrogenated Palm Kernel and Palm Oils, Milk Protein [Milk Powder], Emulsifier: E322, Flavouring), Macadamia Nuts (6%), Eggs, Molasses, Water, Flavouring, Raising Agent: E500, Salt.
Straight away it's a big goodbye to proccessed  wheat flour and sugar, synthetic fats, partially hydrogenated palm kernel and palm oils, 'natural flavour' and 'flavouring' of unknown origin, synthetic vitamin A palmitate and betacarotene. Hello heartier flour, unrefined sweetener, healthy fats and vanilla extract for flavouring! To veganise the recipe margarine (as many contain dairy), milk powder and eggs are out, coconut butter and cacao butter (or dairy free white-choc drops) are in.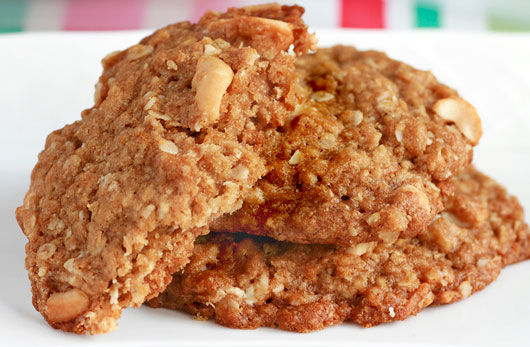 I then collected the nutritional data from the Australian Subway site and used tools at Calorie Count to work out the nutritional content for a direct comparison.
Subway – Nutritional Information Per Cookie : 912kj/218cal, 2.1g protein, 10.8g total fat, 5.4 saturated fat, 28.6g carbohydrates, 17.7g sugars, 0.6g dietary fibre, 163mg sodium
Om Nom Ally – Nutritional Information Per Cookie: 180cal, 2.3g protein, 11.7g total fat, 6.8g saturated fat, 18.1g carbohydrates, 6.9g sugars, 1.8g fibre, 53mg sodium
Being a cookie, this is still a moderately high calorie snack, though much lower in sugar than the original. The cookies now feature 300% more fibre per serving and a third of the sodium. While the fat and saturated fat is actually slightly higher, it's all due to the amazing medium chain fatty acid content of the coconut oil. Most importantly, they have a beautiful melt-in-the-mouth texture and a very pleasant chewiness. I hope you love them Louise!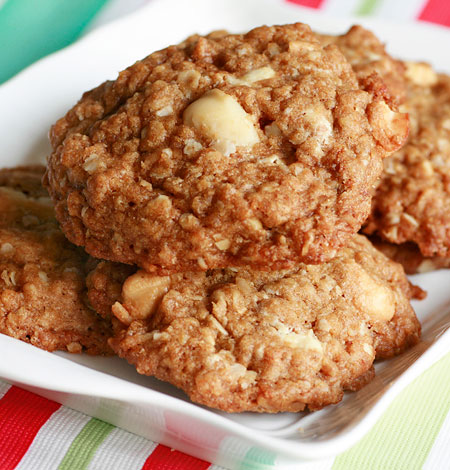 Cashew & Macadamia White Chip Cookie
Who needs Subway when you can make THESE cookies! (dairy-free, egg-free, soy-free, vegan, wheat-free)
Author:
Alison Murray @ Om Nom Ally
Ingredients
1 cup whole spelt flour
1 cup rolled oats
½ cup coconut sugar (or other unrefined sugar)
⅓ cup cacao butter, chopped (or white choc chips)
⅓ cup shredded coconut
¼ cup macadamia nuts, chopped
¼ cup cashews, chopped
½ teaspoon baking powder
¼ cup coconut oil, melted (or use organic butter - not vegan)
3 tablespoons water
2 tablespoons raw agave
Instructions
Preheat oven to 180°C. Line a baking tray with baking paper.
In a large bowl combine flour, oats, sugar, cacao butter, coconut, both nuts and baking powder. In a smaller bowl mix together coconut oil, water, and agave syrup, stirring well to combine. Slowly incorporate wet mixture into dry in batches, stirring well to combine.
Drop tablespoons of cookie dough a few inches apart onto baking sheets, allowing room for spread.
Bake for 10 minutes, until spread and flattened and lightly browned. Cool on tray for 5 minutes or until firm, remove to cool completely on wire racks.