Yes, it's a stereotypical giant cliche but Melbourne and it's unpredictable weather is beyond ridiculous sometimes. With some warm weather returning for late March, I thought I could relax a few more weeks before unpacking the Michelin-man style layers needed to brave the moody Melbourne winter. A mid-morning storm, sideways rain and biting winds has killed that happy plan however and I'm typing this in wooly socks, thermals and the fuzziest warm jumper that has ever existed. Unpredictability aside ("Four seasons in one day"), I'm not looking forward to another long, grey winter.
While the bleakness certainly forces me to be more introspective and maybe more creative with my time I'm simply not ready to wait 9 months to dive back into warmer weather (and the ocean). I've decided therefore to prolong the fleeting summer-time vibe by indulging my cravings for (coconut milk) ice-cream with tart berries and flavour-intensifying  beetroot. Sounds strange? Try it, you know that anything this lusciously pink has to be fantastic!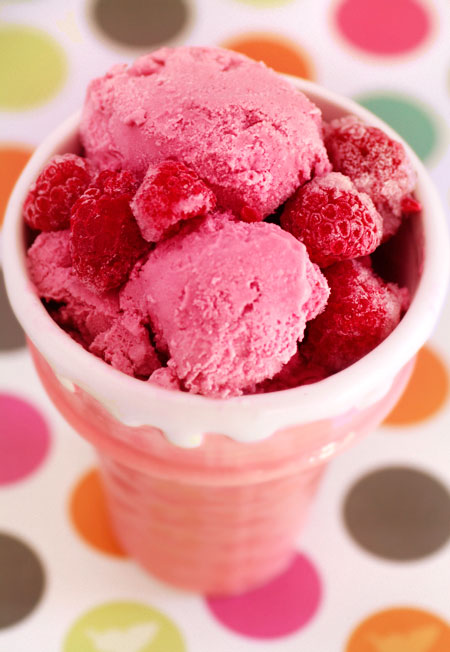 (dairy-free, egg-free, gluten-free, nut-free, soy-free, vegan)
Author:
Alison Murray @ Om Nom Ally
Recipe type:
Dessert, Frozen
Ingredients
2 400ml cans of coconut milk (98% coconut if possible)
2 tablespoons coconut sugar
1 cup raw grated beetroot
1 cup raspberries, frozen or fresh
Instructions
Place freezer safe container and freezer bowl of ice-cream maker in freezer 24 hours prior to making recipe.
Warm coconut milk and sugar on medium low heat, until liquid begins to simmer and get foamy.
Remove from heat, stir in raspberries and beetroot. Let rest 20 minutes until cooled.
Pour into a blender and process until smooth. Pour blended mixture through a fine-mesh strainer over a medium bowl to and press with fingers remove raspberry seeds and push through majority of mixture.
Cover and chill in fridge for at least 3 hours.
Follow icecream maker instructions to churn ice-cream mixture and transfer to prepared container from freezer.
Eat straight away or return to freezer in prepared container. When removing from freezer to enjoy, let stand on counter for 5 minutes to soften before serving.