I love making to-do lists.
Pretty boring start to a yummy breakfast post eh? Without my A5 diary though, or all the notepads strategically placed around our house, I'd never get anything purposeful done. Including making delicious and well thought out meals, snacks and treats hehe. My brain is always running on full power you see, it's cyclic and over-filled with the million things I have to do for college (2 essays, plan/prep for 9 exams, 3 case studies, 3 studyguides and 2 manufacturing journals atm) as well as all the other work, household stuff and random weirdness I think about. It's messy in there! To do lists help me be less mentally verbose and streamline my downtime into something resembling 'useful'.
And the most important thing on my to-do list so far today? I spy some baking in my near future!
I need to make another tray of my Fudgy Black Bean Brownies – they keep getting eaten before I can take all my photos. Yep, they are that good! I also bought 4 packs of strawberries and have 10 bananas in the freezer, so I do believe it's a good day to prepare some Strawberry-Banana Breakfast Bakes for tomorrow 🙂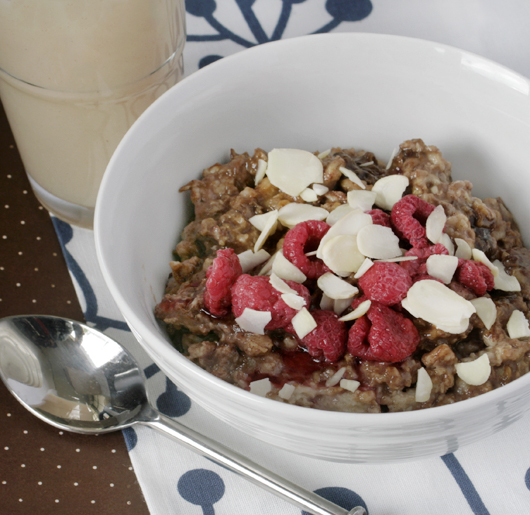 The only other thing I need now is to enjoy an energy-fueled breakfast, then I'm good to go. Luckily I had one such bowl-of-awesome already ready to show you. For anyone who got my email glitch last week, this is the Cacao Molasses Oats you've wondered about!
 Soaked and cooked overnight in water (or ready to go in a hurry in the morning), these oats are bolstered with raw cacao, blackstrap molasses, chia seeds and a scoop of rice protein powder – to keep me bouncing around my to-do list all day!  I'm sure the chia seeds mixed in help with that, I don't know if I could survive on only them for days (as the Andeans and Mayans purportedly did) but they definitely influence my energy levels for the better. Using raw cacao means you also get an antioxidant rich breakfast, with much higher antioxidant levels than processed cocoa or chocolate as well as the benefits of omega 6 essential fatty acids (which go rancid and contribute to inflammation when heated). There is a wealth of information here, for anyone who hasn't made the switch to raw cacao products yet. I would feel guilty eating chocolate for breakfast, but not the majestic cacao bean!
As well as being rich in antioxidants (cacao), minerals (blackstrap molasses), fibre (oats) and omega-3 fatty acids (chia seeds) the recipe is vegan, dairy-free and wheat-free; is gluten-free if you use uncontaminated oats and nut-free if you don't sprinkle on sliced almonds (like I did). I do recommend keeping the raspberries in the mix, I love how they taste alongside molasses – but any yummy little berries will do. Sliced banana would be amazing in a pinch too. With molasses as the sweetener, and 1/2 tsp cinnamon this is pleasantly sweet without being sugary. It went perfectly with a glass of my Cinnamon Quinoa Milk too…. mmmmm.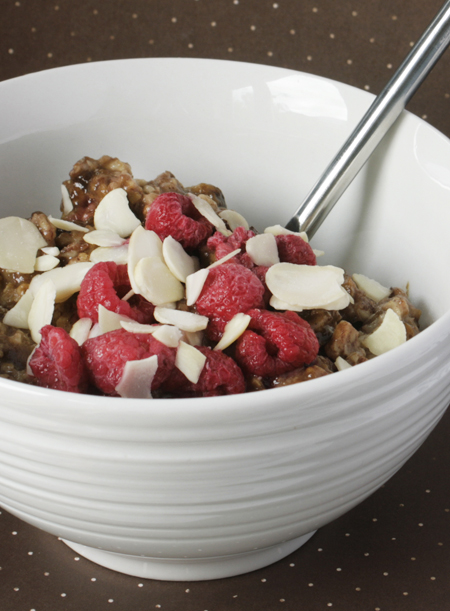 Cacao Molasses Oats
Serves 1 – 2
(vegan, dairy-free, egg-free, soy-free, wheat-free; gluten-free if using uncontaminated oats)
1 cup rolled oats (use gluten-free oats if necessary)
2 cups water
1 tbsp raw cacao powder
1/2 tsp ground cinnamon
1 tbsp rice protein powder (or other protein)
1 tbsp blackstrap molasses
1 tbsp chia seeds
1/2 tbsp agave (optional, depending on sweetness required)
Optional extras – fresh raspberries, sliced almonds (or anything that tickles your fancy really!)
Soak oats overnight in bowl, or cooker bowl (on preset timer) OR just prep in the morning.
Option 1: Add oats and water to rice cooker bowl and stir well to combine.  Set rice cooker to program setting for oats, porridge or soup and allow to cook for predetermined time. After cooking time has finished, stir through cacao, cinnamon, protein, molasses and chia seeds and divide oats between two bowls. Serve with toppings of choice, eg nuts, berries etc.
Option 2: Add oats and water to medium saucepan and heat stove to medium. Stir ingredients to ensure they are well combined, let oats cook for 3-5 minutes until mixture starts to bubble. Stir a few times and allow oats to bubble for another minute or so, stirring occasionally, or until thick and creamy.
Take off the heat, stir through cacao, cinnamon, protein, molasses and chia seeds and divide between two bowls. Serve with toppings of choice, eg nuts, berries etc.
I eat oats a lot, I love breakfast food! What do you have for breakfast?