Now I'm aware that it's winter here in Melbourne and I should be focussing on what's in season… but I have a problem when I see recipes I like. I need to try them right now, 10minutes ago, last night! It's never soon enough once I start craving something yummy. This recipe is from the July edition of the US Clean Eating magazine (as a sidenote, it's just been released in Aus too, but I can't seem to find anywhere that stocks it *pout*) and it was goooooood. Being me, I changed out some of the ingredients I didn't have on hand and just had some fun with it – putting our new Oneida pans to the test on the stove and then oven to finish off the dish.
Out went the egg whites from the original recipe and in went whole eggs. Why? Because it's mostly the yolk that contains the nutritional boost, and who wants to miss out on all the good stuff? The resulting recipe is still light and fresh tasting, I adored the combination of vegetables that went in and it served up nicely with an uncomplicated salad. Leftovers willingly went to work the next day for lunch and it was happily gobbled up by the boyfriend as well. No complaints here! I was also happy that a magazine recipe actually came out awesomely! While I love rushing off to try the best-greatest-newest thing I've just seen somewhere, I've had some disasters and kitchen tantrums before. But this was A++ all the way.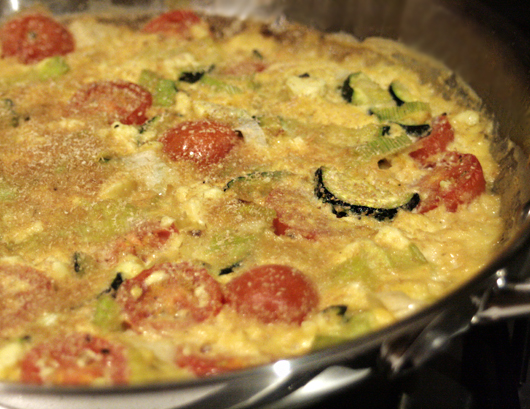 Why is this such a great no-fuss dinner?
As the magazine so amazingly puts it itself – "Leeks are a very good source of manganese, an essential nutrient that activates the enzymes needed for your body to utilize nutrients such as thiamin, biotin and choline [present in eggs]. They're also a good source of vitamin C and have been shown to support cardiovascular health because of the concentration of antioxidant polyphenols." So the fantastic ingredients are more complementary than just flavour, with one aiding the digestion and utilisation of the other!
[fb-like-button]
Summer Vegetable Frittata
Adapted from Clean Eating, July 2011
Serves 4
(vegetarian, gluten-free, nut-free, soy-free)
Ingredients
1 tbsp olive oil
1 leek, trimmed, washed and sliced into half-moons (about 1 cups)
1 medium zucchini, washed (not peeled), sliced coarsley (about 2 cups)
8 cherry tomatoes, halved
3 or 4 large eggs
1 tsp dry mustard powder
1 tsp Herbamare
1/4 tsp ground black pepper
50 grams feta cheese, crumbled
1 tbsp fine rice-crumbs (or other gluten-free breadcrumb, or wheat germ (not gluten-free))
In a large oven-safe frying pan, heat oil on medium-high. Add leek and zucchini and saute until softened, 2 to 3 minutes. Add tomatoes and saute for 1 minute, until heated through. Reduce heat to medium.
In a medium bowl, whisk eggs mustard powder, herbamare and pepper before pouring egg mixture over vegetables in pan. Cook, using a rubber spatula to stir and push egg from edges to center of pan so liquid can run underneath. Sprinkle crumbled feta over mixture, distributng evenly. Reposition vegetables and feta evenly around pan as needed.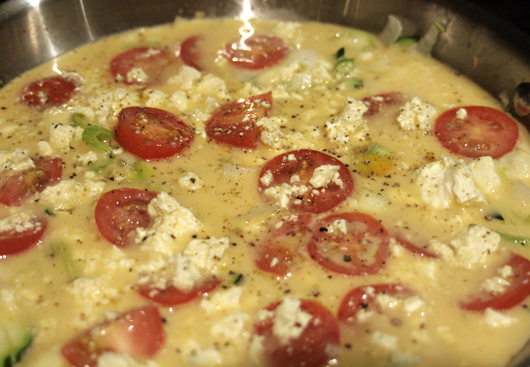 Cook until egg whites are almost set, about 3 minutes – eggs should still be a bit wet on top but otherwise set throughout. Scatter bread crumbs evenly over top. Place pan on middle oven rack beneath broiler/grill or oven on grill function. Grill until bread crumbs are toasted and egg are completely set, 4 to 5 minutes.
Remove pan and let frittata sit for 2 to 3 minutes. Gently run spatula around edge and underneath frittata and carefully slide onto a cutting board or serving platter. Slice frittata into 4 wedges and serve immediately. Garnish with a sprig of fresh herbs, if desired and serve with fresh salad.