Spice mixes can lift the most boring of meals to something truly special. This piece of knowledge can be very handy if, like me, you make the same quick 'n' easy meals most nights. I buy my herbs and spices in bulk from this company, then I spend a little time refilling small single spice jars or making up a few mixes to easily throw into my meals while cooking for the flavour burst I'm craving at the time.
It's incredibly cost effective to buy spices this way and the leftovers after concocting my favourite spice mixes are kept in a cool dry place, or in my chest freezer. Making your own favourite blends is also a much healthier way to enhance your cooking with flavour as you control the sodium levels and avoid some of the unfavourable ingredients in store bought mixes – e.g. maltodextrin, monosodium glutamate, food acids, sugar, 'flavour' or vegetable oil.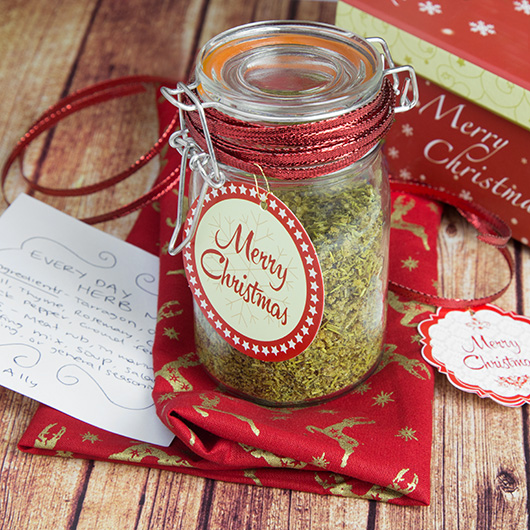 When I saw the Recipe Redux theme of the month was "Add Merriment to Mixes" I felt pretty ecstatic. As my first ever time participating in Recipe Redux it could not have been a better theme for me as I love giving and receiving food gifts! By sharing the spice-love with my nearest and dearest for their holiday cooking adventures I might even nab myself a fantastic future meal!
I settled on five mixes that I would call my essentials due to their broad uses in the kitchen. You'll also need to find some cute jars, hand-write a note for gifting and get the ribbon ready!
An All-Purpose Mexican Seasoning to be used for tacos, fajitas, burritos etc. or any recipe where you would like a little heat and pungency.
An Everyday Herb Mix mix for meat rubs, salad dressings, stuffing, and any other recipe that calls for mixed herbs.
A Mild Curry Powder that would add some heat and glorious colour to curries (obviously!) and soups or add some kick to marinades, dressings and sauces.
Apple / Pumpkin Pie Spice that can also be added to muffins, cakes or pancakes to complement seasonal fruit flavours in the ingredients.
A Basic Pickling Spices Mix for adding to pickling recipes or to brine for lacto-fermenting.
(Visited 259 times, 1 visits today)