I just spent a week in Sydney for the holidays and found myself really homesick for my old life up there. I spent most of my time 'educating' Kam on why Sydney is the best place to live. He's still not sold on it.
I was however happy to get home to Melbourne if only to have all my favourite food ingredients and kitchen doodads at my disposal again. It's true that we often eat very differently when on holidays; it's not just our daily routines that change when we're away from home.  Personally I found that I really missed my Optimum blender most of all. It's become a huge part of my dietary lifestyle – so much so that Kam and I bought Boost Juice smoothies almost daily while in Sydney. Gotta have my daily smoothies!
The other thing I didn't eat once while I was away was porridge for breakfast. While I had delicious yoghurt with fresh fruit and muesli, or protein-rich eggs with all the fixings most mornings, it's oats and porridge that normally gets me raring to go. I just couldn't wait to put a pot on the stove the morning after we got home.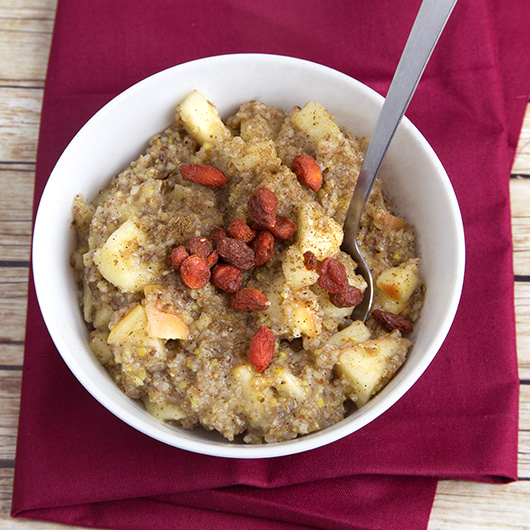 Bob's Red Mill 10 Grain Hot Cereal is the porridge bubbling away on my stove lately, but you can make this breakfast bowl with your favourite flaked, shredded or wholegrain porridge product. Try it with steel cut oats or shredded buckwheat kernels – so good!
If you're recovering from holiday sleep-ins like me then you'll also love that there's a not-too-secret, secret ingredient in this apple and cinnamon porridge combo – a hint of espresso powder to help put some spring in your step again while your body clock adjusts! Caffeine, an ergogenic aid, increases power output and can provide mental focus. The right breakfast in this case can help you wake up and stay up, the small amount of coffee in this fibre-rich porridge aiding you to move back into your normal sleep-wake routine while powering through your day. Not a coffee fan? Try cacao powder or nibs for it's theobromine content and enjoy a feel-good chocolate energy boost instead.
Wake-Me-Up Breakfast Porridge
Author:
Alison Murray @ Om Nom Ally
Cuisine:
Dairy-free, egg-free, nut-free. soy-free, vegan.
Ingredients
2¾ cup water
½ cup Bob's Red Mill 10 Grain Cereal (or oatmeal / rolled oats / whole grains)
1 large red apple, washed and chopped
1 tbsp flax meal
½ tbsp coconut sugar or maple syrup
2 tsp cinnamon
2 tsp espresso powder
1 tsp vanilla
optional toppings: goji berries, cranberrries, flaked almonds or coconut, pepitas etc.
Instructions
Bring water to a boil in a small saucepan and then turn the heat down to low. Add cereal or oats and simmer gently, stirring occasionally, until water is absorbed.
Take saucepan off heat and add chopped apple, flax meal, coconut sugar, cinnamon, espresso powder and vanilla. Stir gently to incorporate all ingredients and serve in two bowls. Sprinkle with extra cinnamon and add any topping ingredients of choice.
How was everyone's holiday break? Did you visit family or chill out at home? Tell me what you've been up to 😉
This post is linked to: Meatless Monday, Natural Living Monday, Simple Meals Fridays, Recipe Sharing Monday, Allergy Friendly Wednesdays, Fresh Food Wednesday, Simple Supper Tuesday, Healthy, Happy, Green & Natural Party, Tuesday Greens, Fat Tuesday, Real Food Wednesday, Natural Family Friday, Simple Meals Friday, Fight Back Friday, Simply Natural Saturday, Unprocessed Fridays,