When I discovered dry shampoo aerosols as a teenager, my whole life changed. I had the disadvantage of thick, bouffy, fluffy hair where the ends needing washing maybe once a week, but the roots every three days. The fact I used to have dyed, black hair and that I straighten it after every wash probably didn't help the situation much either. Using a dry shampoo equaled less washing each week and markedly improved my hair health overall in result.
Using a dry shampoo was something that posed a problem once I started living a cleaner life though. There's lots of '-ane' ingredients in commercial dry shampoo (propane, butane and isobutane usually) as well as synthetic 'fragrances'. It's the latter that I most actively avoid in beauty products and I don't quite understand why the product has to smell nice anyway. Regardless, you're hair is going to smell faintly like chocolate when you use this homemade dry shampoo, so enjoy that bit of sensory gratification everytime you use it between washes!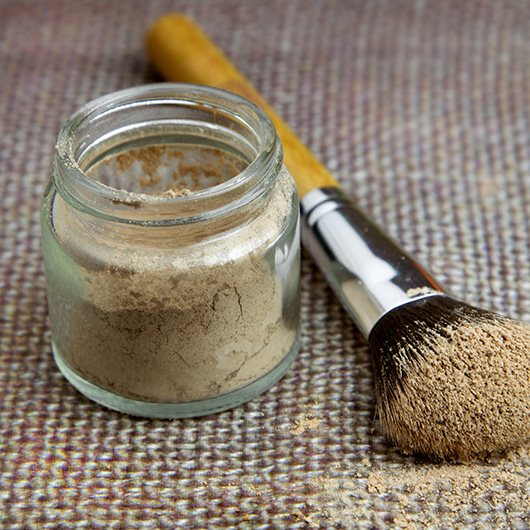 When To Use D.I.Y. Dry Shampoo:
As I've mentioned above, I tend to get oily roots between washes and can't wash my hair too often or it's gets very dry. This dry shampoo is the ultimate remedy for fresh looking, in-between-washes hair. It's also useful for a post-workout spruce-up when you're feeling a little grubby or on day-old washed hair when you're attempting a new cute up-do. What it doesn't do is replace normal hair-washing however and won't remove built up grime or product from your hair, so don't use it too many times in a row before giving your hair a normal wash.
 What You Need:
Starch – I personally like to use maize cornflour; arrowroot (tapioca starch) is also a great choice. The starch absorbs excess oil in your hair and also provides a bit of 'grip' when you're planning on sporting braids, buns or plaits for the day.
Cocoa or raw cacao powder – This is the colouring agent and how much you use will depend on your hair colour. For blondes, try using no cocoa at all or a ratio of 3:1 up to 2:1 of starch to cocoa. For mid-brown hair or auburn like myself, try 1:1 (as pictured above). For darker hair colours start with 1:2 starch to cocoa and make sure to buff and brush the powder in well to prevent tell-tale light patches.
Essential Oils (optional) – If you have extremely oily roots, try using tea tree essential oil or citrus oils like lemon for their oil reducing properties. You could also add rosemary, lavender or clary sage essential oil for it's healthy scalp promoting actions. Sometimes I use essential oils, other times it's just the starch and cocoa, and either way it's always fabulous.
How to Apply:
I prefer to use a makeup powder brush to apply dry shampoo powder – dip the brush into your jar, tap it against the inside rim of the jar to remove excess powder and then buff into your roots. The brush I use is this one (and their mineral makeup is fabulous too). You hair must be dry when you do this. Don't apply to wet hair unless you want an ugly, clumpy paste that you'll need to wash out.
An alternative is to store your dry shampoo in a clean spice shaker container and shake over your roots between washes. Then use your fingers to rub the powder into your hair. I'm not great with my hand-eye coordination when using the mirror as a guide, so this isn't my preferred method of application (i.e. I get it everywhere).
Don't panic if you hair looks lighter first on application, this will fade as the powder soaks up excess oil. After either method of application, brush or comb your hair after five minutes to further distribute the powder and avoid any powdery patches. And that's it! Natural, easy and inexpensive D.I.Y. dry shampoo.
D.I.Y. Dry Shampoo
Author:
Alison Murray @ Om Nom Ally
Ingredients
Corn starch
Cocoa/Cacao Powder
100g screw top, glass jar
6 drops essential oils of choice, in total (optional)
Instructions
Combine corn starch and cocoa in the following rations where each part is 1 tbsp:
Blonde/light brown hair - 3:1 - 2:1
Mid-brown - 1:1
Dark brown/black: 1:2 - 1:3
Add powder to oily roots and rub in well. Allow to sit for 5 minutes to absorb oils and then brush oil powder to roots with a bristle brush. Style hair as desired.
Notes
Essential Oils: Try lemon, tea tree, rosemary, lavender or clary sage for oil control and scalp health.
Use a total of 6 drops of essential oils per 4 tbsp of mixed dry shampoo powder (2 drops per tbsp of powder).
You can use a mix of essential oils, or just one but no more than 6 drops total per 4 tbsp powder.
 This post is linked to: Natural Living Monday, Healthy, Happy, Green & Natural Party, Tuesday Greens, Natural Family Friday, Simply Natural Saturday, Unprocessed Fridays,