It's six weeks into the Smoothie OTW Link-Up (and the last blog party before Christmas) and I couldn't be more appreciative of all we've achieved so far. With both regular and new contributors each week, I personally have discovered many fabulous recipes and blogs on these posts and had the opportunity to converse with lots of amazing people. Thank you to both the bloggers and readers who have joined in each week so far. I hope we continue to grow in numbers over the next weeks and months!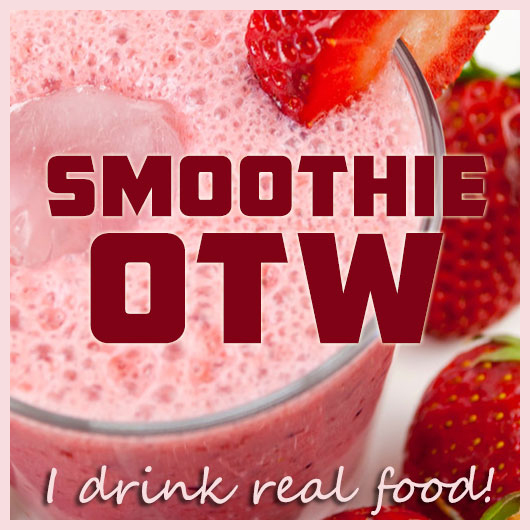 Featured Links | Guidelines | Links + Add Your Own | Ally's Smoothie OTW
I'll be away in Sydney next weekend with family so I'll be leaving this week's blog party open until Friday 27th December with our next event falling on 29th December when I return home again. As the blogging world goes quiet during the holidays the two week period will give you a more relaxed opportunity to link up during your holiday down-time if you choose. I'll still be promoting and pinning recipes (and making them in my Optimum 9200 blender) throughout that two-week period and we'll be back to full steam ahead in the New Year!
Remember to invite your favourite bloggers to link-up in the future too; this is an open community event for all health-focussed, like-minded individuals.
Featured Links
Last weeks featured recipes told me loud and clear you're in the mood for smoothies and that you're a fan of interesting flavour combos and winter harvest ingredients! You loved the dairy-free Chocolate Mint Smoothie that features my favourite flavour combination of all time and were equally excited by adding carrots or pumpkin to your daily smoothie in the Carrot Cake Smoothie or Paleo Pumpkin Persimmon Smoothie (or Pudding). Thank you to all the contributing bloggers and thank you to the readers who voted with your visits!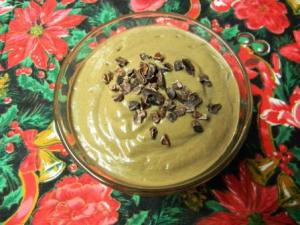 Chocolate Mint Smoothie – Ragdoll Kitchen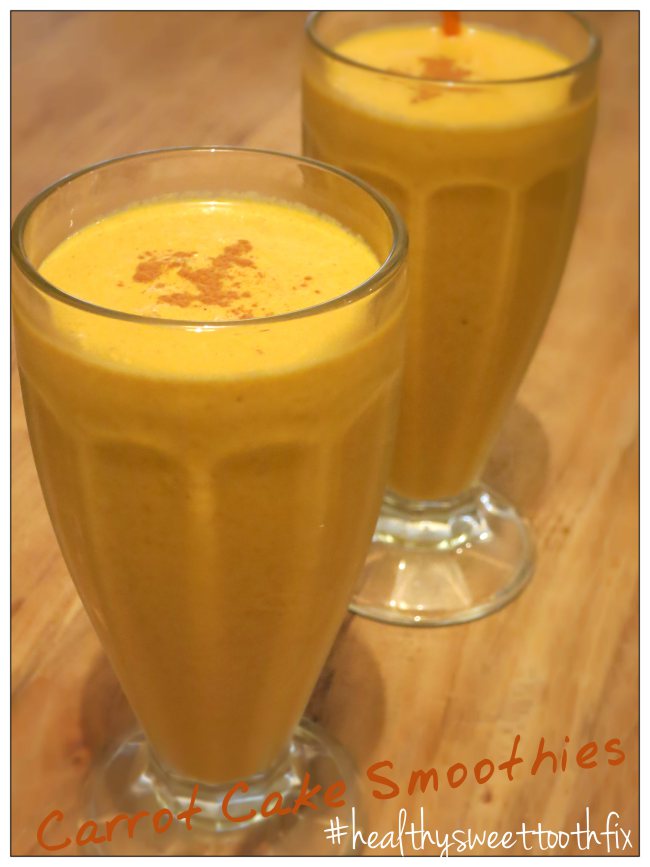 Carrot Cake Smoothie – Vegan Adventures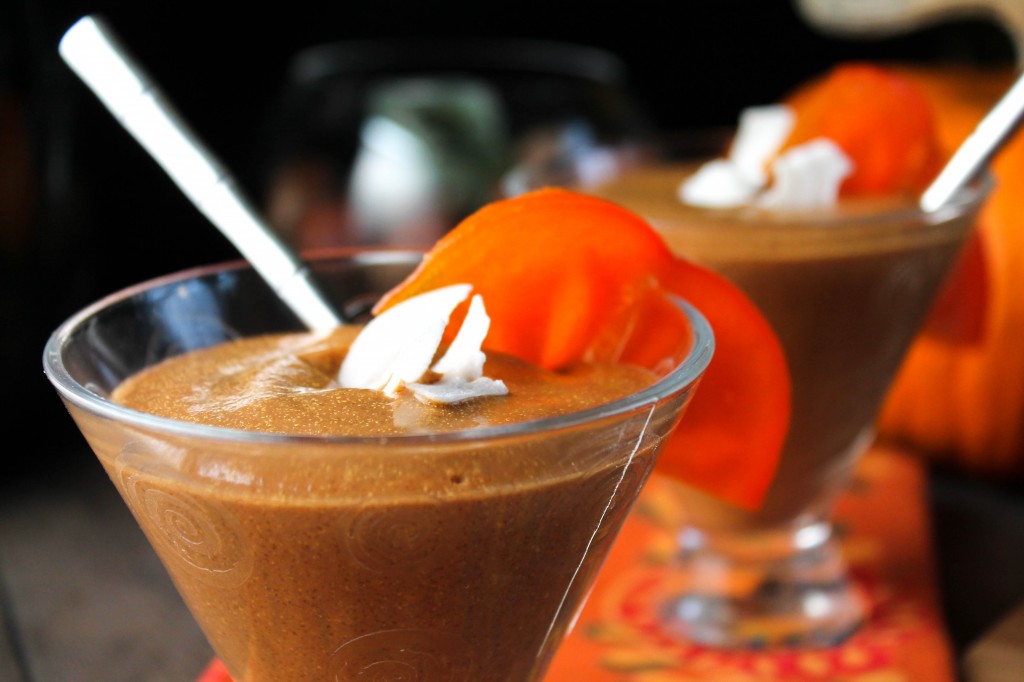 Paleo Pumpkin Persimmon Smoothie or Pudding – Tessa the Domestic Diva
Smoothie OTW Link-Up Guidelines:
This link party will start at 12pm Sundays and end at 8pm Thursdays (AEST).
Enter up to 3 links on relavent topics (see above). The post may be your newest, or from your archive – it doesn't matter, we want to see it! Linked recipes should focus on wholefood, unrefined and unprocessed ingredients.
Link to your specific post for each entry, not the main page of your blog. Enter your post description in the "NAME" space on this form (not YOUR name). Please do not add links that promote giveaways, online shops or other link parties.
You must link back to the party, either through a text link or button on your post (available below in two sizes). Leave a comment on the link-up page if you like and visit some other posted links that pique your interest – it's a community event after-all! Mentioning the link-up on social media is encouraged and will help this event grow to build a strong community based on real food recipes.
Every week I will pick 3 posts to feature on the Smoothie OTW Link-Up post. By entering your link, you are giving permission to use any part of your post (including images) in a spotlight on Om Nom Ally. Proper credit and links will always be given to you. Posts are also promoted on the Om Nom Ally social media channels and added to the Smoothie OTW Pinterest board.
Smoothie OTW Link-Up (Week 6)
[inlinkz_linkup id=351422]
(Return to top)
Ally's Smoothie OTW: Cranberry Kefir Smoothie
It's impossible to find fresh or frozen cranberries where I live (believe me, I've tried!) and to make fresh cranberry-style smoothie I like to rehydrate my unsweetened, dried cranberries in water or water kefir. After and they have become plump and swelled, the whole mixture (berries and soaking water) becomes the perfect base for a holiday smoothie.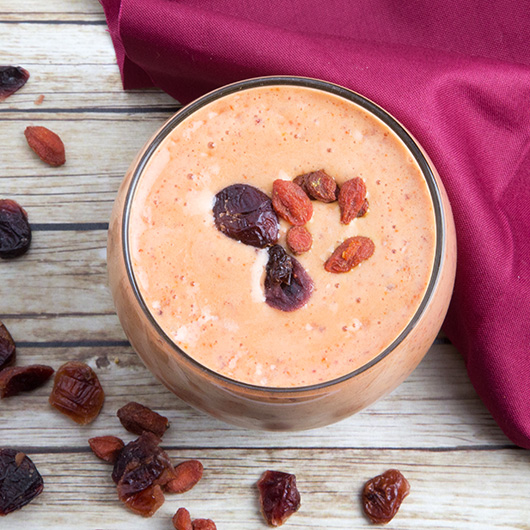 \

Cranberry Kefir Smoothie
Can't find fresh or frozen cranberries? Rehydrate your dried berries in water or probiotic water kefir for any recipe that requires fresh - or make this Cranberry Kefir Smoothiesmoothie!
Author:
Alison Murray @ Om Nom Ally
Recipe type:
Drinks, Smoothie
Cuisine:
Egg-free, gluten-free, grain-free, nut-free, soy-free, wheat-free, vegetarian. Dairy-free, vegan and raw depending on protein choice.
Ingredients
¼ cup dried cranberries
¼ cup goji berries
1 cup water or water kefir
½ cup frozen raspberries
2 scoops protein powder of choice
1 banana
Instructions
Soak cranberries and goji berries in water (or water kefir) for 10 minutes or until soft and plump. Tip into bowl of blender and add remaining ingredients. Blend on high until smooth.
Serves 2.
This recipe is also linked to: Whole Food Fridays, 
Recipe Sharing Monday
,