I had a short but sweet list of New Year's resolutions at the start of the year which including making and eating more fermented foods. Kombucha, milk/water kefir and home-made yoghurt have become staples in my diet since then and I've also now got a "science experiment" corner in the kitchen where something or other is bubbling away towards being deliciously sour, fermented goodness.
There's many different starters you can use for fermenting and this is the simplest lacto-fermentation starter method of all with only two easy-to-find ingredients – Celtic sea salt (non-iodised) and filtered or spring water. Add a couple of bunches of salad radishes (8-12 small, round radishes) and a little bit of patience and then watch the magic of cultured vegetables happen!.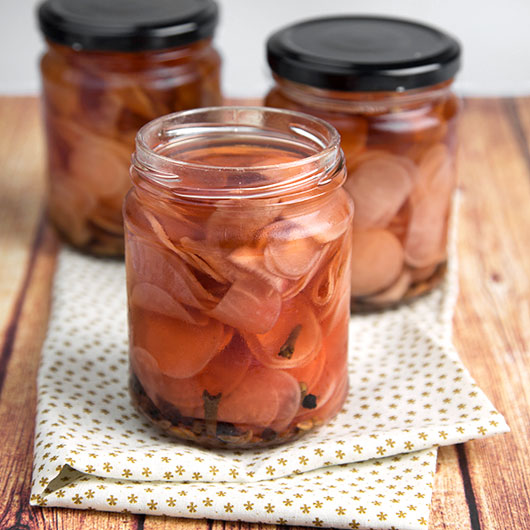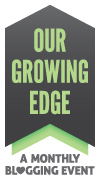 I've made these lacto-fermented radishes a few times now, fiddling around with the spices and amounts of each to use and I think I've got it licked. Peppery and delectably sour, I love to add some cultured vegetables to leafy  garden salads or sandwiches, or wrap some up in rice paper rolls with chicken and vegetables. Play around with your mandolin/food processor settings for your favourite thickness. This batch was a little too thin for my liking – I like my fermented radishes cut a little thicker so they stay even crunchier.
This post is part of the monthly link up party Our Growing Edge. This event aims to connect food bloggers and inspire us to try new things. This month is hosted by Becky from My Utensil Crock. 
Peppery Lacto-Fermented Radishes
Author:
Alison Murray @ Om Nom Ally
Recipe type:
Fermentation
Ingredients
3 cups boiling water
2 tbsp celtic sea salt
2 bunches of salad radishes, washed and tops and tails removed
1 tsp whole cloves
1 tsp whole peppercorns
½ tsp caraway seeds
Instructions
Make brine by dissolving the sea salt in water and put aside to cool. Wash and sterilise 3 250ml capacity jars. Mix spices together in a small bowl and set aside.
Thinly slice radishes with a mandolin or food processor slicing attachment. Distribute mixed spices between the three jars then pack the sliced radishes on top and pour cooled brine over the top and leave 2cm headspace.
Push any floating radish under the water and weigh down with small saucer or jar lid, stone, small cup filled with water or crumpled baking paper. Cover tightly and allow to ferment for a minimum of 3-4 days or until fermented, bubbly and sour (I left mine to culture for about a week). Store in a cool, dark place (where it will continue fermenting), or in the fridge.
This post is linked to: 
Our Growing Edge
,
Tasty Traditions,
Traditional Tuesdays
, ,
Raw Food Thursday
,