Vanilla is one of those rich and exotic scents that makes you take a double-deep breath when it hits you. It's one of the most beloved scents universally and is also one of the most expensive spices to buy, whether in the form of whole pods, powder, paste or powder. Sure, you could skip the expense and buy the cheap vanilla 'flavouring', but why compromise on purity with products containing controversial Tonka Bean or even worse, castoreum? Don't know what that last one is? Click the link… you'll never buy anything natural flavoured vanilla, strawberry or raspberry  again!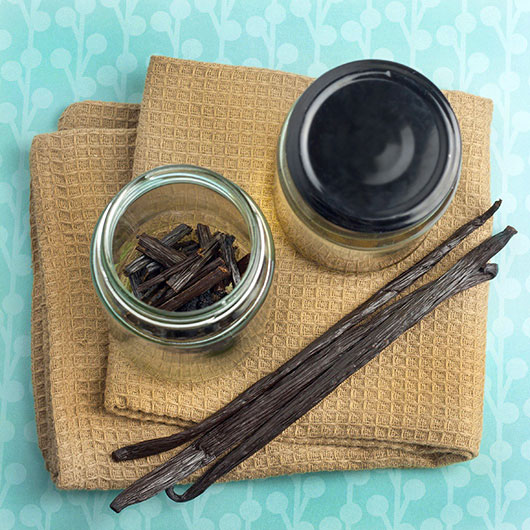 Making your own vanilla extract is a thrifty alternative if you're feeling the pinch in the baking aisle. As long as you can get your hands on at least two vanilla beans (organic or the highest quality you can buy) and some alcohol, you'll have enough home-made vanilla extract to keep you busy baking for a while. Add a pretty ribbon and a personalised gift tag and you've also got some nifty presents for loved ones.
We can't actually smell 'sweet' as a scent, which is why vanilla is often added to lots of baked goods and desserts – we interpret this smell as something being sweet and flavourful. Vanilla also helps to lift the flavour of other ingredients; I love to add it to anything containing chocolate to bring the complex bittersweet flavours out.  What's your favourite way to use vanilla?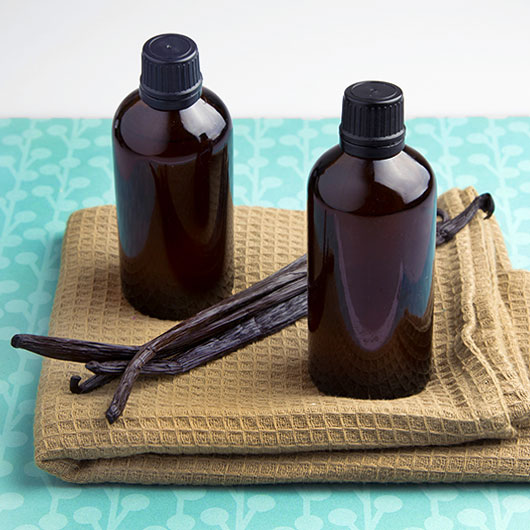 Home-made Vanilla Extract
Say NO to expensive store-bought vanilla extract and NO to cheap imitations - make your own home-made vanilla extract!
Author:
Alison Murray @ Om Nom Ally
Ingredients
2 vanilla beans
2 tbsp filtered water
2 cups vodka (or brandy, rum or bourban)
Instructions
Cut beans in half lengthways with a sharp knife and use the back of a small spoon to scrape out the seeds into a sterilised 500ml jar. Cut the empty pods into a few pieces and drop these into the jar as well.
Add filtered water and alcohol and seal jar. Shake vigorously for at least one minute and place sealed jar in a dark cupboard.
Shake jar daily for at least one minute and allow vanilla to extract for a minimum of 9 - 12 weeks.
After extraction time, filter vanilla extract through a fine sieve or coffee filter and seal in small glass or amber bottles.
Notes
This recipe is for 'single-fold' vanilla extract. To make larger or smaller amounts of extract use a ratio of 1 vanilla bean + 1 cup alcohol.
For double-fold or triple-fold vanilla extract use 2+1 or 3+1 respectively. When making double or triple-fold vanilla extract you will be able to use less in recipes, e.g. ½ tsp instead of 1 tsp.