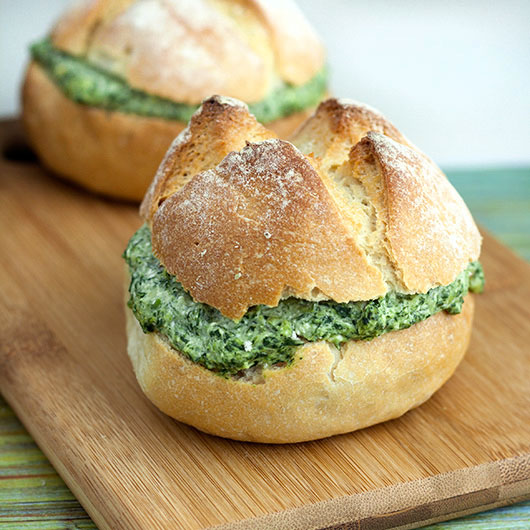 My friend's mother makes the best cob dip. So good in fact that at every party she ever hosts it's the first dish everyone lunges for. That or her to-die-for potato bake.  Or the chocolate mousse cake. I always knew I would be well fed at those parties and I still dream about those cob dips many years after moving away from Sydney.
I spend a lot of time re-inventing foods from meals I've eaten once somewhere, or recipes I vaguely remember the gist of. While my creation isn't exactly the same as the original that inspired it (as I didn't ask for the recipe), this creamy spinach dip tastes just as fabulous to me and even comes with it's own single serve cob roll bowls.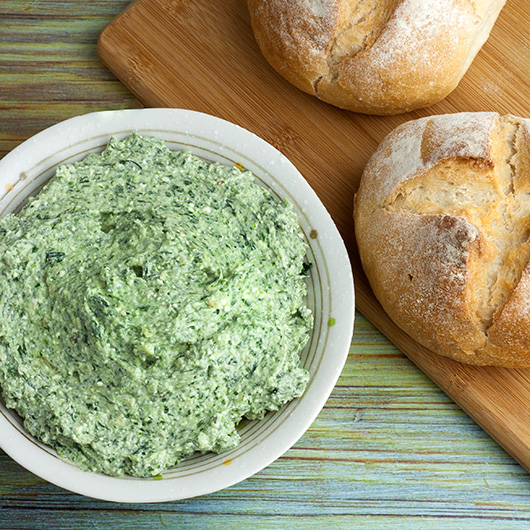 I've used cottage cheese and Greek yoghurt to make a pleasanty tangy and high protein spinach dip that's just as good with some vegetable crudites as it is in housed in it's own little bread bowls. While you can use fresh or frozen spinach for the filling, aim to buy organic spinach where possible as conventional spinach is a heavily sprayed crop (as are most leafy greens).
While it's best served fresh out of the oven, the whole roll can be kept warm if wrapped in foil or can be reheated after a gentle stir of it's contents a couple of days later. With their single serve sizes these mini cobs are portable enough to take to a picnic and messy enough to keep kids entertained as they tear apart the bread for an afternoon snack. If it's one big party dish you're after then double the amount of filling ingredients and hollow out a larger cob or boule – as you've probably figured out already, it's perfect party food!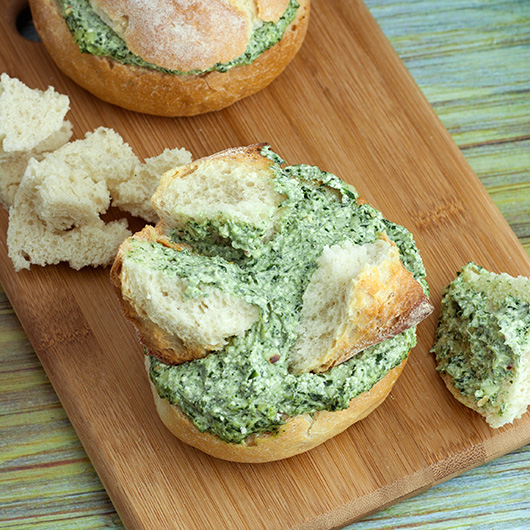 Creamy Spinach Dip in Mini Cob
Author:
Alison Murray @ Om Nom Ally
Recipe type:
Snacks, Dips
Cuisine:
Egg-free, Nut-free, Soy-free, Vegetarian. Gluten and Wheat-free depending on bread choice.
Ingredients
1 tbsp ghee (or coconut oil)
1 medium brown onion, diced
2 garlic cloves, minced
100g chopped fresh spinach leaves (or 100g frozen spinach thawed according to directions on package)
250g cottage cheese or quark
100g Greek yoghurt
½ tsp chilli powder
4 mini cob, sourdough or kaiser rolls (or suitable gluten/wheat-free rolls)
Instructions
Preheat oven to 180C. Heat ghee or coconut oil in a small frypan. Saute onion over medium high heat until softened and translucent. Add minced garlic and cook for 1-2 minutes or until aromatic then take pan off the heat.
In the bowl of high quality blender (I recommend the Optimum 9200) or a food processor, add the cooked onion and garlic with all the other ingredients (except the bread rolls). Process until well combined.
Cut off the tops of the bread rolls with a serrated knife and scoop out the inside of the bread roll, leaving a 1cm border intact. Keep bread roll 'lids' and removed bread aside.
Place prepared bread rolls on a baking tray and fill each equally with dip mixture. Bake for 10 minutes or until bread is crisp and dip mixture is golden on top. Replace bread roll 'lids' and serve with extra removed bread from earlier.
Enjoy immediately by ripping off pieces of bread and dipping into cob bowl or wrap in foil for travel to eat later.