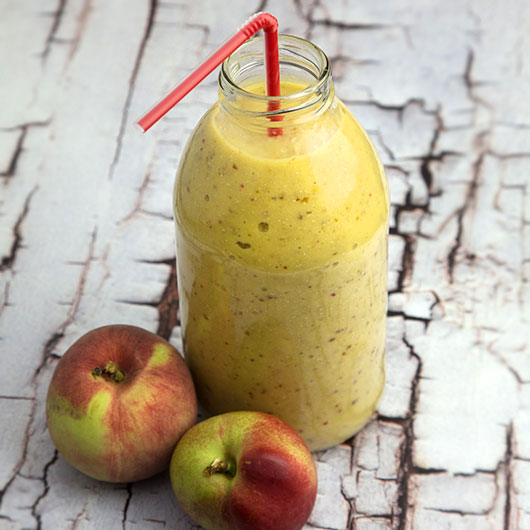 So I've been thinking about this for a few months – hosting a link party. I love participating in link parties myself; they're a fun, engaging, community blogging experience and I always stumble across a new favourite blog I would never have found otherwise.
#SmoothieOTW is a social media feature I've created and posted on every weekend that catalogues my favourite smoothie of that week (Smoothie OTW). Sometimes these concoctions may be green, sometimes they're fruity and they're always delicious and nutritious! From this love of sharing my blender experiments I now want to build a weekly resource for lovers of all things smoothie (and juices, blender soups and homemade beverages). So as of next Sunday 10th November at 12pm, bring your blender, juicer or kettle and put on your fanciest party hat – we're having a healthy blender party!
I'll update this page as details and buttons/badges are finalised. [Edit: I've moved the guidelines to the main Smoothie OTW page, grab the linky goodies and check out the info for participating]
Please share this page or any Smoothie OTW Link-Up post with bloggers you think would like to participate.
#SmoothieOWT - Om Nom Ally - Summer Stonefruit Smoothie
Everyone go raid the fruit bowl for the stone-fruit, it's smoothie time!
Author:
Alison Murray @ Om Nom Ally
Recipe type:
Beverage, Smoothie
Cuisine:
Egg-free, gluten-free, grain-free, nut-free, soy-free, wheat-free, vegetarian. Dairy-free, raw and vegan depending on ingredient choice.
Ingredients
Flesh of two mangoes
2 nectarines, pitted
2 peaches, pitted
4 pitted prunes
1 cup milk, milk kefir or non-dairy beverage
1 tbsp chia seeds
2 tsp bee pollen (optional and leave out for vegan smoothie)
2 tsp maca powder (optional)
Instructions
Blend all ingredients on high in a high-powered blender (I use and I recommend the Optimum blender range).