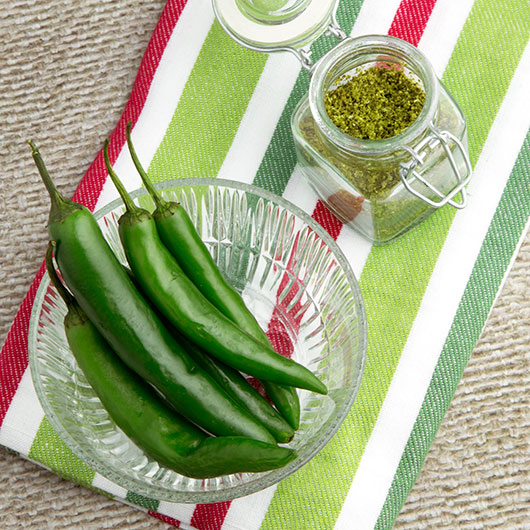 So what would you do when you score a kilo of chillies on the cheap?
You heard me, I currently have a whole kilo of chillies in my possession. I'm well aware they aren't going to last more than a week in the fridge, and I can't just pop them in my mouth like (nature's) candy one by one. Well, not without a whole lot of 'fun'. Yep, they're going to need preserving so I've just planned up a whole day of freezing, drying and pickling for my big ol' haul of fiery chillies. This should spice up my meals for many months to come.
The preparation for this recipe is incredibly simple, you just wash and dry the chillies then cut their caps off. You will however need two important pieces of equipment – a dehydrator and a spice grinder. While you could potentially use a low-temperature oven for drying, it tends to cook the chillies instead, so I wouldn't recommend it. Dehydrating retains the colour inside and ensures the chillis dry evenly – essential for long-term storage. I also wouldn't bother slicing the chillies in half to de-seed them; ideally you want to keep the nutrient-rich seeds where they are. It's a fallacy that the seeds are the hottest part of the chilli as it's actually the membranes on the inner ribs of the fruit that cause you to seek relief. With that in mind you can just leave the seeds alone and enjoy the vitamin C boost they give.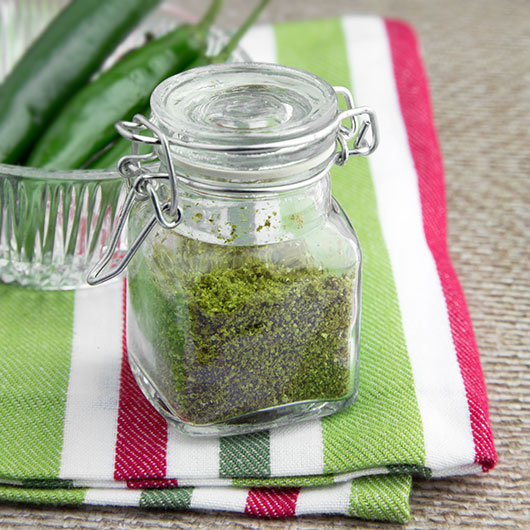 The whole chillis will blacken in the dehydrator, but when chopped and whizzed in the spice grinder the whole mixture returns to a delightful green hue. It also turns out a bit more powdery than the batch of red I've made, for reasons I'm unsure of (ripeness of the fruit maybe?). While this green chilli powder packs a punch of flavour and heat, keep in mind that it doesn't have the same fruity tones as red chilli powder either. Use sparingly to build heat in Tex Mex/Mexican or Asian cuisine recipes, but feel free to incorporate red chilli powder too for piquancy. Finally, make sure to pack this green chilli powder in small glass jars and store in a cool dark place to maintain the potency and flavour.
"The aroma of good chili should generate rapture akin to a lover's kiss." – Motto of the Chili Appreciation Society International
Home-made Green Chilli Powder
Green chilli powder is one of those ingredients you'll hardly ever see in the shops - so just make your own! Packing a vibrant, spicy punch, try this Home-made Green Chilli Powder in your dehydrator.
Author:
Alison Murray @ Om Nom Ally
Cuisine:
Dairy-free, Egg-free, Gluten-free, Nut-free, Soy-free, Raw, Vegan.
Ingredients
Long green chillis (at least 5)
Dehydrator
Spice grinder
Instructions
Wash and dry your chillies, cut off the green caps and slice in half if you prefer. Do not de-seed chillies.
Lay chillies on dehydrator sheets and dehydrate at 125F/52C for 8 - 12 hours or until completely dry. Alternatively, dehydrated at 104F/40C for 12-16 hours for raw powder.
Roughly chop dehydrated chillis and blitz in a spice grinder one by one. Store in small sealed jars in a cool, dark place and use within 6 months for maximum freshness and potency.
Notes
Select firm, brightly coloured chillis. Make sure they are free from soft or black areas or any sign of spoilage.

Wash your hands after handling chillies and never place hands near your nose or eyes while preparing or cutting them. Use gloves when grinding to powder and make sure coffee grinder lid is on securely before turning on.

Green chillies will blacken during dehydrating, this is normal and when grinding for powder the mixture will return to green. You may choose to cut the chillies in half or leave whole for dehydrating, either option is suitable. If cutting in half then lay the chillies on the dehydrating tray cut side siding up.

Drying time will be based on many factors including how many chillis you are dehydrating, whether they are whole or cut and what variety of chilli you are using. Check your chillies every two hours from 8hrs onward, they are dry when they feel brittle instead of rubbery. Check your dehydrator manual for the most suitable drying times for your unit.
This post is linked to:
Tasty Traditions
,
Full Plate Thursdays
,
Thank Your Body
,
Allergy Free Wednesday
.