It's really hard to find a good, natural body moisturiser. They are one of my favourite beauty products to purchase and use, with three main factors being the difference between a product I'll re-buy and one that just takes up space in the bathroom. Firstly, I'm not a big fan of lotions tubes where you can't squeeze the last bit of the product out; it feels like such a waste of product. I'm a tub o' body butter kind of girl – I want a moisturiser I can dip my greedy fingers into!
I also don't enjoy the greasy feeling many lotions have. As I'm currently getting over super-dry winter skin I need my moisturiser to actually moisturise. Too many body butters and lotions can just leave me with a slick of oil and no hydration. Lastly then I want my body moisturiser to have some amazing active ingredients, be free of all nasties where possible, gentle on my skin and be pleasant smelling. That's not asking too much is it?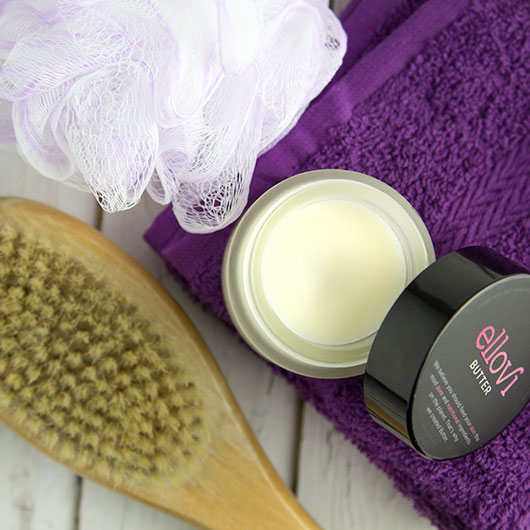 For the longest time and after going through so many brands and products, I really thought I must be asking too much. But with a blend of six natural ingredients including macadamia oil, coconut oil, hempseed oil, marula oil and shea butter, Ellovi Butter could be my little miracle in a jar. An eco-friendly re-usable glass jar by the way.
I jumped at the chance to try Ellovi Butter when offered creators and could barely contain my excitement on it's arrival before I got stuck into the jar. The first thing that hits you is the smell – it reminds me of coconut macaroons, a mildly coconut and nutty scent. The next thing that you realise is just how little you have to use. With no water added, this vegan, cruelty-free, eco-friendly, ethical product is all active ingredients and the tiniest bit goes a very long way.
At US$26 for 3.5 fl oz (104ml), Ellovi Butter is more expensive than other body butters, but has so far lasted a lot longer than other products I've used. Straight out of the shower is the best time to use it – a quick dip of the fingers and the products glides right over the skin to absorb and hydrate instantly. Dry elbows, knees and feet are instantly softened and I even tried it on my face (only slightly too greasy for day, but luxuriously hydrating for night) and a little my through the ends of my hair the night before washing (for extremely soft hair and repaired spit ends).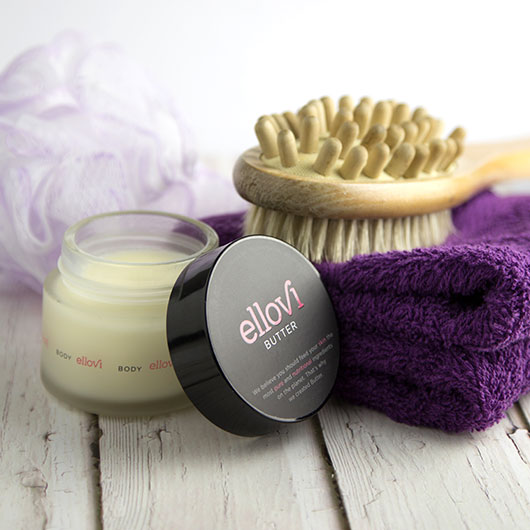 There's no water in Ellovia, which means there's no water evaporation following application – something that happens with other moisturisers with a high water content and gives you that "tight" feeling a few hours later. It's also completely free parabens, petrochemicals and synthetic chemicals while being rich in deeply moisturising natural oils renowned for their anti-wrinkle, anti-ageing, UV-protective and detoxifying properties.
It's hard to fault the product, the greedy girl in me would love a bigger product size, but a little goes a long way and I won't need another jar for at least a month or two. It's got a lovely smell of coconut, but those who hate the smell might find it lingers too long on the skin. It can also go quite solid thanks to the coconut oil component in cold weather. These are three very minor points however and are hardly a turnoff from buying such a fantastic beauty product.
Ellovi Butter is a wonderfully hydrating, vegan and eco-friendly moisturiser and has taken the place at least four products in my bathroom cabinet that I wasn't totally in love with. I couldn't recommend it more highly and I'll be buying another jar when I finally get through the first. You don't have to just listen to me though, check out the testimonials on the Ellovi online shop or join in the Facebook discussions.
Best of all, use the coupon code "omnomally" at checkout to save a whopping 15% off!