I keep hearing a lot more about genetically-engineered Golden Rice recently (also check out this and then this rebuttal) and how it's expected to save parts of the world from vitamin A deficiency. Without going into it in detail (i.e. ranting), I can't help but wonder why food plants already rich in betacarotene can't be utilised to help increase nutrient status? An example being the health benefits of sweet potatoes and it's current use in overcoming vitamin A deficiency in some parts of Africa.
While North and South America are the original home of the sweet potato, this orange-hued root vegetabe is a staple food in Uganda, Rwanda and other African countries where large amounts are grown.  A valuable crop for poor growing conditions, sweet potato requires little labour to grow or harvest and contributes greatly to the health of the population of developing countries. Health campaigns exist in African countries such as Mozambique and Uganda to specifically increase the consumption of the orange variety of sweet potato due to it's beta-carotene content. Check out the campaign info here, or download the infographic here for more information. As much as scientists want to tout genetically-engineered Golden Rice as a cure all for vitamin A deficiency, a natural, non-modified food has been doing this job for a long time with great results. Take that!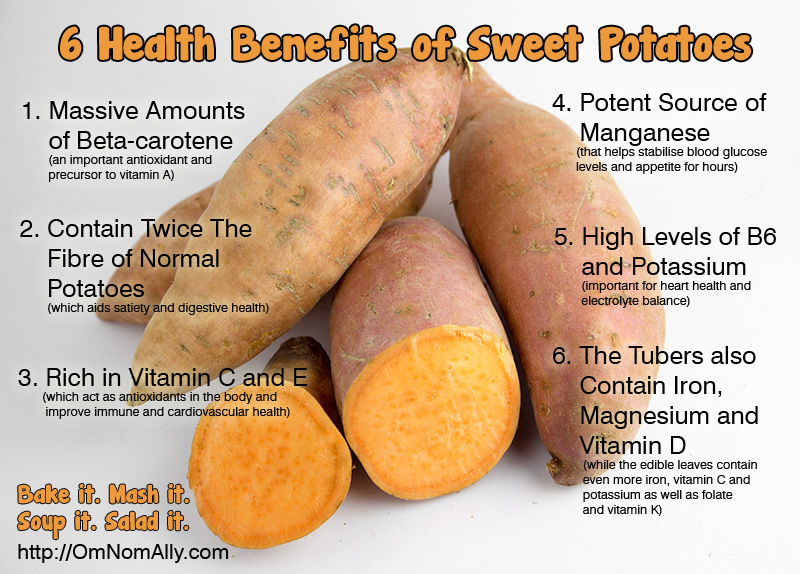 Click on the image to see the full size version, and please feel free to share around on social media.
Varying region to region, peanut (or groundnut) stew is thought to have first been consumed in West Africa. Often prepared with tomatoes and chilli introduced from South America, peanut stew is commonly served on a a bed of steamed brown rice; another non-indigenous staple food that was first introduced to Africa 3000 years ago. I can't claim this dish is an entirely authentic offering of West African cuisine, but is reminiscent of just one of the many ways beta-carotene rich sweet potato is included in the diet. Drawing on a lot of the cultural influences that have shaped the region's cooking, this bright orange meal is always a welcome weeknight dinner in my house.
Using peanut butter is a wonderful shortcut to the traditional practices of roasting peanuts and then grinding by hand to a paste or flour. Onion and garlic are a fundamental component of African cuisine, some species are even native to certain parts of the continent. This version also contains oranges and cabbage originating from Asia that have become widely consumed, as are the commonly used herbs and spices cumin, ginger and coriander.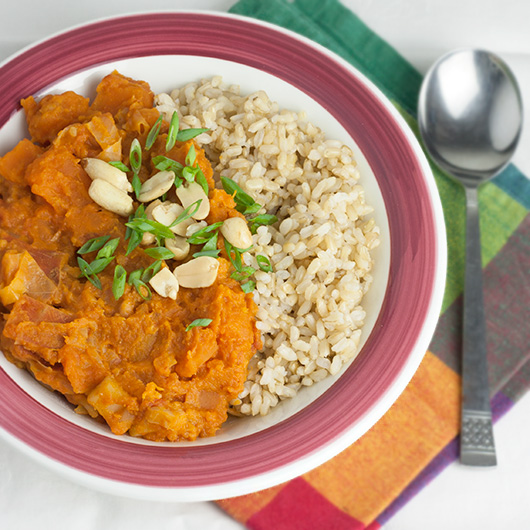 A delicious, filling, and vitamin A-rich dinner, there's not a speck of Golden Rice in sight on this plate.  While Golden Rice promises solutions to very real issues of nutrient deficiency, I greatly worry about the implication of third world malnutrition due to dependence on a single engineered monoculture crop, the potential environment impact and issues of contamination of other rice species and the distraction from more economical and sustainable solutions. Personally I hope we can all focus on the world-wide consumption of the diverse nutrient-rich food plants that are already cheaply available to buy or easy to grow. Wishful thinking?
African Sweet Potato & Peanut Stew
Author:
Alison Murray @ Om Nom Ally
Cuisine:
Egg-free, gluten-free, soy-free and wheat-free. Dairy-free, grain-free and vegan depending on ingredient choice.
Ingredients
1 large brown onion, chopped
1 tbsp ghee, coconut oil or butter
2 garlic cloves, minced
2 cm knob of ginger, grated
1 tsp cayenne or chilli ground
500g sweet potato (unpeeled), chopped into 2cm cubes
¼ green cabbage, chopped
8 roma tomatoes, chopped OR 2 400g can chopped tomatoes
½ cup vegetable stock
½ cup fresh orange or apple juice
1 tsp salt
1 tsp ground cumin
1 tsp ground coriander
⅓ cup crunchy peanut butter
Cooked rice, millet or quinoa to serve
Chopped spring onions and peanuts to serve, optional
Instructions
Heat the ghee, oil or butter over a medium high heat and saute the onions for 10 minutes or until translucent.Stir in the garlic, ginger and cayenne owder and cook, stirring frequently, for a further 5 minutes.
Add the sweet potato and cabbage, tomatoes, stock, juice, salt and spices and bring the mixture to a boil. Reduce to a simmer and cook, covered, for 15-20 minutes or until sweet potato is soft and mixture has reduced.
When ready to serve, stir in the peanut butter, mixing well to combine. Serve with rice or other cooked grains and sprinkle over spring onions and peanuts.