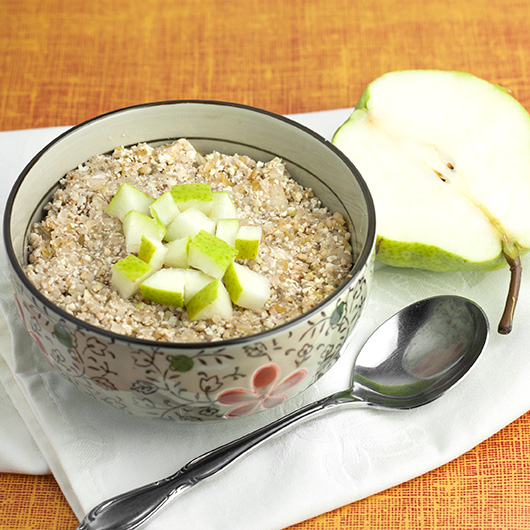 I've been feeling a bit down lately and lacking some daily zip and zing.
It's nothing to be concerned about and not really caused by any particular event but more of a cyclic occurrence I've had to become aware of over the years. I push it away, try not to dwell or wallow, but the pressure of my thoughts is still there. The signs these moments are coming always seem to surprise me somehow too and I soon find myself not sleeping well and committing the same dietary sins – not eating breakfast every morning, not drinking enough water, relying on coffee for a boost. I also start to become quite self-deprecating and joke about how I'm feeling, all the while not being totally sure if I'm trying to attract or deflect attention. Now that's a confronting statement for me to type out.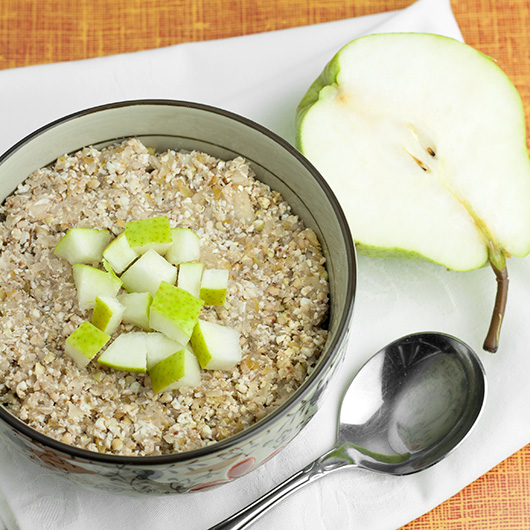 Using food as medicine is one of my passions though, and boosting my diet is ultimately the greatest tool I have in overcoming these depressive periods.  In addition to getting those glasses of water into me; replacing coffee with dandelion tea, kombucha and chlorophyll and listening to my body for it's sleep needs; adding healthy "brain foods" into my diet really helps to get my mood balanced again fast. Of course there is more to conquering depression than this, I use other strategies too, but eating certain foods can certainly help bust stress, depression and anxiety.
This raw, sprouted breakfast bowl has been one of my favourite porridges for a while and has the great bonus is that it boosts my brain health too. The sprouted buckwheat is rich in brain-loving lecithin and has the ability to reduce and stabilise blood glucose levels. Then there's also the combination of pear and ginger that helps to boost serotonin and dopamine production. It's a big bowl of happy and for the non-raw, non-vegan eaters out there you can also warm it up on the stove and add some honey and greek yoghurt on top. These additions provide you with depression-fighting kaempferol and quercetain and some neurotransmitter-boosting calcium respectively.
Make sure you don't just pigeon-hole this breakfast for low mood days though. With a high fibre and protein content it's a great choice for making your bellies happy and the zingy flavour will delight your tastebuds.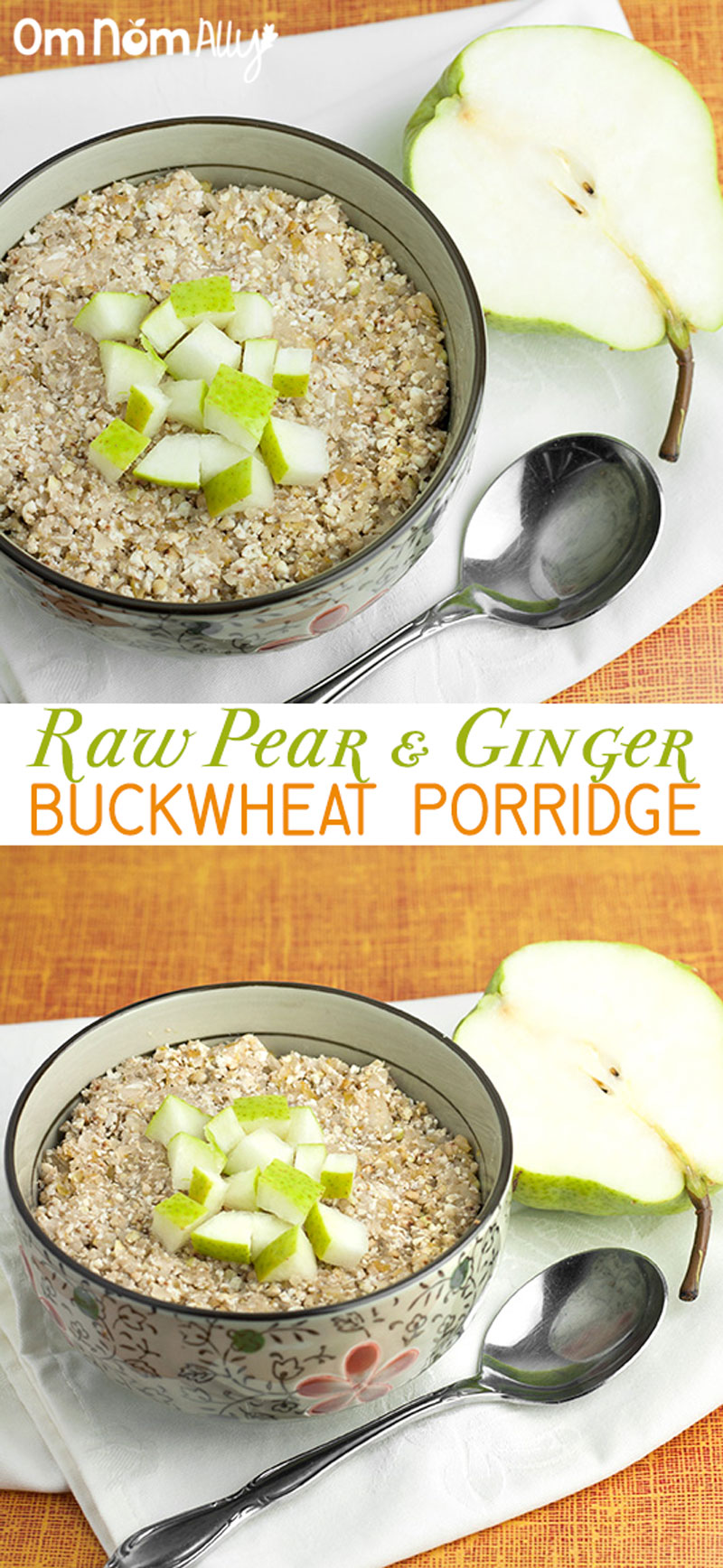 Buckwheat Porridge with Pear & Ginger
A high fibre, high protein raw buckwheat porridge with zingy pear and ginger to make bellies happy and delight the tastebuds.
Author:
Alison Murray @ Om Nom Ally
Recipe type:
Breakfast, Raw
Cuisine:
Dairy-free, Egg-free, Gluten-free, Nut-free, Soy-free, Wheat-free, Raw, Vegan.
Ingredients
½ cup raw buckwheat kernels
filtered or spring water
1 medium green pear, cored and roughly chopped
2 inch knob of ginger, grated
Instructions
Place buckwheat kernels in a bowl or sprouting jar, cover with water and soak overnight.
In the morning, drain and rinse soaked buckwheat kernels and continue on with recipe OR rinse and drain twice a day, for two days to sprout buckwheat.
To make porridge, combine rinsed buckwheat, chopped pear and grated ginger in the bowl of a food processor. Process until mixture is of a porridge-like consistency - as chunky or smooth as your prefer.
Transfer into two bowls and top with any mixture of nuts, seeds or chopped fruit.
Linked to: Time to Sparkle, Recipe Sharing Mondays, Natural Living Monday, Meat Free Monday, The Gathering Spot, Fat Tuesday, Tuesday Greens, Traditional Tuesdays, Slightly Indulgent Tuesday,  Tasteful Tuesday, The Backyard Farming Connection Hop, Waste Not Want Not Wednesdays, Well Fed Wednesdays, Allergy Free Wednesday, Fresh Foods Wednesday, Tasty Traditions, Real Food Wednesday, Whole Foods Wednesday, Chef's Day Off, Wheat Free Wednesday, Healthy 2Day Wednesdays, Raw Food Thursdays, Full Plate Thursday, Thank Your Body Thursday, Pennywise Platter Thursdays, Gluten Free Fridays.