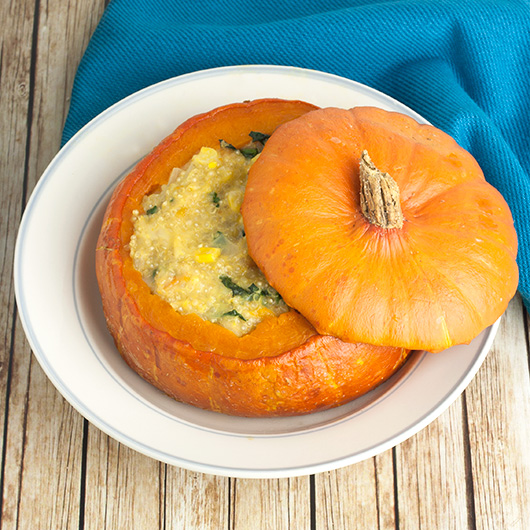 I tend to go a bit silly and ga-ga over three things – baby animal photos, my dorky puppy and miniature fruits and vegetables. I grew delicious mini watermelons and honeydew this past summer and attempted mini cauliflower and cabbage. One of my favourite lettuces to grow in a mini cos hearting variety and my guinea pigs love the quick-growing mini round Paris Market carrots. All these varieties produce smaller or mini fruit compared with regular plants, with many suitable for raised bed and container gardening… and they are all just so darn cute!
It was for those reasons that I started 3 types of minature pumpkins before summer in my raised beds (Delicated, Jack Be Little and Golden Nugget), but the summer heat quickly killed off all three plants (though I did find this little fella while turning my garden beds). The farmer's have had a lot more success than me however in this hot weather and I've been able to find Golden Nugget pumpkins everywhere in the past month.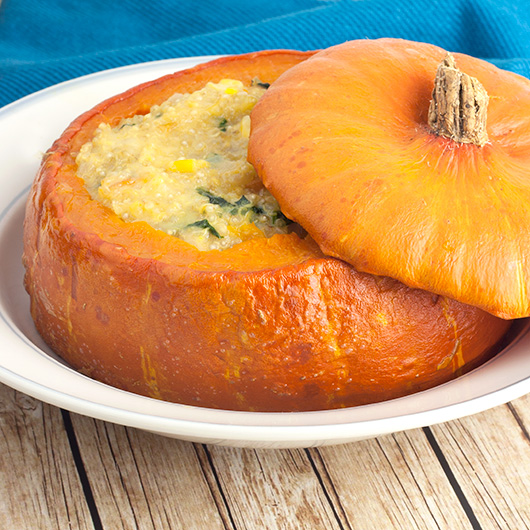 These round hand-sized pumpkins are just made for stuffed pumpkin recipes. The flesh isn't as sweet as other varieties so their flavour is really enhanced by a delicious filling. Cut off the top, scoop out the pulp and seeds before baking, then fill to the brim and bake again! Make sure to save those prolific seeds too; wash away all the pulp and then dry before toasting or roasting with any myriad of flavour combos. This is a no-waste pumpkin.
The other bonus of these cute little Golden Nugget pumpkins is the thin, edible skin. After filling with this mixture of quinoa, corn and parmesan cheese (or savoury yeast flakes for a dairy-free, vegan meal), your whole dinner is served in a bowl you can eat! Who wouldn't go a little ga-ga over that?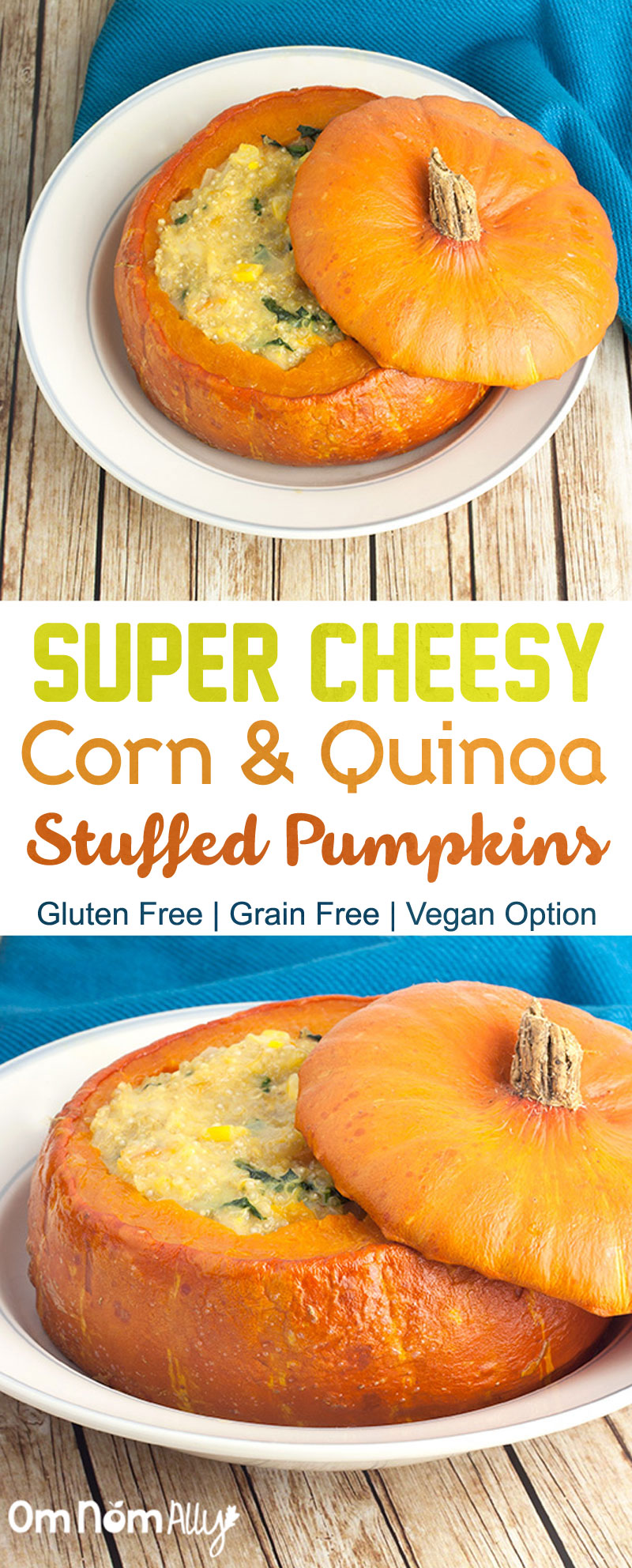 Super Cheesy Corn & Quinoa Stuffed Pumpkins
These Golden Nugget pumpkins were just made for stuffing - with thin, edible skin you can eat your cheesy corn and quinoa stuffing and then your pumpkin bowl too!
Author:
Alison Murray @ Om Nom Ally
Recipe type:
Main, Grains
Cuisine:
Egg-free, Gluten-free, Nut-free, Soy-free, Vegetarian. Dairy-free and Vegan with ingredient choice.
Ingredients
4 Golden Nugget Pumpkins
1 tsp + 1 tbsp olive oil, ghee, butter or coconut oil
1 medium brown onion, diced
2 medium carrots, scrubbed and chopped
1 cup white quinoa grains, washed thoroughly and drained
2 garlic cloves, minced
1 large zucchini, washed and chopped
2 cups vegetable stock
1 cup chopped spinach leaves, loosely packed
1 cup corn fresh or frozen corn kernels
½ cup freshly grated Parmesan (use Savoury Yeast Flakes/Nutritional Yeast for Vegan/Dairy free meal)
Instructions
Preheat oven to 220C. Line two baking trays with baking paper. Cut tops off pumpkins, place cut side up on one baking tray.
Pour ½ tsp olive oil/butter in each pumpkin and swirl or brush with pastry brush to coat inside. Place on second baking tray and bake with tops for 30 minutes.
After baking time turn remove tray with tops and put aside to cool. Turn pumpkins upside down on tray and bake for a further 20min.
In a deep saucepan saute onion and carrots in remaining oil/butter until softened, about 5 minutes. Add quinoa, garlic and zucchini and stir for 2 minutes then add chicken stock. Bring to a boil and then lower heat to simmer for 10-15 minutes until quinoa is cooked and soft and water is absorbed. Add spinach and cook over low heat until wilted. Take saucepan off heat.
Add ¾ cup corn kernels to the bowl of a food processor and pulse until blended with some chunky pieces remaining. Add processed corn, remaining corn kernels and Parmesan cheese to quinoa mixture and stir well to combine,
Invert pumpkins again on baking tray and fill with quinoa mixture. Return to the oven for 10 minutes and then serve immediately.
  Linked to
Tasty Traditions
,
Fresh Foods Wednesday
, Real Food Wednesday,
Whole Food Wednesdays
, Chef's Day Off,
What Up Wednesday
,
Slightly Indulgent Tuesday
s,
Allergy Friendly Wednesdays
,
Fat Tuesday
,
The Hearth and Soul Hop
,
Just Another Meatless Monday
,
Healthy 2day Wednesdays
,
Full Plate Thursday
,
Thank Your Body Thursday
,   Well Fed Wednesday,
Waste Not Want Not Wednesday
,
Handmade Tuesdays
,
Wow Me Wednesday,
Pennywise Platter Thursday
,
Fight Back Friday
, Fresh Bites Friday, Whole Food Fridays, Wellness Weekends,