Don't worry about giving me Easter eggs or fluffy bunny toys, I think a black fig tree dwarfed in a pot would be the perfect present for me. I would love the convenience of picking figs from the backyard and currently make do by buying up big on when fresh figs are available. In a magical dream-land this wish would also include living in a tropical paradise so I could plant a cacao companion plant. Nothing is more delicious than a ripened fig, and figs love being paired with chocolate.
There's a sweet and sour power-play of flavour going on in this recipe that reminds me of fortified wine – an almost fermented sugary taste. It's the touch of chocolate bitterness in the bread dough that seems to enhance the complex sweetness of dried figs – I think it's natures candy at it's very best.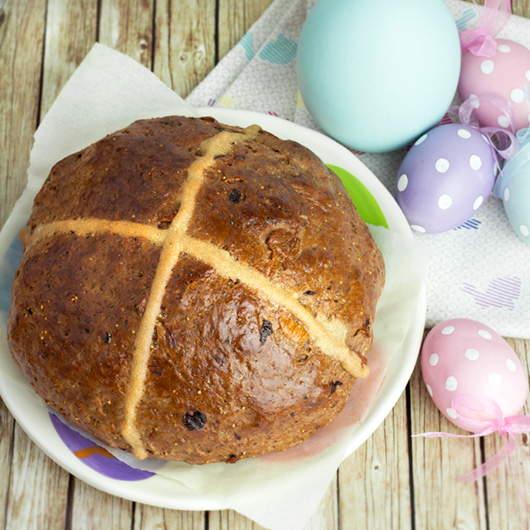 I was all ready to make a dozen little figgy hot cross buns this year for Easter. The dough had done it's second rise, the oven-preheated and the eggwash whisked when Kam piped up that  baking one giant hot cross bun would be the epitome of awesome. Well, challenge accepted. While you can still go for the classic option of 12 buns baked in a 3×4 configuration in a pan, why not have some fun and go all out baking this rustic boule-shaped hot cross bun. It's the perfect size to serve up at your Easter family gathering – that is if the bun makes it to the dinner table. The hardest part in this recipe is making the decision to share it with others or not!
Giant Chocolate & Fig Hot Cross Bun
Author:
Alison Murray @ Om Nom Ally
Recipe type:
Baking, Breakfast, Easter
Cuisine:
Nut-free, soy-free, vegetarian. Vegan, dairy-free, egg-free and gluten/wheat-free with modifications
Ingredients
2¼ tsp dry active yeast
1 tsp sugar + ¼ cup
¾ cup milk, lukewarm (see note)
1 egg, beaten lightly
3 tbsp melted organic butter (see notes)
2 tbsp cocoa powder
1 tsp cinnamon
¼ tsp nutmeg
½ tsp salt
3 cups spelt bread flour (see notes)
¾ cup chopped, dried figs
½ cup raisins
Eggwash: 1 egg, beaten lightly
Instructions
Mix yeast, milk and 1 teaspoon of sugar in a non-reactive bowl. Leave for 10min until foamy.
In a large bowl, mix together the ¼ cup sugar, egg, butter, cocoa, spices, salt and the yeast mixture. Add flour, figs and raisins and mix thoroughly, using hands to incorporate the last bits of flour until you have a slightly wet, sticky dough.
Turn out onto cutting board and knead for 10-15 minutes OR knead in a bench mixer/bread machine following manufacturers instructions. After kneading, form into a ball, place into a large oiled bowl and loosely cover with cling wrap. Put in a warm place and leave to rise for 1-3 hours until doubled in size.
After rising time, punch dough down and then shape into a 15cm round. Place on a greased baking tray and cover lightly with greased plastic wrap. Set aside in a warm place for 30 minutes or until dough has almost doubled in size again. Preheat oven to 200°C and using a pastry brush, brush each bun with egg wash (if using) and using piping tool to mark crosses over the buns (see notes).
Bake for 45 minutes until deep, golden brown. Carefully remove tray from oven and allow to cool completely on wire rack. Cut into slices to serve
Notes
Piping Mix all ingredients following in a small bowl, pour into a snap lock bag and snip edge to make piping bag. Alternatively, use piping tools.
1 tablespoon water
1 tablespoon spelt bread flour flour
¼ tsp cinnamon
¼ tsp allspice

Recipe Alterations:
Gluten-free: replace flours with gluten-free bread flour mixture and alter instructions according to manufacturers recommendations.
Dairy-free: replace butter with coconut oil, use non-dairy milk.
Egg-free: replace egg in dough with egg-replacer or chia egg; do not glaze hot cross buns

Vegan: replace butter with coconut oil, use non-dairy milk, replace egg in dough with chia egg; do not glaze hot cross buns
This post is linked
Tasty Traditions
, 
Wheat Free Wednesdays,
Chef's Day Off, Strut Your Stuff, 
LHITS DIY Linky
.