Have you heard about the cooked-milk tolerance test for kids with milk allergies?
I was recently contacted by a dietitian requesting some recipe creation for a highly reactive child with multiple allergies and intolerances. Suffering from milk, soy, wheat, egg and oat allergies, the practitioner specifically requested some cookie recipes to test the liklihood the child would outgrow a milk allergy. It turns out there is a growing body of research showing "children who did not react to milk that was heated sufficiently to change the shape of allergy-causing proteins had a 27.8-fold greater likelihood of losing the allergy altogether within three years". It seems that baked goods with small amounts of the offending foods may help to build up tolerance over time. How exciting!
There's some more stories and information here and here. Please note that these allergy re-introductions are undertaken with medical supervision, so never give allergy-provoking foods to susceptible children (or adults) on your own as a test. Have you had any experience with, or know anyone who has grown out of a common childhood allergy? I'd love to hear about it.
Both recipes below are all free from soy, wheat, egg and oat. The child these cookies were designed for has been experiencing severe reactions to cinnamon, so nutmeg and cardamom have taken the place of traditionally used cinnamon sugar in the snickerdoodle cookies. As with a lot of gluten-free goodies, these were at their best on the day of baking with the snickerdoodles much more dried out the next day. I don't bake with xanthum gum, but adding in an appropriate amount in either recipe would help with moisture levels if you want them to keep for longer. Next time I would probably use quinoa flour instead of buckwheat in the Snickerdoodles to make them more moist and chewy inside.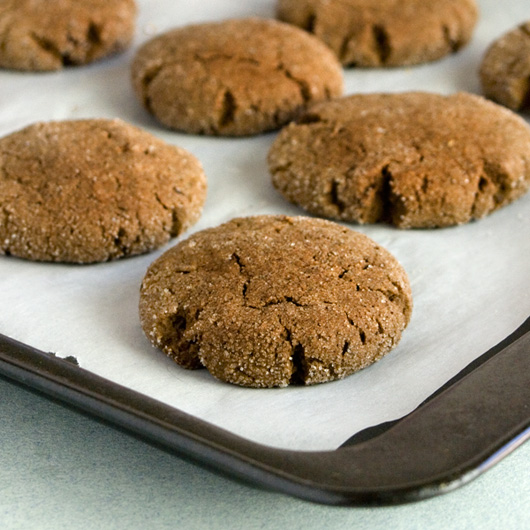 Gluten-free Chocolate & Cardamom

Snickerdoodles
Irresistible gluten-free

snickerdoodles

with a deliciously spicy-sweet,

chocolately

and nutty flavour. For a huge chocolate hit, double the cacao powder to ½ cup - yum!
Author:
Alison Murray @ Om

Nom

Ally
Cuisine:
Gluten-free, egg-free, soy-free, vegetarian.
Ingredients
¼ cup butter (or coconut butter)
¼ cup coconut sugar (or other unrefined sugar)
1 tsp vanilla extract
¼ tbsp flax meal (or 2 organic/free range eggs)
¼ cup milk (or non-dairy beverage of choice)
½ cup almond meal
½ cup buckwheat or quinoa flour
½ cup tapioca starch
¼ cup cacao powder
½ tsp baking soda
1 tsp baking powder
cardamom sugar (see notes)
Instructions
With an electric beater or stand mixer, beat the butter until pale and creamy.
Add the sugar, vanilla essence and beat until fluffy. Add the flax meal and the milk and mix until well combined.
Pour in the flours, baking soda and powder and cacao and stir well to blend. Chill the dough in the fridge for 20min and preheat oven to 200C. Grease and line 2 baking sheets.
After cooling time, remove from fridge and roll tablepsoon amounts of dough into balls between palms. Roll each ball in the cardamom sugar and place the balls 5cm apart on baking sheets.
Flatten balls slightly with palm of hand and bake for 10min or until puffed up and browned. Cool on tray for 5 min and then transfer to wire rack to cool completely.
Notes
Cardamom sugar: Combine ¼ cup caster sugar with ½ tsp

groundcardamom

and ¼ tsp ground nutmeg in a small bowl or plate.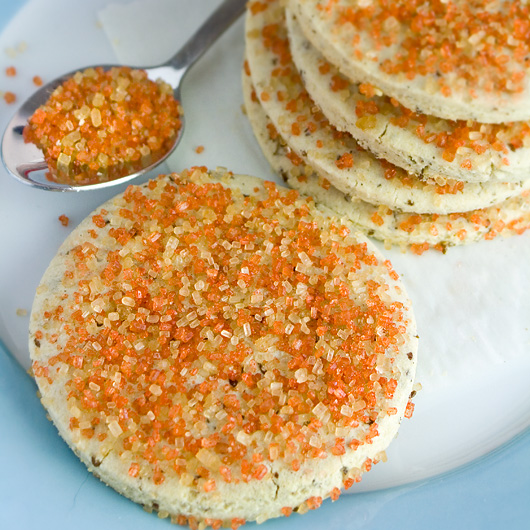 Gluten-free Orange Sugar Cookies
Don't feel limited by simple circles, get out your favourite cookie cutter and get stamping! Orange rind and coloured

demerara

sugar make for simple, delicious citrus cookies.
Author:
Alison Murray @ Om

Nom

Ally
Recipe type:
Cookies, Baking
Cuisine:
Gluten-free, egg-free, soy-free, vegetarian
Ingredients
1 cup sorghum flour
¾ cup tapioca flour
½ cup almond flour
¼ cup flax meal
½ tsp bicarb soda
1 tsp baking powder
½ cup butter
¼ cup sugar
½ tsp vanilla
¼ cup milk
rind of one orange, finely grated
¼ demerara sugar (for sprinkling)
red and yellow food colouring
Instructions
Sift the flours, baking powder and soda and flax meal into a small bowl and put aside.
With an electric mixer or bowl of a stand mixer beat the butter, sugar and vanilla extract together until light and fluffy. Add the milk and beat well to combine.
Add the flour mixture and the citrus rind, mixing gently to make a soft but pliable dough. Shape into a ball and chill in the fridge for 20min.
Place half of demerara sugar in a small jar or container. Add food colouring as specified on labeling to make an orange colour. Place lid on jar and shake well until sugar is coloured. Add remaining demerara sugar and shake gently to combine.
Preheat oven to 200C, grease and line two baking sheets. Shape the dough into a log and cut off slices or roll out dough and use a round cookie cutter to stamp out cookies.
Sprinkle cookies with coloured sugar and bake for 10min or until golden. Cool on baking tray for 5 minutes and then transfer to wire racks.
This is such a loooong post, but I also wanted to share 3 things that made my week
fresh and fantastic:
An email from a reader that almost made me teary – thankyou so much for the support and feedback, it means the world to me!
The opportunity to take home 8 kg of spelt and khorasan flour from work for free – helllooooo baking spree.
My facebook fan page getting hacked – while not fantastic, it is a fresh start for the fan page and I'm sure it will build up in readership again over time!
This post is linked to: Allergy Friendly Friday, Gluten Free Fridays
Have you had any experience with, or know anyone who has grown out of a common childhood allergy?
I'd love to hear about it.