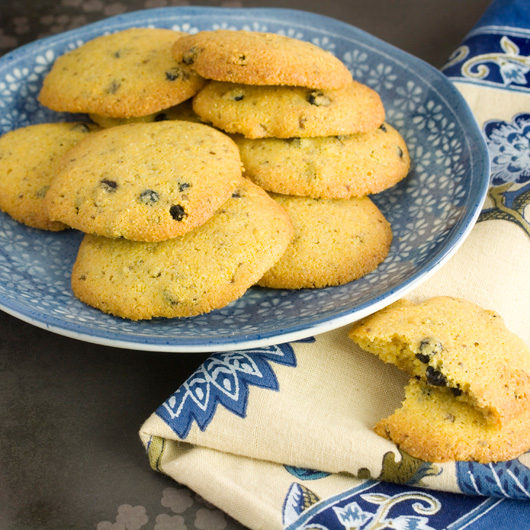 Gluten-free and deliciously light with a kiss of lemon, I really wish I could claim these blueberries were from my kitchen garden. A friend gifted me some dried wild blueberries and they barely lasted a day before I ate (and baked) them all up. My own bushy little blueberry plant is still in it's infancy, though it's growing steadily through it's first spring. Next year I expect a decent crop – and plenty of berry recipes to share.
Made with polenta (yellow corn meal) and almond flour, there's no starches in these cookies and they are still as light as a feather. I definately recommend refrigerating the dough before baking (see instructions) to stop the cookies spreading too much. Use coconut butter and chia or psyllium eggs to make this vegan, dairy-free or egg-free.
Lemon & Blueberry Polenta Cookies
Deliciously light cookies with a kiss of lemon and plump dried blueberries.
Author:
Alison Murray @ Om Nom Ally
Recipe type:
Gluten-free, soy-free, vegetarian; dairy-free, egg-free and vegan with substitutions
Cuisine:
Baking, Dessert, Cookies
Ingredients
1 lemon
125g organic unsalted butter, room temperature (or coconut butter fo dairy-free/vegan cookies)
½ cup rapadura sugar
3 organic or biodynamic eggs (or psyllium eggs for egg-free/vegan cookies)
2 tbsp flax meal
1 cup polenta (yellow corn meal)
1 cup almond meal
1½ tsp baking powder
½ cup dried blueberries
Instructions
Preheat oven to 180C. Line baking trays with baking paper and put aside.
Finely grate rind of lemon, add to a large bowl or stand mixer. Juice lemon and reserve.
Use an electric beater or stand mixer to beat lemon rind with butter and sugar until pale and creamy. Add the eggs one by one, beating well with each addition. Mix in the lemon juice and the flax meal and let sit for 5 minutes to thicken.
After the resting period add the almond flour, polenta and baking powder and mix well to combine. Gently fold through the dried blueberries,
Spoon tablespoon of mixture onto baking trays, allowing room for spread. Place baking trays in the fridge for 30min - 1 hour.
After refrigeration bake for 15min or until golden around the edges. Cool on baking trays for 5 minutes then transfer to a wire rack to cool completely.
 So… what 3 things made your week fresh and fantastic?
     … do you practice mindfulness or take time to express gratitude for the amazing things in your life?