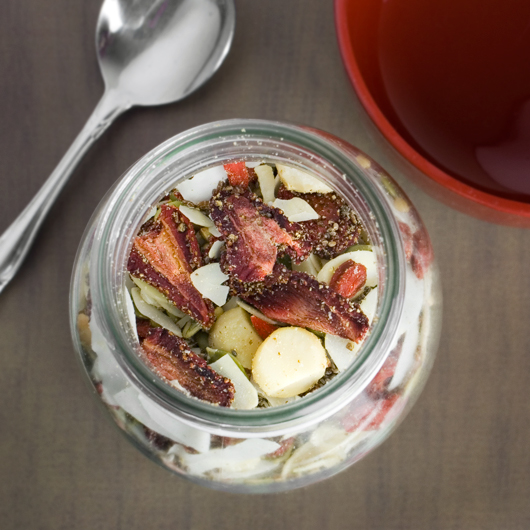 While you may think making a choice of breakfast cereal or muesli in the supermarket aisle is difficult, it's even harder making the choice of ingredients for your own home blend. You could make a million different mixes depending on what's in the pantry and it can be quite hard to constrain yourself to 5 or 6 add-ins at times.
My favourite off-the-shelf mueslis have always been filled with big chunky pieces of nuts and dried fruit.  At home my own combos have become quite similar, great texture and taste with plenty of nuts, seeds and other wholefood ingredients. I make muesli depending on what I have on hand at the time, and now what I have growing in the garden. It's much more inexpensive and flavourful compared to store-bought and breakfast is a bit more enticing when looking forward to your own personalised breakfast blend.
Sweet and fragrant, this grain-free muesli combines vibrant dried strawberries and goji with a whole host of flavourful add-ins. Strawberries would make my list of top five fruits (with golden kiwi, apples, bananas and rockmelon) and after weeks of only getting 3 or 4 a day from the garden I found 20 ripe ones yesterday. Dehydrating strawberries means that I can enjoy them long after the season has finished; my whole house also smells intoxicatingly like berries for 10ish hours while they dry (yum!). While I find it to be a fantastic tool, don't be frightened that I've mentioned a dehydrator, you can also use an oven on a low or high temperature or incorporate other bought dried fruits into this easy mix.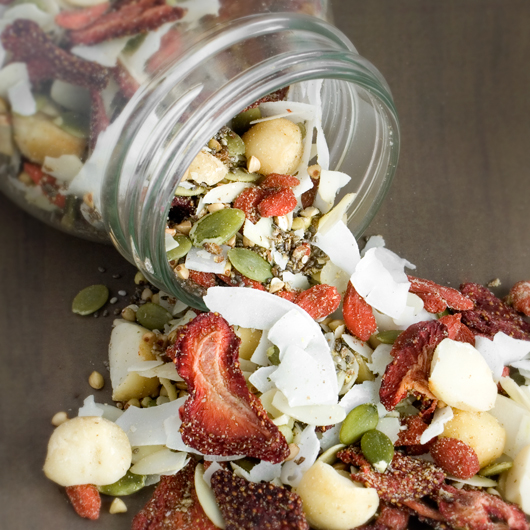 You can see lots of goodies in this big jar –  lots of nuts and seeds, dried fruit, coconut, flaxmeal and cinnamon. What you might also notice though is there are no oats, no rolled grains of any kind actually. Full of texture and taste there's still an abundance of healthy carbs, fat and protein to rev you up in the morning. It needs to live in the fridge (because of the heat sensitive flaxmeal) and is perfect on top of steamy porridge or big dollops of yoghurt or kefir in the morning.
The ten minutes I've stated in the prep time is really the time it takes to open up food packets, measure out what you need, mix in a bowl and spoon into a jar/s. It's untoasted which means you're one step closer to spooning it onto your morning breakfast and is lower in sugar, being sweetened with coconut flakes and warming cinnamon instead of honey like granola. This grain-free muesli is so easy to mess around with, just replace an ingredient with the same amount of one you like better, e.g. 1/3 cup sultanas instead of goji, 1/4 cup sunflower seeds instead of pepitas. I'd love to hear about any variations you've tried!

Home-made Strawberry-Goji Muesli
A monster muesli packed with nuts, seeds and dried fruit. Use a dehydrator or even your oven for delicious dried summer strawberries.
Author:
Alison Murray @ Om Nom Ally
Cuisine:
Dairy-free, egg-free, gluten-free, grain-free, soy-free, vegan. Raw if dehydrating strawberries.
Ingredients
1 cup dried strawberries (bought or see instructions below)
⅓ cup dried goji berries
¼ cup raw buckwheat
¼ cup halved macadamia nuts
⅓ cup flaked almonds
¼ cup flaked coconut
¼ cup pepitas (pumpkin seeds)
¼ cup ground flax meal
¼ cup chia seeds
3 tsp ground cinnamon
Instructions
Use dehydrator to dry strawberries: Hull and cut fresh strawberries in half. Lay on dehydrator sheets, cut side up. Dehydrate for 8 - 10 hours on 52C/125F OR 12 hours on 46C/115F - A great option for a raw muesli blend!
Use oven to dry strawberries: Hull and cut fresh strawberries in half. Lay on parchment lined baking trays, cut side up. Bake on lowest setting for 10 - 12 hours, checking every 2 hours from 8 hours on OR bake at 210C/410F for 3 hours OR bake at 140C (or the lowest temperature your oven goes) for 8 hours, checking often.
Combine dried strawberries and all other ingredients in a large bowl. Spoon into a large jar or resealable container and refrigerate.