One thing I've always been unsure of (and intrigued by) though is steamed puddings. I make a mean self-saucing pudding, it's so simple I can do it with my eyes closed. But put a steamed pudding recipe in front of me and I get quite flummoxed and confused by the instructions. I also know there are pudding steamer contraptions available, I just don't don't need anymore things in my kitchen! For anyone in my position needing a bit of help in the pudding department I definately recommend checking out the Christmas Cake recipe at the Waitrose website.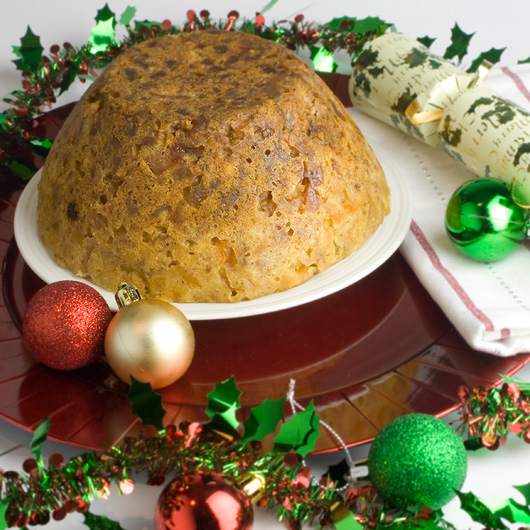 Waitrose contacted me recently to ask me to check out their site;  I ended up coming across my steaming saviour – a series of videos on the in's and out's of classic pudding making. I'm such a visual person, sometimes I don't "get" something until I see it first hand. The Christmas Cakes and Desserts videos ran the gamut of wrapping, steaming and inverting on a plate (eeek, something that always makes me hold my breath). The videos were so spot-on in their technique that my pudding was perfect, firm and thankfully didn't slip on the floor during inversion (like I am prone to do normally with cakes!).
This banana bread-like pudding is perfect if you're pressed for time as the holidays close in. I always feel flat out at work as December gets closer and I've become very 'fuss-free' with my own Christmas cooking preparations as I've either had my parents preparing a big feast in Sydney or Polish Christmas with Kam's mum here on Christmas Eve. This steamed tropical delight is fuss-free (besides topping up the cooking water over a couple of hours), very portable and something I can prepare well in advance as work gets busier. It's a nice summery steamed banana pudding, perfect for hot Melbourne Christmases – a little bit banana bread and beautifully sweet and fragrant. Top it with some home-made custard and grab a huge spoon!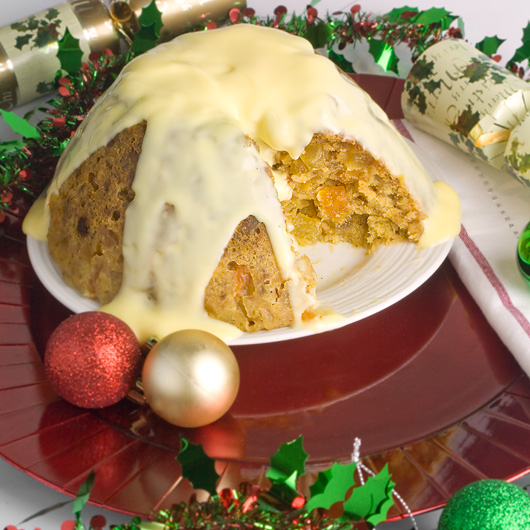 Steamed Banana Pudding + Christmas Cake - How to
Pudding meets banana bread! Delicious banana and dried tropical fruit combine in this steamed banana pudding that can be made a few weeks ahead and kept in the fridge for entertaining.
Author:
Alison Murray @ Om Nom Ally (recipe adapted from Wooloworths Good Taste December 2010)
Recipe type:
Nut-free, Vegetarian, Wheat-free
Cuisine:
Christmas, Dessert
Ingredients
Butter or oil to grease
125g unsalted organic butter, chopped
100g rapadura or coconut sugar sugar
3 medium overripe bananes, peeled and mashed
200g dried apricots, chopped
200g dried pineapple, chopped
100g dried peaches, chopped
2 eggs
1 tsp nutmeg
2 tsp cinnamon
2 tbsp dessicated coconut
1 cup spelt flour
1 tsp baking powder
2½ cups fresh breadcrumbs (I made mine from day-old sourdough bread, you can also buy fresh breadcrumbs from a bakery)
Custard to serve (see attached recipe)
Instructions
Brush a large bowl or basil with butter or spray with cooking oil, then line the bottom of the basin with a circle of baking paper. Put aside.
Stir the butter, sugar, banana, apricot, pineapple and peaches in a saucepan over low heat until butter melts. Set aside to cool.
Stir in the eggs, nutmeg, cinnamon, coconut and combined flour and then the breadcrumbs and mix until well combined.
Spoon mixture into the prepared bowl or basin. Place baking paper on a sheet of aluminium foil and grease paper well. Place paper face down over top of basin, making a pleat over the top and wrap around basin tightly. Use baking twine to tie wrapping on securly and tie yourself a handle. Visit Christmas Cake recipes for step by step wrapping instructions (see "Wrapping a Steamed Pudding")
Place a metal eggring in the bottom of a large saucepan, then sit pudding on top and add enough boiling water to come half way up the side of the basin. Bring to a boil on medium-high heat and cook for 2½ hours or until a skewer inserted in the centre comes out clean.
Invert pudding onto a plate and serve immediately with custard or keep refrigerated for up to 4 weeks. Visit Christmas Cake – How to for tips on inverting the pudding to serve (see "Lifting and turning a steamed pudding")
Easy Vanilla Custard
A simple, small batch of home-made custard - just enough to pour over a yummy steamed pudding!
Author:
Alison Murray @ Om Nom Ally
Ingredients
2 eggs
3 tablespoons cornflour
3 cups milk (I used soy milk)
3 tbsp rapadura sugar
2 tsp vanilla extract
Instructions
In a small saucepan over low heat, whisk eggs, cornflour and milk of choice until smooth.
Keep whisking on stove top until custard becomes very thick and creamy.
Turn off the heat and whick in the sugar and vanilla. Serve immediately or keep refrigerated until needed.
 I was compensated for some of the information presented in this post by SearchNews Media. Please click
here
to view my disclosure policy. This compensated material was in the form of the instructional videos linked from the post. In presenting this material I was no influenced in any way by the advertiser's or the material source. I found these videos to be extremely helpful and to be beneficial and agree to share them because of this.