Guacamole is so easy to make; at the most simple end of the recipe spectrum you only need an avocado and some lime juice. There's no excuse to buy those "guacamole dips" from the supermarket – many supermarket brands use only a small amount of avocado combined with oils and various additives and preservatives. Use this guacamole to boost the nutritional value of your Mexican or Tex-Mex dishes, it takes about 5 minutes to make and will probably take as much time to devour.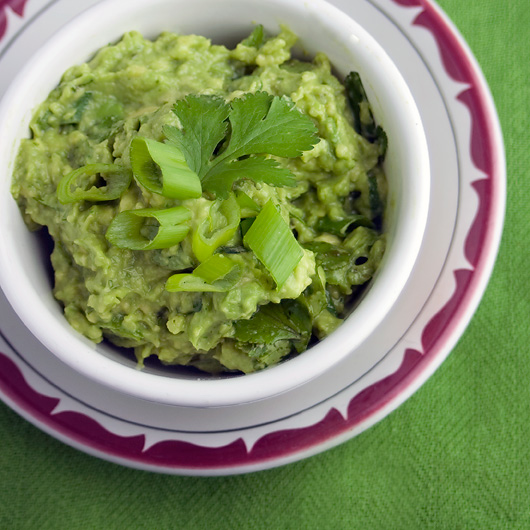 I'm getting a bit obsessed with my Saturday afternoon ritual. Kam picks me up from work and we head to Oasis Bakery for dinner and shopping. You might think working full-time at a health food supermarket would make me less giddy about food shopping but I love grabbing the specialty Middle Eastern and international food goodies, bulk nuts and seeds, spice mixes and a baklava or two!
On my last trip I picked up a bottle of El Yucateco Jalapena Hot Sauce and it's a bit of a sauce flavour bomb! Mild, yet rich and flavourful, it's great for those not ready for 'the  burn' and goes well through a bowl of chilli, drizzled over corn cobs or in salsa. Where it really sings though is with sweet, creamy avocado. Here, the jalapeno enhances the zest of coriander and lime juice when mixed through the mashed avocado – it's probably not an entirely new combination but it's great together in this chunky guac recipe.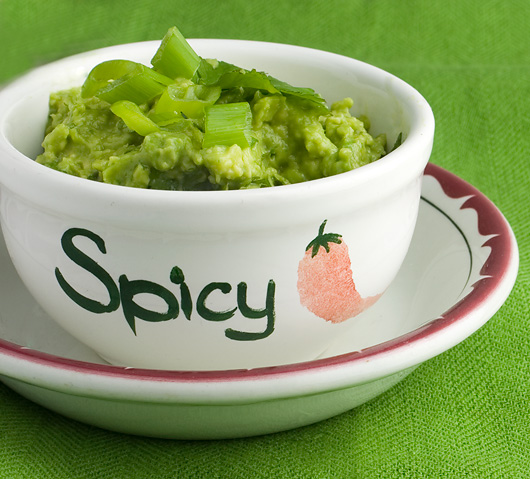 Green Jalapeno Guacamole
A mild jalapeno sauce enhances the zest of coriander and lime juice in this mildly spicy guacamole.
Author:
Alison Murray @ Om Nom Ally.com
Cuisine:
Sauce, Dip, Vegan, Gluten Free, Dairy Free, Soy Free, Egg Free
Ingredients
1 large ripe avocado
2 tbsp jalapeno sauce (try El Yucateco or Tabasco brands)
juice of ½ lime
2 tbsp fresh coriander, finely chopped
3 spring onions, white and green parts, finely sliced
Instructions
Cut avocado in half and remove flesh. Roughly mash with a fork in a small bowl.
Add jalapeno sauce, lime juice and onions, stirring gently to incorporate.
Serve immediately or store in refrigerator for up to 3 days.
Notes
Not keen on trying/don't have jalapeno sauce? Try finely dicing 1 large jalapeno instead and mixing it through the guacamole!