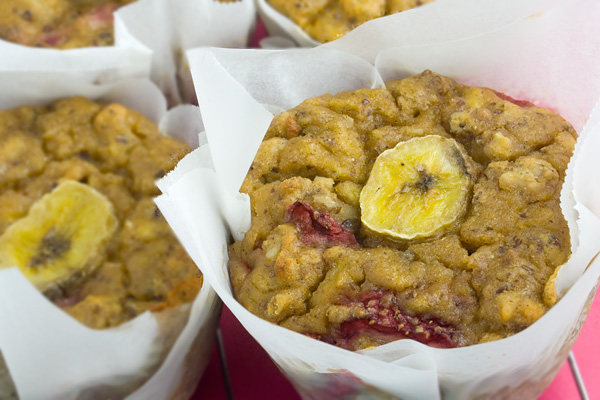 I don't know abut you, but I I find muffins to be a fantastic choice for an on-the-go breakfast – depending on the ingredients. I know what you're thinking though – breakfast muffins are always usually loaded with sugar or have the taste and texture of cardboard. We've all experienced those muffins. However, today there's no need to be suspicious; these breakfast muffins are both nutritious and delicious! Yep, I know, I just rhymed my praises for these muffins. What can I say, I'm a food-dork.
While I might be a tad silly, these muffins are serious business and are full of a power-pop of nutritious ingredients to rev up your day. Loaded up with healthy fats, fibre and protein, these coconut flour muffins are naturally gluten-free and stuffed to the brim with some old-school superfood favourites – natural yoghurt, flax meal, walnuts, banana and strawberries. Simply mix in a few eggs and you'll fill full and energised until lunch.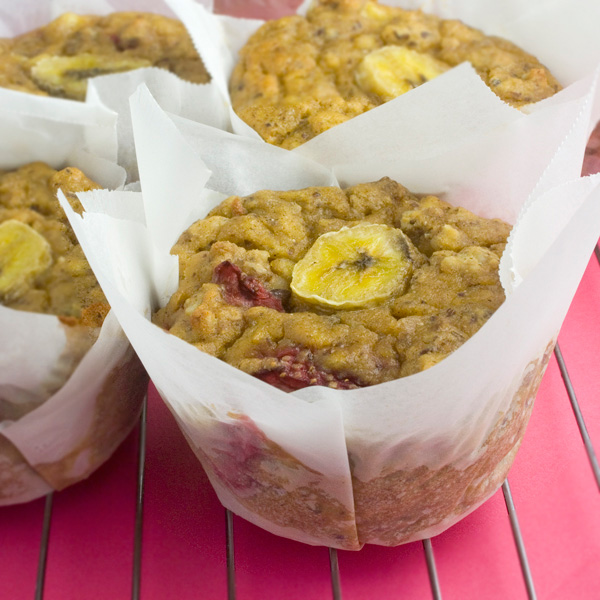 I mentioned that I've used coconut flour as the base for this recipe – don't you love it? – it's a great choice for all high-fibre and high-protein breakfast baking adventures. I love it's taste and I love that it also makes for some deliciously moist muffins. Winner! You'll also notice that there's no added sugar in this recipe, so make sure to use some extra-ripe bananas to give you all the fruity flavour and sweetness you'll need. Afterall, you're sweet enough already, right? 🙂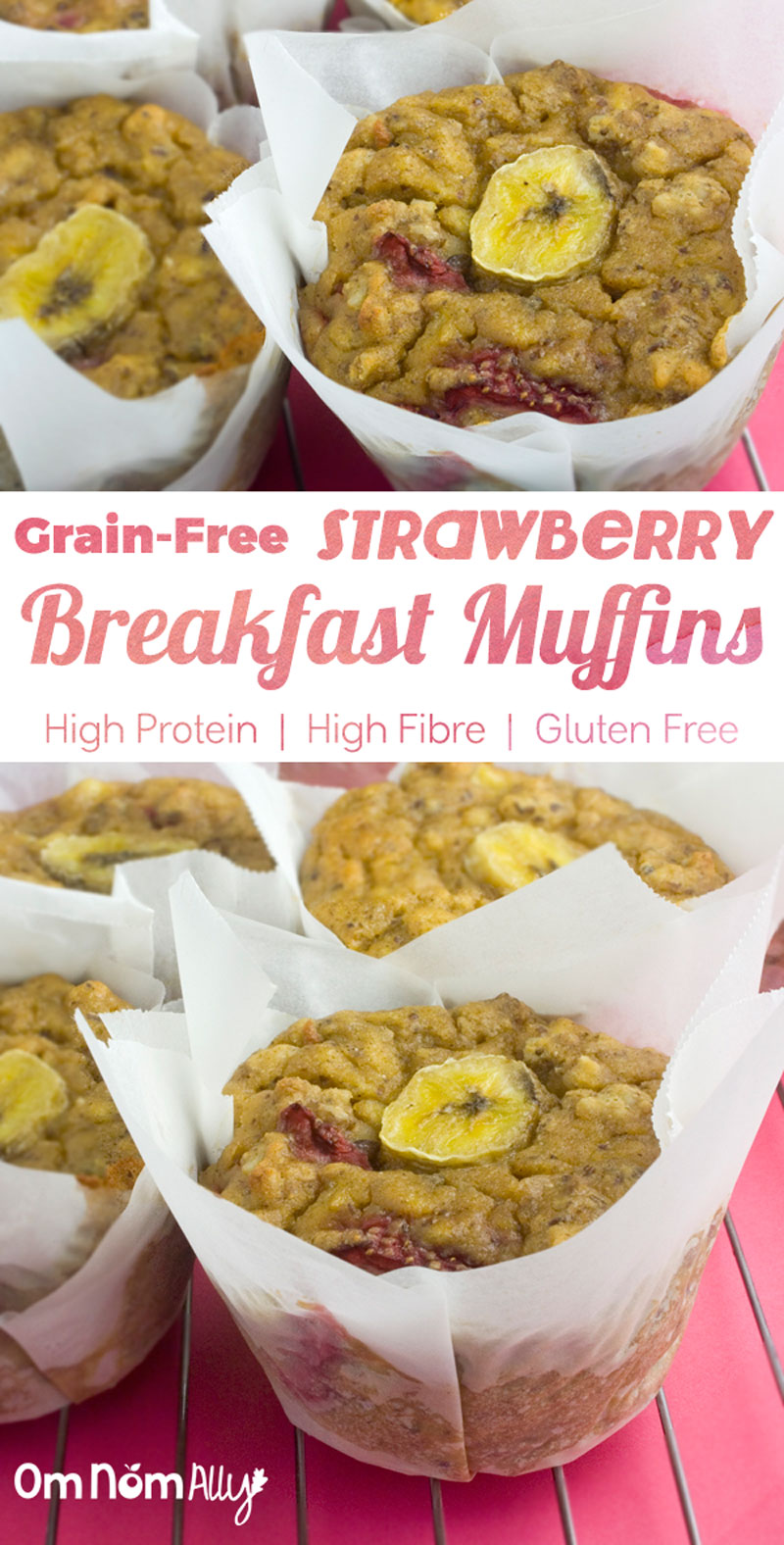 Grain Free Strawberry Breakfast Muffins
High protein and fibre, low carb and grain free - bring on the breakfast super muffins!
Author:
Alison Murray @ Om Nom Ally.com
Recipe type:
Breakfast, Muffin, Baking
Ingredients
¾ cup coconut flour
½ tsp salt
½ tsp baking powder
1 tsp ground cinnamon
1 tsp vanilla extract
3 eggs, lightly beaten
2 flax eggs
2 large, ripe, mashed bananas
½ cup natural yoghurt
100g sliced strawberries
½ cup chopped walnuts
Instructions
Preheat oven to 180C. Grease and line a 6-hole texan muffin pan with muffin cases or baking paper.
Sift coconut flour in a large bowl and add salt, baking powder and cinnamon. Stir well to combine.
In another bowl combine eggs, flax eggs, bananas and yoghurt, mixing well
Make a well in the flour and pour in wet ingredients in 3 lots, stirring well with each addition.
Add strawberries and walnuts and fold through gently. Distribute batter evenly between muffin holes, bake for 30min or until golden and skewer inserted ito muffin comes out clean.
Cool in tray for 10minute and turn out onto wire rack to cool completely.