What you eat before your workout is just as important as your post gym meal or shake. Not only is protein something to enjoy before you head out the door in your spunky gym outfit but you need slow release carbs to keep your energy levels up. There's nothing worse that striking out halfway through that spin class, weights set or yoga session because you're starving and your blood sugar is spiralling downhill.
These cookies are a great addition to the gym bag to snack on before you head out to get your sweat on. With a winning combo of low and instant-release carbs, muscle fuelling protein and some metabolism boosts you've got all your essential exercise protein cookie ingredients in your palm.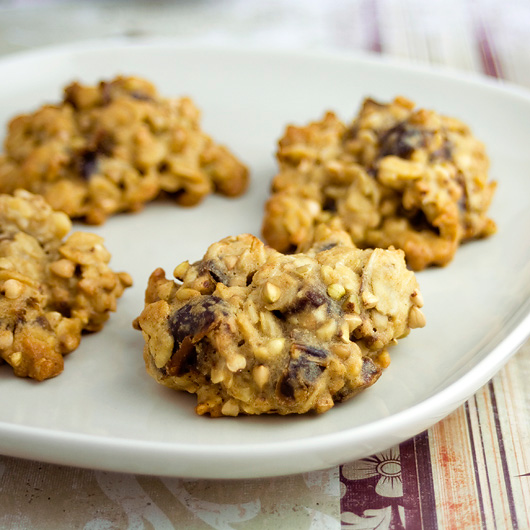 While there is some obvious ingredients (protein powder and egg – or chia/flax egg – for happy, strong muscles), there's a lot more to these caramel-ly and addictive cookies. The carbohydrates in oats and buckwheat are a great pre-workout food to load up on for a longer and harder training session. They've both been shown to stabilise blood sugar and control insulin levels – helpful to balance out dates (mmm nature's lollies) and honey which are sources of instant energy in the form of sugar.
Coconut oil is another source of instant muscle energy, the medium chain fatty acids are a great metabolism booster (as is cinnamon) and have been shown to help utilise other fats in the body as energy. This is a much healthier approach than the fad of using caffeine to fuel a workout, coconut oil doesn't tax your adrenals or slow your recovery.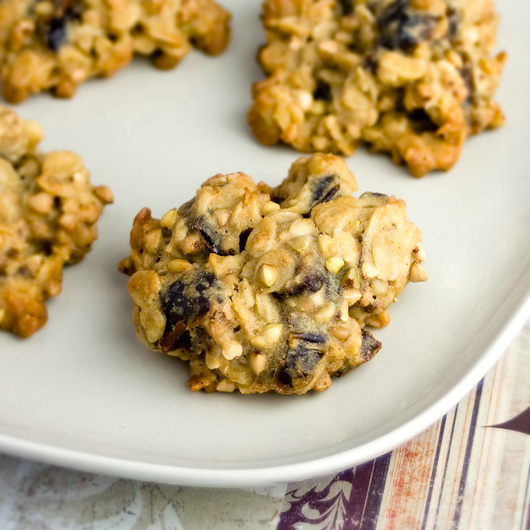 Oat & Date Pre-workout Protein Cookies
Dairy-free, nut-free, soy-free, wheat-free, vegetarian; egg-free and vegan with substitutions listed in recipe)
Recipe type:
Snack, Protein Snack, Vegetarian, Vegan, Dairy-free, Egg-free, Wheat-free, Nut-free
Ingredients
8 medjool dates, pitted and roughly chopped
1 cup whole rolled oats
¼ cup spelt flour
¼ cup protein powder of choice
½ cup buckwheat groats
1 tsp ground cinnamon
½ cup coconut oil (or organic butter)
1 large egg, gently whisked (or 1 chia or flax egg)
¼ cup raw organic honey
Instructions
Preheat oven to 180C. Line two baking sheets with paper and put aside.
In a medium bowl beat oil (or butter), egg and honey together until pale and creamy.
In another bowl combine dates, oats, flour, protein powder, dates and cinnamon. Add the wet mixture to the oats mixture and mix until well combined. Place large, heaped spoonfuls onto the baking trays and flatten slightly with the spoon or your hand.
Bake for 15 minutes until lightly golden and firm. Remove from oven and allow to cool for 5 minutes before transferring to a wire tray to cool completely.