I've never had much confidence in my pronunciation of pide.  I'm one of those people who likes to gesticulate instead and say "I'll have one of THOSE ones", or "Yes that type on the left, no MY left", or "The third thing on the menu please" when ordering. I developed a habit of calling it 'pied', only to be corrected and told it was 'peeder' or 'pi-ta' on different occasions. Very confusing. I'm since told from a reliable source that it's more like 'pedae'. I give up and I think I'll just bake my own!
In Turkey, pide with various types of filling is sold in special pide houses. In Melbourne, almost all Turkish restaurants serve freshly baked pide daily (and there's one near my house woohoo). It's a cheap and cheerful dish and luckily isn't complicated to make at home either. It's a bit pizza-like, meaning you can make it as simple or as complex in toppings and flavours as you like. For me, nothing beats a simple cheese and spinach filling with a scrumptious egg cracked on top.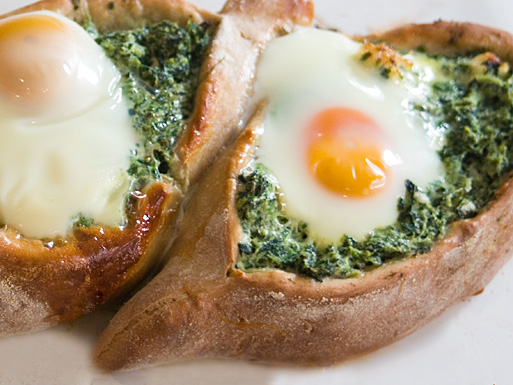 Best piping hot out of the oven, the pide will also be good cooled the next day for lunches. The filling is enough for 4 serves, I had a little left over and ate with some scrambled eggs the next morning for breakfast.
Turkish Pide - and I bet you thought it was hard to make at home? (nut free, soy-free, wheat-free, vegetarian)
Author:
Alison Murray @ Om Nom Ally
Recipe type:
Main, Baking
Ingredients
2 large bunches of spinach, steamed and chopped (or 2x 250g packets frozen spinach, thawed)
250g ricotta cheese
100g fetta cheese, crumbled
1 tbsp dried mixed herbs
3 cups spelt flour (or other flour, see notes)
1 tsp dried yeast
1 tbsp rapadura sugar (or other unrefined sugar)
1 cup water
1 tsp salt
4 eggs
Instructions
Combine spinach, cheeses and herbs in a large bowl, stirring until well mixed. Put aside.
Preheat oven to 220C. Place a pizza/bread stone in oven, or line 2 baking trays with baking paper and put aside.
Combine flour, yeast, sugar, salt and water in a stand mixer or large mixing bowl. Mix dough ingredients until combined and a soft dough is formed.
Turn dough until a lightly floured surface. Knead dough for a few minutes until dough is smooth.
Divide into 4 portions and one by one roll into a long oval shape about 25cm long. Divide spinach mixture between each dough piece, leaving 3cm border to fold up the sides and pinch ends closed to seal.
Push filling down in middle of pide to make an indent. Crack an egg into centre of each pide.
Place on prepared baking trays or gently slide onto baking stone. Bake for 20minutes or until browned and eggs cooked.
Notes
Flour: Replace with white or wheat bread making flour OR with gluten-free flour. I have also made a dough for this recipe using 25% amaranth and 75% spelt flour which gave fantastic results.
Linked to: Recipe Wednesday.