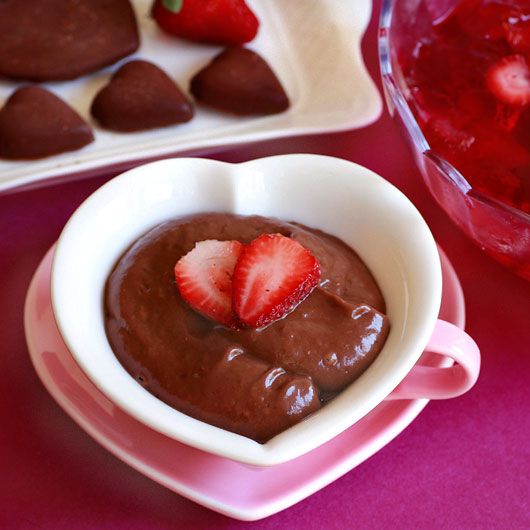 When love is not madness, it is not love.
Pedro Calderon de la Barca
The biggest cliché surrounding Valentines, is whinging about the Valentines clichés. It's right up there with the people who "hate Christmas" and think birthdays are "stupid". Sure it might be overcommercialised and it might have a lot of tacky gestures, but ignoring the day completely means missing out on a lot of enjoyment too. So, where is the fun in that cliché?
The top clichés, whinges and cringes:
Tacky, cheap Hallmark cards – red and pink with huge love hearts, fluffy animals, amateur poetry inside, cringey sex jokes.
Flowers – red, Roses, Baby's Breath, in red plastic wrapping, fake and plasticky.
Stuffed animal toys – bears, hearts with arms, bears with hearts.
Jewellery presents – heart shaped jewellery, diamonds, cubic zirconias, half price, 90% off, junk store purchase.
Dining out – at your 'favourite' restaurant (often the opposite), doesn't take booking and wait 4 hours for a table, overbooked, overpriced, too noisy.
Chocolate gifts – heart-shaped, in a heart-shaped box, melted, squashed, on sale, bought last minute.
Chick flick movies – Sex and the City marathons, The Notebook.
Desire to play sappy romantic music – Celine Dion, Elton John, Bryan Adams.
Drippy poetry and love letters – Love Poem Generator, "Shall I compare thee to a summer's day?"…
……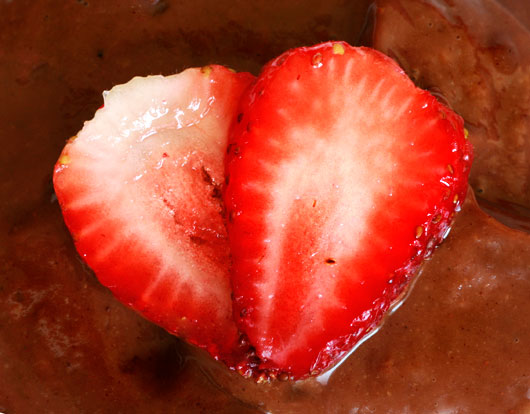 Now I'm actually not a big romantic, I can pass on the over-the-top cards and bunches of flowers. Celine Dion songs make me rage inside and I give stuffed toys to my puppy to destroy as she finds the squeaking areas. I have no desire or need to go see a weepy movie (Sherlock Holmes: Game of Shadows on the other hand was very enjoyable the other night though) and I don't expect fancy jewellery or stuffed toys because it's the 14th day of the 2nd month of the year. I understand where all this cynicism is coming from and maybe I do share a little of it myself.
I do however like going out to dinner and I do love chocolate. Either giving or receiving chocolate is fine for me, or in this case making my own chocolate love hearts and a Raw Seduction Chocolate Chai Pudding for us both to enjoy this year.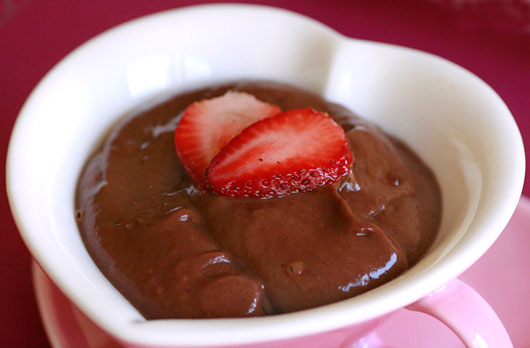 This is more than just a pudding though, it's aphrodisiac food at it's tastiest. Avocado forms the rich, creamy base with it's sensuous pear shape symbolising the female body, love and beauty. Having long been a symbol of sexuality and fertility, avocados are also rich in vitamin E, folate and monounsaturated fats – the healthy heart nutrients. Almonds are also high in vitamin E with the aroma of almonds and almond flowers purportedly provoking an arousal of passion in women particularly.
Banana is in this recipe for it's creaminess, texture and sweetness; one just has to look at a banana or it's flower to understand the aphrodisiac connections.Besides the suggestive shape, bananas contain B vitamins and bromelain (potent sex hormone enhancing substances) and another heart healthy substance – potassium. Consumed for centuries as sweet and nourishing fertility tonics, dates are considered potent aphrodisiacs for women while the agave plant was considered a enhancer of sexual function (alas mostly due to the inebrient action of distilled tequila or pulque production, not agave sweeteners).
All you need is love. But a little chocolate now and then doesn't hurt.
– Charles M. Schulz
I think everyone is familiar with chocolate as an aphrodisiac, forever being associated with love and romance. Phenylethylamine present in cacao provides a sense of well being and excitement similar to the natural high of endorphins while theobromine and anadamide interacts with our neurotransmitters to create pleasurable feelings and a sense of relaxation. Much like being googley-eyed in lurve.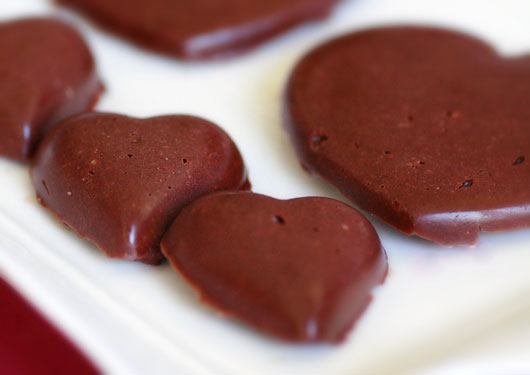 Many spices have also been considered aphrodisiac, with their strong tastes helping to jump-start the senses – perfect for certain Valentines day exercises. Cinnamon is sweet and aromatic, with a circulatory enhancing effect. Clove is exotically spicy and stimulating; it contains eugenol, the fragrance of which is believed to enhance sexual feelings. Nutmeg can raise body heat, and is thought to increase vitality and desire.
Mentioned in the Karma Sutra, ginger posses an intoxicating aroma, and is thought to make erogenous zones hypersensitive due to its circulatory stimulant actions. The capsacin in cayenne enhances this effect, stimulating endorphin release and increasing blood circulation to, well, your periphery. Happy Valentines indeed!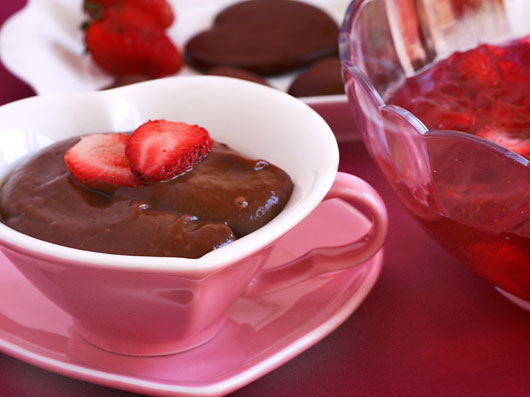 [fb-like-button]
Raw Seduction Chocolate Pudding
(dairy-free, egg-free, gluten-free, raw, soy-free, vegan)
Author:
Alison Murray @ Om Nom Ally
Ingredients
4 medjool dates
¼ cup warm water
2 large avocado, halved and pitted, flesh scooped out
½ banana, peeled and sliced
3 tbsp cacao powder
½ cup almond milk
⅛ cup raw agave syrup
½ tsp cinnamon
½ tsp nutmeg
¼ tsp ginger
pinch of cayenne
¼ tsp cloves
¼ tsp salt
Instructions
Pour water over dates in a small bowl or glass. Leave to soften for 30 minutes.
Add dates and water to a blender, add all other ingredients to blend until smooth. Serve in two dishes and adorn with strawberry or banana slices, nuts, buckwheat groats or other delectable garnishes of choice.
Happy Valentines everyone, hope you all have a fun and cliché free day!
Who did you spend your Valentines with and what did you get up to? If you spent it alone, how did you spoil yourself?
Valentines, February 14, 2012 – Part Two  coming soon with Strawberry Red Zinger Tea Jelly.