I'm one of those annoying people who LOVES grocery shopping. While to some it could be absolute drudgery, Kam and I both actually enjoy filling baskets up with fresh food goodies and pantry essentials each week. I've toyed with the thought of home delivered veggie boxes, or groceries from the supermarket, but looking at produce pictures doesn't give me that same debit card swiping thrill and it feels much more pleasurable to reach on my tippy-toes to grab a block of Green & Black chocolate than adding it to my virtual cart with an effortless click.
When I bother to meal plan and write useful shopping lists we display some fast military manoeuvres to the necessary aisles. When I'm too lazy and disorganised we enjoy gallivanting aisle by aisle to check out specials and new products instead.
It was one of the times we aimlessly meandered that led me to the Nudie juice fridge the other day. Nudie Breakfast Juice with apple, banana and chia smoothie, Yum! The bottle and Nudie's website tells me just what's in there – 5 pressed apples, 1 4/5 mashed banana (really, 4/5 of a banana?), 17,946 chia seeds (riiiight, just say how many tablespoons people) and a sprinkle of cinnamon. Too easy.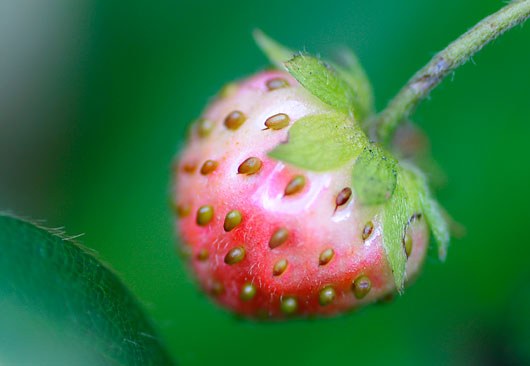 Now, this breakfast smoothie isn't just pretty and so, so pink. It's all about fibre. Banana and strawberry are both full of satiety provoking fibre to fill you up 'til mid-morning. Apple juice is beneficial for alertness and mental function, perfect for getting your brain firing in the morning. If blending and not just juicing the apples for this recipe you also get the added benefit of more fibre including digestion promoting pectin. Chia with it's soluble fibre (yep it's all about lots of fibre today!), high amino acid content and omega 3 essential fatty acids has been added and finally some flax meal (or LSA) has been thrown in for it's own special type of fibre,  phytochemical lignans which convert into powerful and protective hormone-like phytoestrogens. Fibre, fibre and even more fibre for gut function, satiety and health promotion – I bet you thought you were just making yummy drinks when you threw stuff in the blender!
One more note: all this fibre makes this smoothie really filling. The swelling effect of the chia means you do need to drink this in one sitting (or maybe share with a friend if you really can't finish it). While it's fresh, smooth and delicious after blending, it will just keep thickening up until pudding consistency if you're not in hurry to finish it.  This isn't a bad thing either, I do enjoy a good chia pudding! So if you can't finish the whole thing, add a little lemon juice and stir it well, then put it in the fridge and attack with a spoon later!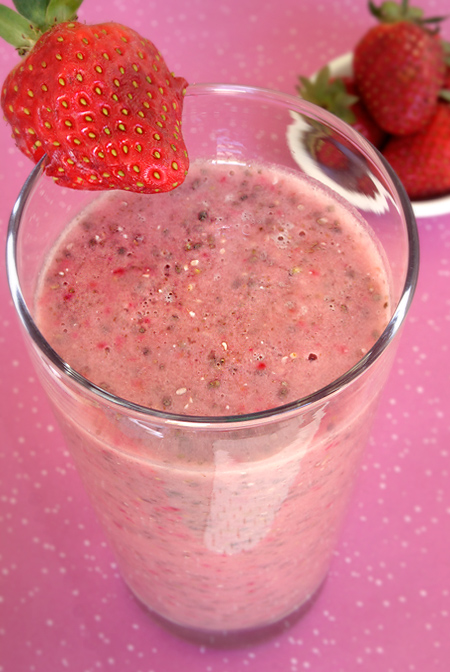 (dairy-free, egg-free, gluten-free, nut-free, raw, soy-free, vegan)
Author:
Alison Murray @ Om Nom Ally.com
Ingredients
3 apples, peeled, cored and sliced
1 large banana, peeled and sliced
150g strawberries, hulled and sliced
1 tbsp chia seeds
1 tbsp flaxseed meal
Handful of ice cubes
Water, if needed
Instructions
Super simple, put all ingredients in a blender and blend until smooth. Add water if too thick, or more ice cubes for a colder and more refreshing smoothie.
Alternatively, juice the apples first and add to the other ingredients, then blend.
Drink immediately after blending, or smoothie will thicken up and need to be eaten with a spoon!
Notes
Use your favourite in-season apples; I used Pink Lady, abundantly sweet and not very acidic