It's definitely not summer anymore (not that it ever really was here in Melbourne this year). It may be the need to wear multiple layers of clothes at work, or the crisp early mornings here but I have officially stopped craving cooling, light salads and finding myself dreaming of soups, stews, curries and other cold-weather fare.
Lasagna is a classic dish to ward off the icicles. Whether a classic meat lasagna with bolognese sauce, vegetarian spinach and ricotta, cheese lasagna or free-form with vegetable slices replacing noodles, you can't go wrong with lasagna. The vegan lasagna presented here still manages a slight nod to the traditional bolognese dish, I used TVP for it's mince-like texture in the base of a 'meat' sauce. Lots of diced vegetables as well as pureed baked pumpkin all disappear into this chunky sauce which is then layered with a vegan pumpkin bechamel sauce.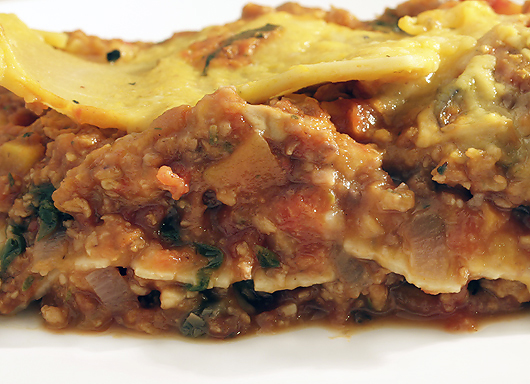 What is that ingredient?
TVP: A by-product of soybean oil production, TVP (Textured Vegetable Protein) is processed at high temperatures, using a vast array of machinery. Made from the flour that is left after all the oil has been removed from the soybeans, it is cooked under pressure, and then textured by an extrusion process into chunks, flakes, etc.
So, as you can see, this isn't a wholefood. You can't make it from scratch in your home kitchen. Sometimes however it just fits the meal I want to make, while making it a vegetarian/vegan option.
Being more positive, TVP is a "lean protein," in that it's a source of protein that is also low in fat and contains around 80 calories per half cup serving size. It also apparently rich in minerals that are retained throughout processing including calcium, iron, magnesium and potassium. I've seen TVP described as being an 'excellent meat replacement', and in regards to it's texture and ability to soak up flavours then, yes, maybe that is true. There are still healthier nutritional suggestions for daily dietary protein needs that I could suggest too. When you do decide to make a meal using TVP, ensure it is GMO-free and has no additives (I'm told TVP products in the US may have MSG added – icky!).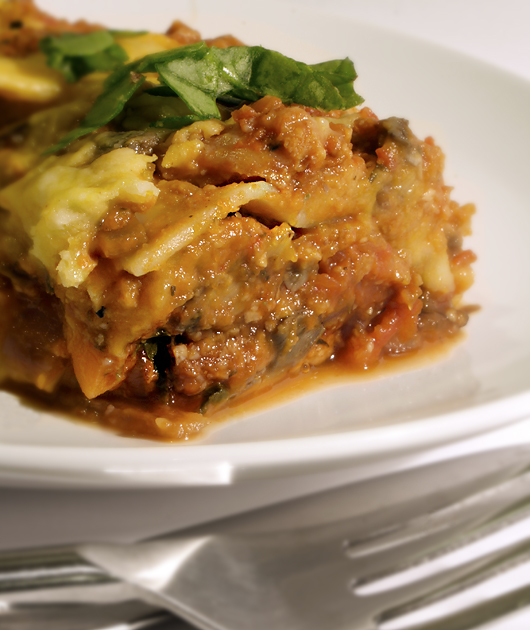 Vegan Lasagna with Pumpkin Bechamel Sauce
(Dairy-free, egg-free, gluten-free, nut-free, vegan; soy-free with substitution)
Author:
Alison Murray @ Om Nom Ally
Ingredients
1 cup TVP + 1 tsp vegetable stock
¾ cup boiling water
1 tablespoon oil (olive, grape seed, rice bran etc)
1 large red onion - finely diced
1 can diced tomatoes
1 large zucchini - peeled and finely chopped
1-2 carrots - scrubbed and finely chopped
1 cup mushrooms - finely chopped
1 tsp salt
½ tsp pepper
¼ tsp Herbamare
1 cup loosely packed spinach - washed and shredded
1 cup cooked, pureed pumpkin
instant lasagna sheets (use gluten-free sheets for gluten-free meal)
bechamel sauce (recipe below)
Instructions
Rehydrate the TVP by pouring boiling water over the TVP and stock mixture. Put aside.
Preheat oven to 200C. Heat the oil in a large pan on medium high heat, add the onions and cook until translucent. Add the TVP mixture and cook until slightly browned. Add the tomatoes, carrots, zuchini, mushrooms, salt, pepper and Herbamare and cook for 4-5 minutes. Stir through shredded spinach. Reduce heat slightly and simmer while preparing bechamel sauce.
In a large pan add a layer of 'meat' sauce to cover bottom, place lasagna sheet on top and follow with layer of pumpkin bechamel sauce. Repeat with more 'meat' sauce, lasagna sheet and more bechamel sauce. Repeat for desired number of layers - ending with a lasagna sheet and final layer of pumpkin bechamel sauce. Bake in oven for 20-25minutes
Notes
Gluten-free: Use gluten-free flour and lasagna noodles.
Soy-free: Today, after a bit of reading and a discussion about the use of TVP, I have it on good advice that cooked bulgar approximates the texture of mock-meat products like TVP and would be a great substitute. (Note – bulgar is not gluten-free)
Voraciously Healthy Carnivores: For meat-eaters out there who want to squidge a lot more veggies into their lasagna meat sauce, obviously substitute the TVP for your favourite lean mince and continue on with the recipe.
Pumpkin Bechamel Sauce
Author:
Alison Murray @ Om Nom Ally
Ingredients
1 cup + 1 tbsp milk (soy or almond are best)
2 tbsp rice bran or coconut oil
2 tbsp flour
½ cup cooked, pureed pumpkin
⅛ tsp nutmeg
½ tsp salt
¼ tsp pepper
Instructions
In small saucepan heat oil on medium heat and add flour, then add milk and whisk until thoroughly mixed.
Bring mixture to a boil and then lower heat. Whisk in pumpkin puree, salt and spices and simmer until sauce thickens.