A lucky workmate is heading overseas at the end of this month, for 6 months. This recipe was a celebration and a farewell; I just had to do some baking to share around at work on her last day. I've been craving moist, dense gingerbread for a while now and this occasion seemed like the perfect excuse. Afterall, I don't need to eat all of these sticky mini loaves (even if I want to).
Inspired by a recipe by Heidi Swanson from Super Natural Cooking, I made adjustments for gluten-free, dairy-free, egg-free loaves as well as adjusting times for mini loaves, lowered the sweetener content and increased the amounts of  spices and ginger to my own palate. With 3 types of ginger (the ground spice, minced fresh ginger and crystalised ginger as a topping) these loaves are spicy and have lots of kick.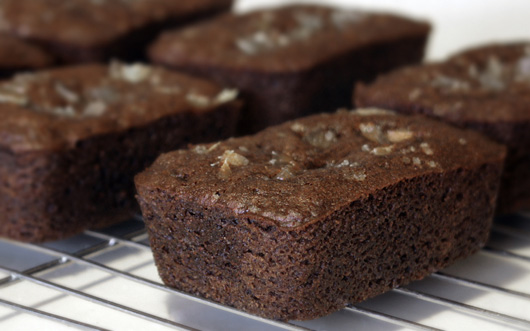 The other star of this recipe is quinoa flour. Used in place of other flours, quinoa flour improves the protein, mineral and fiber content of baking recipes while creating a tender moist crumb in baking products. It is a very light textured flour, requiring a binder (like xanthum gum) to help everything stay together when baking. This has quickly become one of my favourite flours for gluten-free baking for making muffins etc very light (in contrast to buckwheat, which feels heartier and much denser).
It's been a big week all-round this one, I scouted around for massage colleges to continue my Cert IV and then Diploma, I registered for my Reiki I and II training, got some serious study done to knock off a subject in 4 days and I met up with a fellow student of my college studying by distance as well. Heading out to Veg Out in St Kilda, we had a meander around the community gardens with my camera before heading to the botanical gardens and then to her place for lunch. I was completely spoilt with an amazing pumpkin soup and apparently there was also cake we forgot to eat (awww hehe).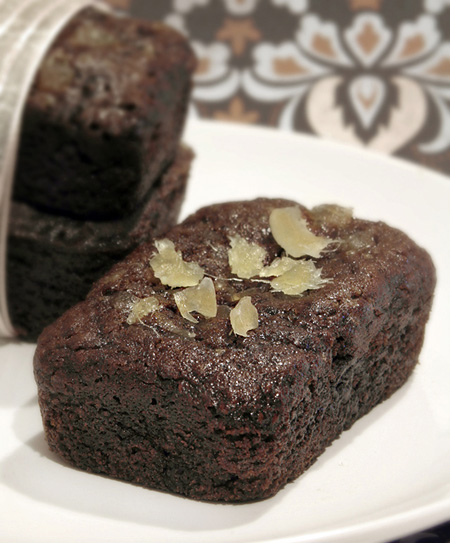 Ultra Ginger Sticky Loaves
A cake recipes for the ginger-obsessed. Decide how much you want to share - this recipe makes 16 mini loaves, 24 muffins or 2 large standard loaves.
Author:
Alison Murray @ Om Nom Ally.com
Cuisine:
Dairy-free, Nut-free, Egg-free, Vegan
Ingredients
1 cup grapessed or coconut oil
½ cup water
1 cup blackstrap molasses
¾ cup agave
2 cup white spelt flour
1 cup quinoa flour
1½ tsp baking soda
2 tsp baking powder
½ tsp salt
2½ tsp allspice
1 tbs ginger
½ tsp cinnamon
½ tsp cloves
½ tsp salt
3 chia eggs (3 tbs chia seeds + 9 tbs water whiske briskly in bowl and let sit 5 min) OR 3 eggs
½ cup rice milk
2 inch knob of ginger, peeled and minced
¼ cup crystalised ginger, chopped finely
2 tbsp demerara sugar
Instructions
Preheat oven to 170C. Grease mini loaf pans, muffins tins or 2 large loaf pans. In a small saucepan combine the oil, water, molasses and agave over low heat. Stir the mixture frequently until all the ingredients are well blended. Remove from heat and pour into a large bowl to cool.
Sift together the flours, baking soda and powder, salt, allspice, ginger, cinnamon and cloves and set aside. Add the chia eggs to the molasses mixture and stir until well combined. Add the milk and then fold the dry ingredients into the batter slowly until most of the lumps are settled out. Stir in the grated ginger.
Pour the batter into prepared pan/s until ¾ full and top the mixture with the chopped crystalised ginger and a sprinkle of demerara sugar. Bake for 30min for mini loaves or muffins, or 1 - 1.5 hours for large loaves or until skewer inserted into centre comes out clean.
Remove from oven and cool in pan for 5minutes, turn out onto wire racks until completely cooked. Store in an airtight container in the fridge, will keep for a few days. Bring back to room tempterature before serving.
Notes
Inspired by a recipe from <a href="http://www.amazon.com/gp/product/1587612755/ref=as_li_ss_tl?ie=UTF8&tag=omnomallcom-20&linkCode=as2&camp=1789&creative=390957&creativeASIN=1587612755" data-mce-href="http://www.amazon.com/gp/product/1587612755/ref=as_li_ss_tl?ie=UTF8&tag=omnomallcom-20&linkCode=as2&camp=1789&creative=390957&creativeASIN=1587612755">Super Natural Cooking</a>
I used a gluten-free flour mix for gluten-free treats, otherwise use whole wheat flour or whole spelt flour