These little babies are absolutely choc-full of protein. Egg, rice protein powder and peanut butter form the triad of muscle-building goodies baked into these cookies for a quick gluten-free post-workout snack.
I've got two bags of protein at home (vanilla rice protein and chocolate whey protein) that I keep neglecting to make smoothies with. I'm getting quite sick of opening my pantry and having them staring out at me forlornly ("Eat us Ally, please make something with us…") and I've since seen this while looking for general ideas of how to add protein powder into normal baking recipes.
Making smoothies is easy = throw handfuls of stuff in a blender and cover your ears while it does the work. What I was aiming for had to be portable. Kam goes to the gym after work at night and I wanted something he could snack on the way home when he's ravenous. It had to be protein-packed to fuel his muscle recovery and aid satiety. Also, only nutrient-packed wholefoods were allowed. I discovered that it's actually quite simple, replace part of my flour with protein powder, or use it in addition and increase my liquid amounts.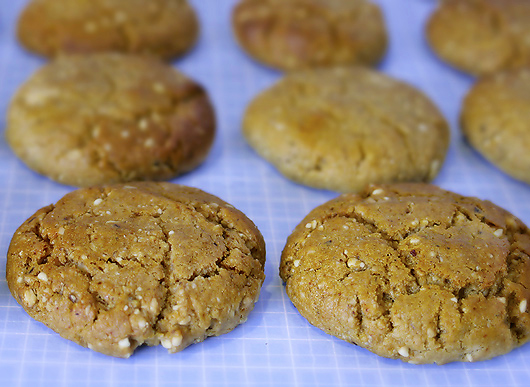 Easy to carry around (and realllly easy to eat) these cookies are also incredibly simple to make – using just one bowl to mix all the ingredients. Who doesn't love baking with less washing up afterwards?
Why you should bake these
When you're sick of buying protein bars for a snack/exercise recovery, or it's too cold to whizz up the blender for a smoothie – these will do in a pinch.
Protein Rich Superstars
Egg: Protein from animal sources—including  eggs—contains all essential amino acids in generous amounts and are considered "complete" proteins. Egg protein is the highest biological value protein and is used as the reference for comparing the relative protein values of other foods. An inexpensive and high-quality protein source, egg proteins also has a high absorption rate of 1.5-3 hours. With its sulphur-containing amino acids, eggs boost  hormone-producing pathways that are invaluable to building muscle and aiding weight loss. The amino acid leucine that is found in eggs also has unique roles in the regulation of muscle protein synthesis, along with insulin signalling.
Peanut butter: A 2-tbsp. serving of peanut butter has about 8 g protein and while peanut butter contains cysteine and methionine as the limiting amino acids, combining it with other protein rich foods completes the amino acid profile.
Rice Protein Powder: A highly digestible and allergen free protein source. When made from the whole grain rice protein is argued to possesses a PER (protein efficiency ratio) comparable to eggs; otherwise it is generally low in the essential amino acid isoleucine lysine (correction 8/4/14).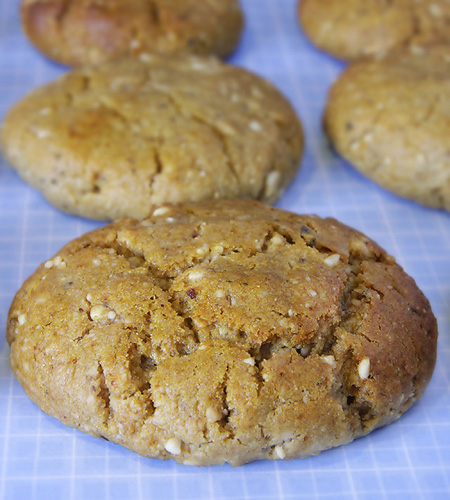 Home-Made Protein Cookies
The perfect home-made post workout snack! Egg, rice protein powder and peanut butter combine in home-made protein rich fuel for your muscles. (gluten-free, vegetarian, dairy free; vegan and nut-free with substitutions)
Author:
Alison Murray @ Om Nom Ally.com
Ingredients
1 egg, beaten lightly
1½ cups natural peanut butter
2 tablespoons protein powder (see notes)
⅓ cup agave syrup
½ cup plain flour (see notes)
½ cup LSA (ground linseeds, sunflower seeds and almonds)
1 tsp baking soda
1½ tsp baking powder
1 tsp vanilla extract
Instructions
Preheat oven to 170C; grease or line baking trays. Mix all ingredients well in a large bowl.
Form little balls of mixture in hands (about 1 tablespoon for each cookie) and place on baking sheet.
Flatten slightly with your hand and bake for 12 minutes until puffed up and golden brown. Cool for a few minutes before enjoying the soft peanuty goodness.
Notes
Flour: Use plain or gluten-free plain depending on needs. Replace some of the flour with lupin, quinoa or coconut flour for even more protein as well as added fibre.
Protein powder: I used vanilla rice protein which is perfect for baking. Whey, soy or pea protein would all be suitable in either vanilla or chocolate flavours.

Recipe Alterations:
Vegan/Egg-free: replace egg with a chia egg (1 tbsp chia seed + 3 tbsp water) or 1 servings Orgran Egg Replacer.
Peanut-free: replace with other nut butter.
Nut-free: replace with tahini, Free-Nut Butter. Replace LSA with flaxseed meal.