We're not big celebratory, party animals in this household. While we mustered up the energy for a trip out on New Years Eve this year, we didn't really get into the Christmas spirit and had a very quiet holiday period. Four months after December and I still haven't gotten Christmas or birthday presents from Kam due to my indecisiveness. I haven't bought him anything either for the same reason. We also forgot our anniversary this year. We're generally pretty non-plussed. Which at least means we get to enjoy a very relaxing and stress free holiday period each year.
The more I enjoy spending time in the kitchen however, the more fun it's becoming to  celebrate special occasions with food. Christmas means wrapping up food gift boxes for loved ones; cocktails, canapes and cheese platters appear at New Years; birthdays are a great excuse for ridiculously decadent cakes. All these things really appeal to a pair of homebodies like us So while we didn't get each other Easter eggs thie year, we did get to enjoy a roast dinner with all the trimmings and a batch of Rye Blueberry Hot Cross Buns.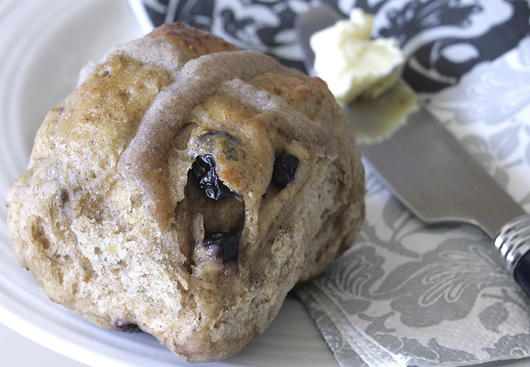 It's one of those cliches, but there is nothing like the smell of hot cross buns wafting out of your oven. I was salivating long before the 20min baking time was up, and I can guarantee you will be too.  Tearing open a bag of rye flour and using some organic dried blueberries was a brilliant idea.
 A very good source of dietary fiber rye flour also contains prebiotics, phosphorus, magnesium, manganese, protein and vitamin B1.  Another benefit of using rye flour in your baked goods is that it produces a low and sustained blood glucose response compared with standard white wheat products – who doesn't need some blood sugar regulation around Easter time?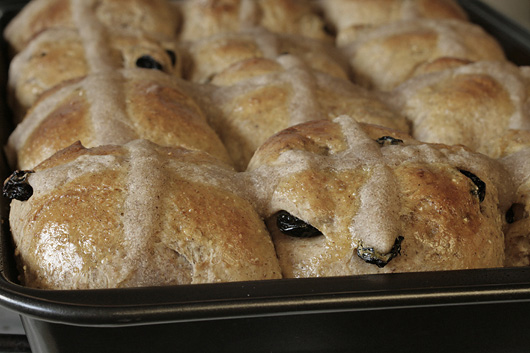 Rye Blueberry Hot Cross Buns
(Nut-free, soy-free, vegetarian. Dairy-free, egg-free or gluten/wheat-free with modifications - see notes)
Author:
Alison Murray @ Om Nom Ally.com
Ingredients
2¼ tsp dry active yeast
1 tsp sugar + ¼ cup (any granulated type)
¾ cup milk (I used non-dairy, use any type)
1 egg, lightly whisked
3 tbsp butter (or oil)
1 tsp cinnamon
1 tsp allspice
½ tsp salt
2 cups spelt bread flour (or wheat bread flour, or all purpose flour)
1 cup rye flour
½ -1 cup dried blueberries (they are expensive, so I used ½ cup)
Eggwash: 1 egg, beaten lightly
Instructions
Mix yeast, milk and 1 teaspoon of sugar in a non-reactive bowl. Leave for 10min until frothy.
In a large bowl, mix together the egg, butter, spices, salt and the yeast mixture. Add flour and blueberries and mix thoroughly, using hands to incorporate the last bits of flour until you have a slightly wet, sticky dough.
Turn out onto cutting board and knead for 10-15 minutes OR knead in a bench mixer/bread machine following manufacturers instructions. After kneading, form into a ball, place into a large oiled bowl and loosely cover with cling wrap. Put in a warm place and leave to rise for 1-3 hours until doubled in size (mine took 3 hours).
After rising time, punch dough down and knead gently for a few minutes. Divided dough into 12 pieces and shape into buns. Place into an oiled baking tray, barely touching in a 4x3 arrangement. Let rise for 30 minutes. Preheat oven to 190C
Using a pastry brush, brush each bun with egg wash (if using) and using piping tool to mark crosses over the buns (see notes).
Bake for 15-20 minutes until golden brown. Carefully remove batch of buns from tray and allow to cool completely on wire rack.
Notes
<strong>Piping</strong> Mix all ingredients following in a small bowl, pour into a snap lock bag and snip edge to make piping bag. Alternatively, use piping tools.
1 tablespoon water
1 tablespoon rye flour
¼ tsp cinnamon
¼ tsp allspice

<strong>Recipe Alterations:</strong>
<strong>Gluten-free:</strong> replace flours with gluten-free bread flour mixture and alter instructions according to manufacturers recommendations.
<strong>Dairy-free:</strong> replace butter with oil or coconut oil. <strong>Egg-free:</strong> replace egg in dough with chia or flax egg; do not glaze hot cross buns
<strong>Vegan:</strong> replace butter with oil or coconut oil; replace egg in dough with chia egg or flax egg; do not glaze hot cross buns
If only Easter lasted longer so I could justify baking about 10 more batches!