These are the cookies that Kam always asks me to bake for him – which I too often ignore/deflect/forget. I think these are also one of the first recipes/foodblogs that I bookmarked when I discovered TasteSpotting and FoodGawker at the start of last year when I was enjoying having my own kitchen finally again.
I've played around with the recipe a few times – eg replacing the sugar part with more agave which made them too soft and crumbly. The original recipes works so well that it doesn't need any messing with; I only ever replace the linseed meal with LSA because this is what I always have on hand in the fridge. I also replace the brown sugar with either dark brown muscovado sugar or molasses sugar for their deep colour and rich flavour.

Why you should bake these
It's got peanut butter and it's in cookie form. Do I need to really convince you? As a 'stick-to-your-ribs' food, a small serving of peanuts (or peanut butter) is very satisfying and when freshly ground, organic and un-processed it's also incredibly good for you. It also only takes maybe 5 minutes to get the ingredients together and in the oven, and then 20 minutes until you can enjoy peanut buttery goodness 🙂
Nutritional Superstars
Peanut Butter: As a very good source of monounsaturated fats (as emphasized in the heart-healthy Mediterranean diet), peanuts also provide resveratrol, the phenolic antioxidant also found in red grapes. Containing a high percentage of protein (about 24%), peanuts also contain many important micro-nutrients such as Vitamin E, Vitamin B3 and large amounts of beneficial minerals such as iron, magnesium, potassium, copper and calcium. Peanut butter also has fairly high quantities of dietary fiber (about 8%), which helps in regulating both blood cholesterol and blood sugar levels while protecting against colo-rectal cancer.
LSA: An excellent source of essential vitamins and mineral as well as protein, fibre and omega 3, 6 and 9 essential fatty acids. Store in the fridge and when adding to baking/cooking recipes, keep in mind that heating will affect the nutritional value. Choose a brand that has a fair ratio between the linseed meal, ground sunflower seeds and almonds – some are 95% linseed meal (which is cheap) and small amounts of the other two ingredients
Muscovado sugar: Pure, wholesome, unrefined, natural cane sugar that maintains the same vitamin and mineral content as the juice it is made from. Free of harmful chemicals such as phosphoric acid, sulfur dioxide and formic acid, which may be put in during the additional stages refined white sugar goes through.
What if I can't eat that?
Nut-free: Swap peanut butter for something like Eskal FreeNut Butter, and follow original recipe to use linseed meal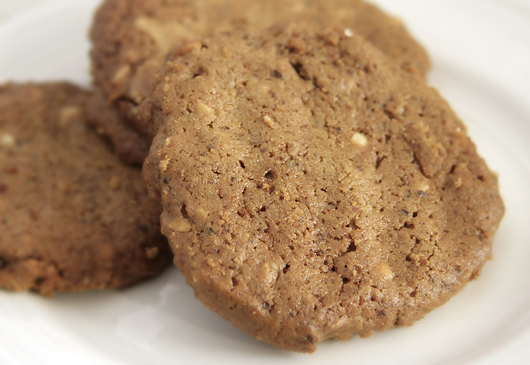 Flourless Peanut Butter Cookies
Very slightly adapted from Have Cake, Will Travel
(dairy-free, egg-free, gluten-free, soy-free, vegan)
1 cup peanut butter, or any nut butter (preferably organic, freshly ground)
1/4 cup dark agave nectar
1 teaspoon pure vanilla extract
1 teaspoon baking powder
2 tablespoons LSA (linseed, sunflower seed and almond meal mix)
1/4 cup muscovado, or molasses sugar (you can use any unrefined sugar in it's place)
Preheat oven to 150°C. Grease or line a large cookie sheet with parchment paper.
Combine all ingredients in a small bowl, and stir well for about a minute. Drop tablespoon sized amounts of dough on baking sheet, flatten with your hand. These cookies don't spread much, you can usually fit 8-10 on a standard size baking sheet.
Bake for 20 minutes, or until golden brown around the edges. Looking like molten lava cakes as you remove them from the oven, all puffed up and golden, the cookies deflate and harden up as they cool. Remove them carefully with a spatula to cool completely on a wire rack.
Yield: about 12 cookies
Serving size: per 1 cookie