One of my all time favourite kitchen activities is to try and recreate things available in premade or premixed packages; this scrumptious recipe is inspired by an Oz Tukka muffin mix. Gluten-free and claiming to be an 'authentic, uniquely Australian treat, flavoured from our pristine Costal Rainforests' this product presented itself as the perfect experiment to make from scratch. I adore lemon myrtle and can inhale a bag of macadamias in seconds if not under close supervision. Aboriginal Australians made macadamia nuts an important part of their diets due to their protein and fat content; that's a good enough reason for me to devour them by the handful!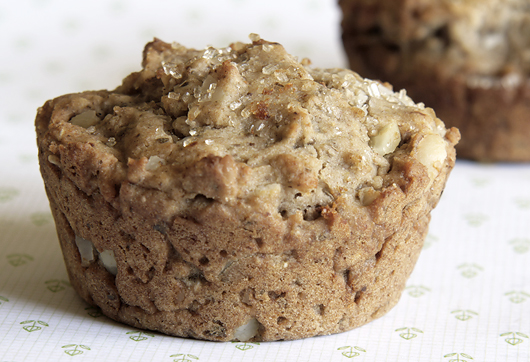 This is a really simple gluten-free flour mix, glutinous rice flour (glutinous = 'sweet'; not 'gluten') combines with buckwheat flour to give a bit of denseness and an overall nutty taste. Chia eggs eliminate the need for a gluten replacement like xanthum gum for binding. It's a really easy batter to work with and the muffins rose almost as much as my normal spelt ones do with a pleasant chewiness and crumb.
The complexity of dried lemon myrtle, with it's complex flavours of lemon, lime and lemongrass pairs incredibly well with creamy macadamias. While macadamias taste their absolute best freshly cracked out of their shells, this is a fantastic treat to use them in. The kind of snack to enjoy with a steamy hot cup of lemon myrtle tea, you can eat one (or two) knowing that with all the fibre, monosaturated fats and phytochemicals are doing you wonders – even if you did eat them in muffin form!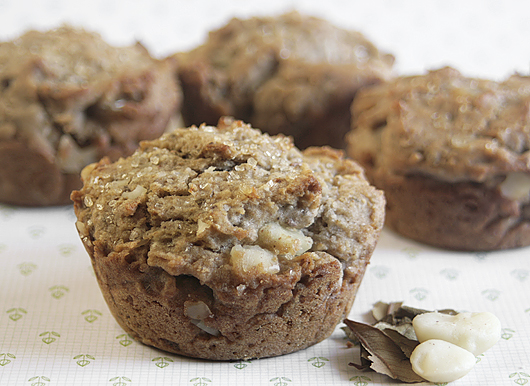 Lemon Myrtle & Macadamia Muffins
(dairy-free, egg-free, gluten-free, soy-free, vegan)
Ingredients
½ cup macadamias
2 tbs dried lemon myrtle leaves
1½ cup buckwheat flour
½ cup glutinous rice flour (sweet rice flour)
3 tsp baking powder
½ cup agave syrup
¼ cup grapeseed oil
2 chia eggs
½ cup soy milk
2 tsp lemon juice
demerara sugar, for topping (optional)
Instructions
Preheat oven to 180C. Finely chop macadamia nuts or place in plastic snap lock bag and crush finely with rolling pin – leaving some parts roughly chopped. Put aside.
Using spice grinder, grind lemon myrtle to a fine powder. Combine flour, salt, baking powder and lemon myrtle powder in a bowl.
In another bowl combine soymilk and lemon juice – let sit for 5 minutes to curdle. Add chia eggs, oil and agave and then whisk to thoroughly combine. Make a well in the centre of flour mixture and add wet ingredients.
Mix until just combined and then stir through macadamias. Divide into muffin tins and sprinkle a small amount of demerara sugar on top (if using).
Bake for 25minutes until browned; cool in muffin tin for 5 min and remove to rest on cooling rack.
Notes
Can use eggs instead of chia eggs, buttermilk instead of soy milk + lemon juice.