I have under $10 dollars in my bank account this week, which surprisingly hasn't been caused by a massive book buying spree. I get paid on Wednesdays now, so I have to wait a little bit for my next pay check before I can restock the pantry and fridge. All this really means is that lunches for myself and dinner for our household the past week has consisted of things already residing in the vacinity of the kitchen. In the past 8 days I've had Spelt Berry Salads, tuna and salad sandwiches, risottos and lots of fruit and nut based snacks with Acai Berry Muffins as special treats. It makes me happy that if a zombie apocolypse was to happen (seriously, don't ask lol); or more realistically I was without money for a few weeks, my food staples hoarding would easily keep us alive.
This Monday night dinner is one of those pantrybasics recipes. Essentially it consisted of swapping out a few ingredients from a recipe from The Gluten-Free Vegetarian Kitchen for what I had on hand and toasting up some gluten free pita bread. A substantial soup, this meal is full of different textures with beans and a few veggies and I enjoyed it's robust spiciness. With the original recipe being a little too watery for what I was expecting, I added in Omega-3 and fibre rich chia seeds one tablespoon at a time for thickening.
Why you should make this
One word → Delicious. The soup is low in calories, high in fibre and it's also bright red (that's got to be a good argument for eating it right?)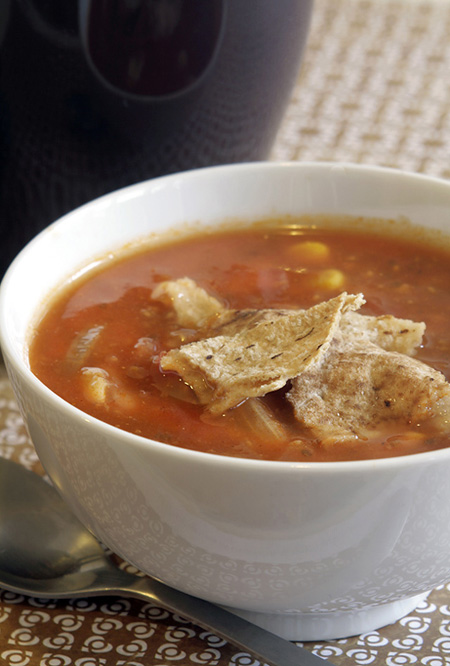 Tortilla Soup
(adapted from The Gluten-Free Vegetarian Kitchen)
Makes 4 servings
1 tbsp extra-virgin olive oil
1 large onion, diced
1 small chilli, seeded and chopped finely
2 cloves garlic, finely chopped
3 cups water
2 tsp vegetable stock powder
1 can diced tomatoes
½ tsp dried oregano
1 tsp dried coriander
½ tsp ground cumin
1 can mixed beans (or can of your favourite beans)
1 cup fresh or thawed frozen corn
3 tablespoons chia seeds
2 tbsp lime juice
1 gluten-free tortilla or pita bread (or non-gluten-free if not necessary)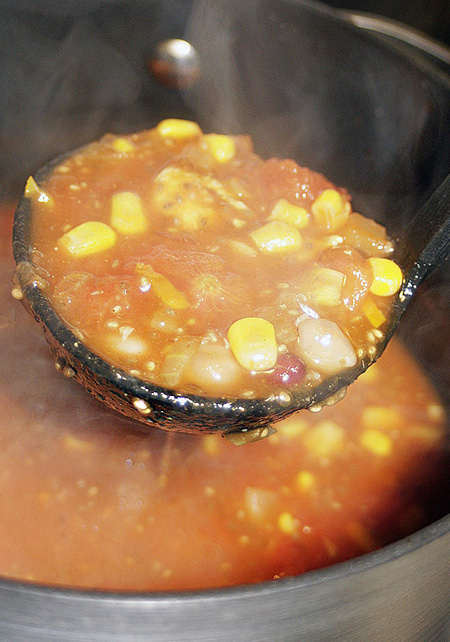 Preheat oven to 180C. Break tortilla/pita bread into bite-sized pieces and place in one layer in a shallow baking tray. Bake for 10-15 min until slightly browned and crispy. Remove from oven and put aside
In a medium saucepan, heat the oil on medium heat. Add the onion and chilli and cook while stirring for 5 minutes until onion is translucent. Add the garlic and cook for about 1 minute until fragrant.
Add the water, stock powder, tomatoes, spices, salt and pepper – bring to a boil over medium-high heat. Add the beans and corn and reduce heat to medium to simmer for around 5 minutes. Add chia seeds, 1 tablespoon at a time and stir slowly to thicken soup.
Remove from the heat and stir in the lime juice. Ladle the soup into bowls and garnish with toasted tortilla/pita crisps.