How sweet, Kam brought me home some flowers……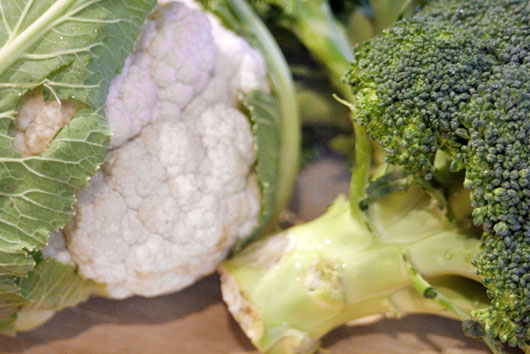 Yes they are flowers – well the immature flower heads to be exact – and while they aren't the prettiest and most colourful blooms for my kitchen table vase, they are pretty amazing on my plate! Rich in antioxidant vitamin C and detoxification boosting isothiocyanates, the tightly packed florets of these brassica vegetables are truly beautiful in my eyes.
I can't actually say I really loved anything from the Brassicaceae family until about a year ago though (a very, very picky child) but now I can't get enough of these little green trees. Uneaten broccoli florets used to stare at me from my plate and now I throw bite-sized pieces into all kinds of dishes. My taste buds have shifted to the point where I love the slightly brash, slighty bitter taste – organic cauliflower or broccoli tasting even better than the supermarket stuff too.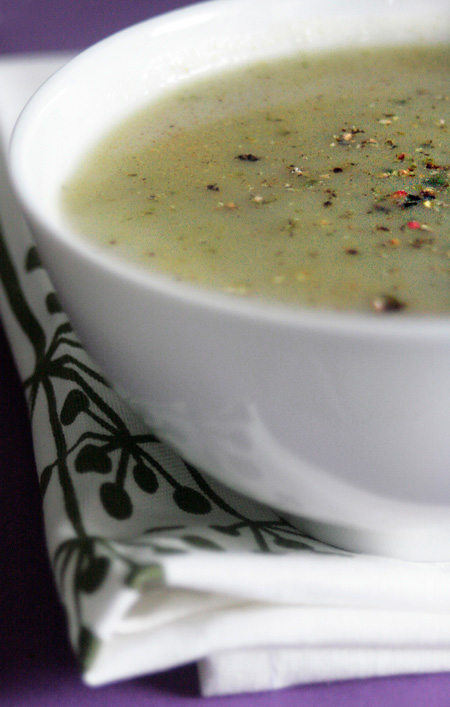 With any new food I'm acclimatising my palate to I always make a mad dash to try it in as many dishes as possible. I make notes in my cookbooks as I come across previously ignored recipes. I replace ingredients in dog-eared recipes in my own handwritten collections. I steam it, boil it, bake it and nibble on it raw (but not too high a raw intake for these guys, ok? Goitrogens and your thyroid don't play well together).
From all of this fastidious exploration I always manage to discover some great go-to recipes I can use when I have a surplus of an ingredient. And anyone who reads this blog regularly knows that I purchase way too much fresh produce each week and this happens a lot!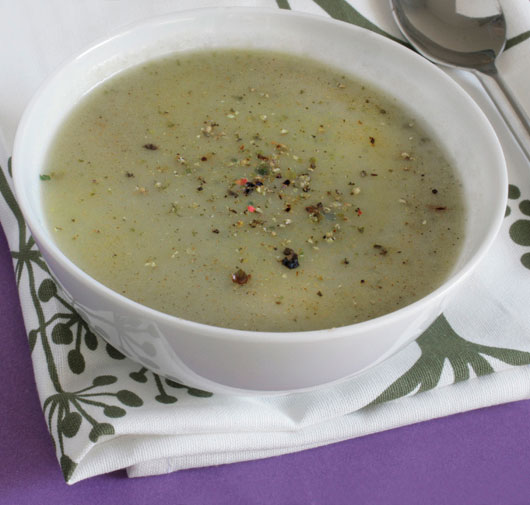 This is one such go-to recipe, found in Alison Marie Fleming Go Dairy Free (which also contains the recipes I adapted for my Cauli-Broc and Cheeze and Easy Peanut Butter Bread from). It's a fast and delicious curried briccoli soup, without an overpowering broccoli taste. Anyone who hated broccoli as a kid knows what I mean there. Alisa describes it as having a 'creamy vegetable base' with a 'subtler mix of spices' – I couldn't have said it better myself.
And speaking of kids, how adorable is this Nutrition Education learning toolkit for classrooms. I'm holding onto a copy of that for when I have some of my own picky little eaters!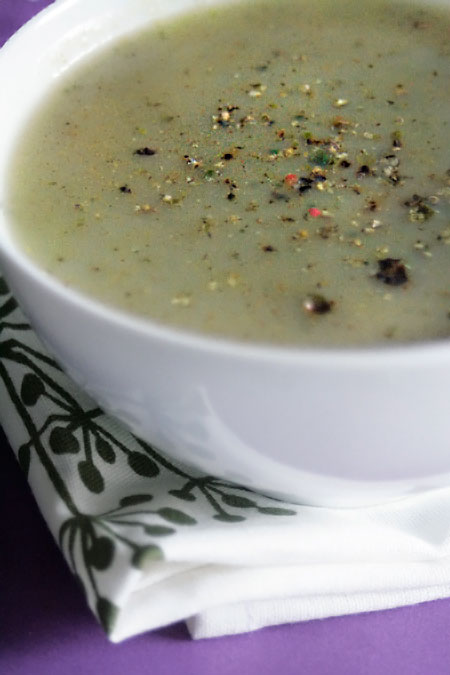 Lightly Curried Cruciferous Soup
(dairy-free, egg-free, gluten-free, nut-free, soy-free, vegan)
Author:
Recipe from "Go Dairy Free: The Guide and Cookbook for Milk Allergies, Lactose Intolerance, and Casein-Free Living"
Ingredients
1 tablespoon grapeseed oil
1 small onion, chopped
2 tsp garam marsala
2 garlic cloves
4 cups vegetable broth
½ tsp salt
1 small head cauliflower, cut into florets
1 medium head of broccoli, cut into florets
1 tsp lemon juice
Instructions
Heat the oil in a large pot over medium-low heat. Add the onion and cook for 5 minutes, until translucent. Add the garam marsala and garlic, cooking for an additional minute.
Add broth, salt, cauliflower and broccoli to the pan. Bring to a boil, then lower to simmer for 20minutes until the vegetables are tender.
Transfer the soup to a blender, or use an immersion blender and puree until smooth. Divide into bowl and top with lemon juice and additional spices.
Are there any foods that you hated as a child and now adore?
Or are you still a picky eater?