Raise your hand if you love peanut butter on toast!
Now wouldn't it be even better if you could have peanut butter… on some peanut butter toast?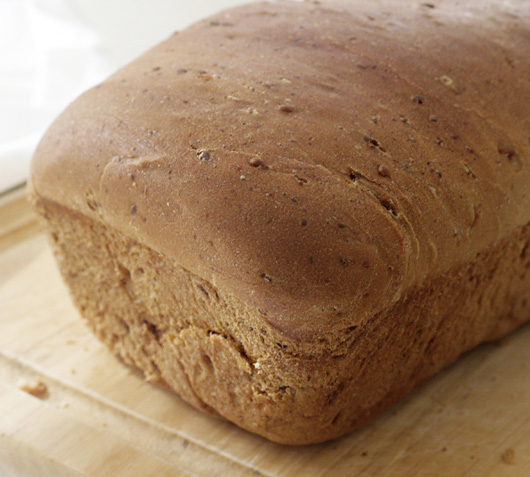 This recipe was accidentally found recipe while looking for something to cook for dinner. I love Alisa Marie Fleming's recipes, both from her blog or book, and have churned out adapted versions of a delicious soup and this scrumptious peanut butter loaf recently. A-ma-zing.
I diverted from the instructions for the recipe in the book  – add the yeast to the flour, not the water first? I let my yeast foam up first to ensure it was active before I proceeded. I also decided to omit the chocolate nibs/chunks as I wanted a really simple breakfast loaf. It's a peanut butter loaf, let the peanut flavour stand front and center!
The smell during baking was intoxicating, waiting for my bread to cool was excruciatingly  and the first slice with home-made raspberry-chia jam was breathtaking! Slices and slices of this loaf were devoured with jam, lashing of butter, more peanut butter with bananas, honey and cinnamon…. delectable!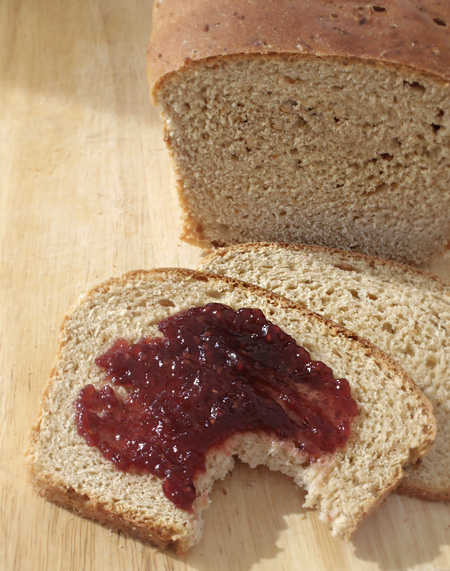 (dairy-free, egg-free, soy-free, vegan; wheat-free and gluten-free depending on flour choice)
Recipe type:
Bread, Breakfast
Ingredients
1 cup water
2 tsp active dry yeast
3 tbsp muscovado sugar
½ cup crunchy peanut butter
3 cup flour (bread flour, wholemeal, spelt or gluten-free bread mix)
Instructions
Combine 1 tablespoon of sugar, ½ cup of water and the active yeast to a small bowl. Whisk to dissolve the yeast and allow to stand until foamy.
In a large bowl or stand mixer bowl mix flour, salt and remaining sugar. Add the yeast mixture and by hand or with stand mixer dough hook combine all ingredients. Turn the dough out and knead for 10 - 15 minutes until elastic.
Shape the dough into a ball and place into a lightly oiled bowl. Cover with plastic wrap or tea towel and leave to rise in a warm place until double in volume (1 - ½ hours).
Grease a 8x5 inch loaf pan. Punch the dough down, then on a flat surface shape the loaf. Flatten with a rolling pin to 20 x 30cm. Roll up dough like a Swiss roll, tightly and firmly.
Place into prepared loaf pan and press down with knuckles gently into corners of pan.
Leave to rise for a further hour until mushroomed 2 inches above pan. 20 minutes before end of rise time, preheat oven to 175C. Bake for 40-50minutes - use a thermometer to check internal temperature of bread has reached 90C at centre or tap bottom of loaf to ensure it's hollow.
Does the idea of Easy Peanut Butter Bread make you salivate?
Or would making it with another nut butter or tahini float your boat even more?