Donut or Doughnut? Whichever way you want to spell them, prepare them or decorate them…. doughnuts are a little bit special and a little bit naughty.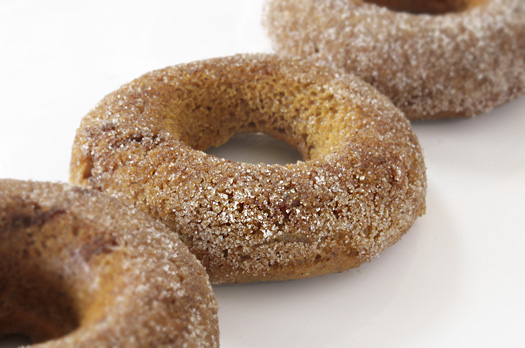 I found a a new addition for my bakingware collection recently at General Trader. Flashes of recipe fragments whizzed around in my head when I spied the store display of doughnut baking trays. I could now enjoy that favourite treat of my childhood; make them with a fraction of the fat and with healthier sweeteners!
I had to do two batches of these donuts, you know… to perfect the recipe and all. The first batch was also too oily and heavy; the second lot much more light and airy.  1/2 tablespoon of oil for a batch of 10 donuts seemed to be the perfect amount, a small amount of agave,  lots of heady spices and some apple cider vinegar for buttermilk sourness. Proceed to roll in cinnamon sugar and try not to eat the whole batch!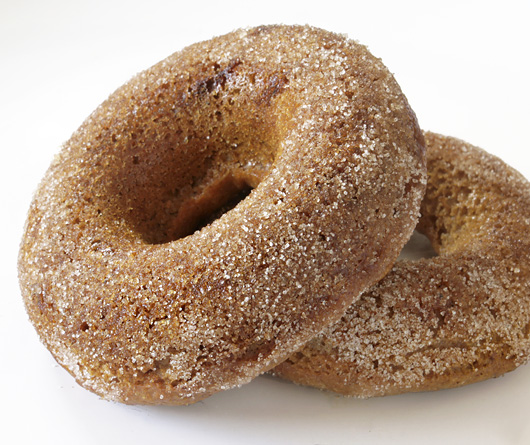 [fb-like-button]
(dairy-free, nut-free, soy-free, wheat-free, vegetarian; egg-free, gluten-free and vegan with substitutions)
Author:
Alison Murray @ Om Nom Ally.com
Recipe type:
Dessert, Baking
Ingredients
1 cup white spelt flour
1½ tsp baking powder
¾ tsp baking soda
¼ tsp salt
1 tsp cinnamon
½ tsp nutmeg
⅓ cup agave
1 egg, beaten (or egg replacer, or chia egg)
⅓ cup non-dairy milk (soy milk would be best for buttermilk, but any milk on hand will do)
½ tbsp grapeseed oil
2 tsp apple cider vinegar
1 tsp vanilla extract
Cinnamon sugar (recipe follows)
Instructions
Preheat oven to 180C. Coat or spray donut tray with small amount of oil. In a small bowl, combine the dry ingredients.
Combine the egg, oil, milk, apple cider vinegar and vanilla and mix well. Stir into dry ingredients just until moistened.
Fill donut tray half full, bake at 180C for 15mins or until a toothpick inserted near the center comes out clean.
Remove from oven, let cool in the pan for 5 minutes and transfer to wire rack. Roll top surface of each donut in cinnamon sugar and return to wire rack to cool completely or just enjoy warm (like I did... and then did again...)
Notes
Cinnamon Sugar
¼ cup fine granulated sugar
1 tsp cinnamon powder
Combine until well mixed. Store in a sealed container.
What are you cooking or baking over the next few days? Are you craving donuts now too?