Nevermind this wet and dreary Monday, summer is on the way and I for one couldn't be happier. I'm very much a warm-weather girl and can't wait to bid goodbye to this winter in Melbourne.
Letting go of my warming comfort foods is probably going to be a little more difficult though. There's been lots of hearty soups, vegetable bakes, chilis and curries lately on the meal planner lately. I'm not feeling the salad and light snacks urge just yet.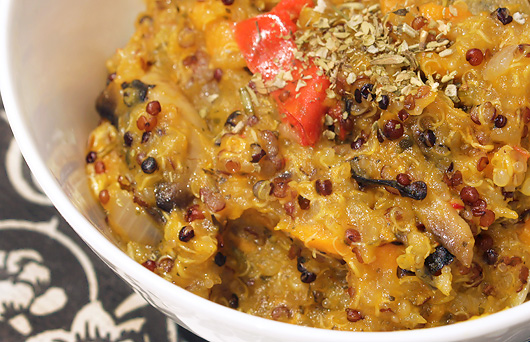 A friend recently suggested using brown short grain rice for risottos (delicious). Quinoa is what I'm all about lately though so I had to give it a go. You won't be able stop at one serving of this dish. It's a bright, sunny orange with a melt-in-you-mouth creaminess. If you love your sweet potato this is your ultimate comfort meal.
This risotto doesn't feel as heavy as the traditional dish. Quinoa is often considered a low-carb pseudograin, having a lower digestible carb percentage with its increased protein and fibre content. This vibrant and flavourful meal is very filling but doesn't leave you feeling over-stuffed with it's rich, creamy indulgence. More room for a nutritious dessert I suppose?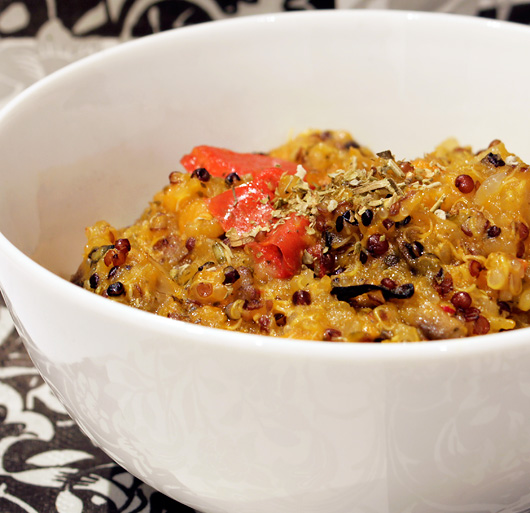 Sweet Potato Quinoa Risotto
(dairy-free, egg-free, gluten-free, soy-free, vegan)
Author:
Alison Murray @ Om Nom Ally.com
Ingredients
1 tbsp rice bran oil
1 large sweet potato, peeled and diced into 1cm cubes
10 button mushrooms, finely diced
1 large onion, diced
2 garlic cloves, minced
3 tsp Italian mixed herbs
½ tsp black pepper
½ tsp salt
1 small red chilli, seeded and sliced
2 cups uncooked quinoa, rinsed (I used an Andean Grains quinoa mix)
6 cups vegetable stock
1 bay leaf
Instructions
Heat oil in a large saucepan and cook cubed sweet potato, stirring often for 2 minutes. Add mushrooms, onion, garlic, herbs, pepper and salt and cook while stirring for another two minutes 2 minutes. Add quinoa and stir until grains are fragrant, about 2 minutes.
Add mixture to basin of a rice cooker and switch machine on to 'cook'. Alternatively continue recipe with mixture in saucepan.
Add ⅓ of vegetable stock and bay leaf, stir to mix well through quinoa and sweet potato mixture. Close lid of rice cooker or place lid on saucepan and cook until liquid is absorbed. Repeat by adding remaining stock in two batches, stirring to mix and cooking until absorbed.
At end of cooking time, stir well to mix, taste and add more seasoning as needed. If quinoa is wet, cook longer - the grains should be slightly toothsome.
Discard bay leaves, top with fresh or dried herbs and slivers of red chilli.