We managed to spend $165 dollars for less than one minute of locksmith work this week. This is the joy of locking yourself out of the house together trying to find out what the people lurking in front of your house with torches are doing.
Things we have learnt:
Ally – Pick up your keys before you walk outside because Kam may follow you out 5 min later and shut the door behind you both.
Kam – If Ally leaves the door wide open when she's outside, there is probably a reason.
I at least got to have a sleep-in the next morning (8am instead of 6am) and after plowing through a chunk of big assignment I  looked up and realised it was 1pm. I hadn't even eaten breakfast yet! With references, paragraphs and other assignment-y things buzzing around my head, I needed a quick fueling up so I could dive back into in. That's where a pulverizing blender comes in handy for some fast nosh. Nothing makes me happier than chopping, dropping and turning a dial to make breakfast.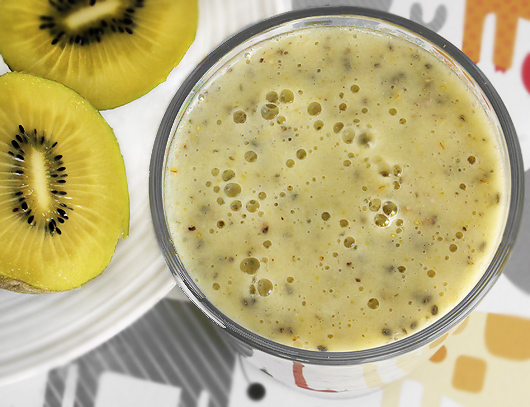 This shake makes enough for two people, but I drank it all and was full until 3pm when I made lunch. Chia seeds always give me an amazingly sustained energy boost while you might already know that I love kiwi fruit. Home-made magnesium and potassium rich almond milk went in with some super ripe bananas. All this with a cup of water added ended up being the consistency of a thick milkshake – oh and it tasted divine 😀
Golden Kiwi Almond Shake
(dairy-free, egg-free, soy-free, gluten-free, vegan; nut-free and raw with considerations below)
Author:
Alison Murray @ Om Nom Ally
Ingredients
2 kiwi fruit - halved and flesh scooped out
2 bananas - fresh or frozen
1 cup almond milk (see notes for raw/nut-free)
1 cup water
2 tbsp chia seeds
Instructions
Combine all ingredients in blender or food processor and process until smooth (chia seeds will still be visible)
Serve in two glasses or store half the batch in air tight container or bottle to enjoy up to 8 hours later.
Notes
Nut-free: Replace almond milk with your favourite dairy or non-dairy milk.
This recipe is listed on
Very Good Recipes
under
kiwis