This right here is sunshine in a cup 😀
I'm such a dork for saying that, but look at those gorgeous, golden kiwifruit and just imagine how this tastes! Now imagine that it was 5 degrees Celsius, wet and dreary when I heated this up for breakfast. Understand where my glee is coming from? I honestly am in love with golden kiwi fruit, the colour is amazing and I'm convinced they are even more tart and sweet than their little green friends. Best of all though they received a standing ovation from yours truly for their performance in this nutrient-dense, energy sustaining breakfast. I was excitedly bouncing all over Melbourne doing errands today until I made myself lunch at 2pm.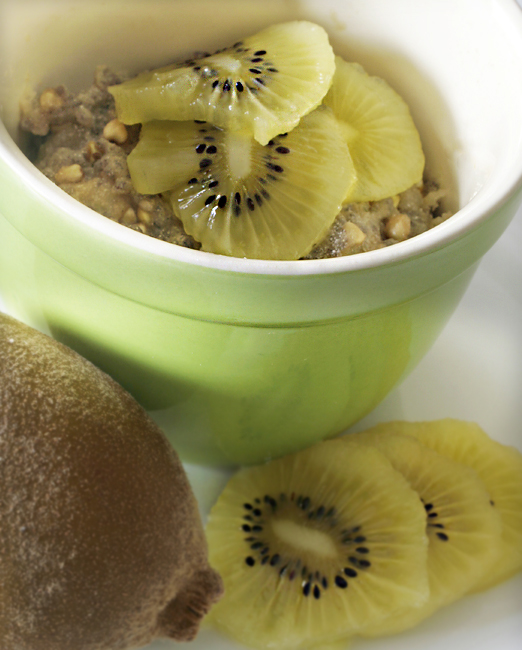 I've been experimenting for a while with different ingredients for quick, hot brekkies using different ingredients, flavours and fruit. When I found an 8 pack of golden kiwifruit at Coles I knew exactly what to do.
Gluten, dairy, egg and nut free as well as vegan, these breakfast puddings contain quinoa flour, a double shot of chia seeds, lots of mashed kiwi fruit and buckwheat groats. The FDA has stated that kiwi fruit is the most nutrient-rich of the top 26 fruits consumed in the world today; so even though this dish could pass off as dessert they are definitely appropriate as breakfast fare.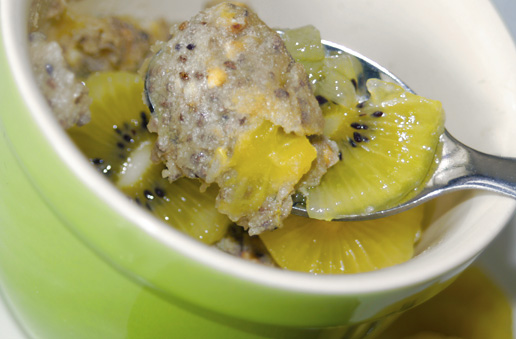 (dairy-free, egg-free, gluten-free, nut-free, vegan)
Ingredients
4 kiwi fruit - peeled, mashed with fork
2 tbsp non-dairy milk of choice
1 tbsp agave syrup
2 tsp vanilla essence
½ cup quinoa flour
2 tbsp buckwheat groats
2 tbsp chia seeds
½ tsp baking powder
2 chia eggs (2 tbsp chia seeds + 6 tbsp water mixed)
Instructions
In a bowl, mix together the mashed kiwi fruit, milk, agave, vanilla essence and agave. In another bowl combine the quinoa flour, buckwheat groats, chia seeds and baking powder. Slowly combine the two bowls into one, thoroughly mixing in the chia eggs at the end.
Distribute the kiwi mixture between 2-4 ramekins (depending on your preferred serving size - I used 4 ramekins) and go ahead with cooking or cover and refrigerate up to 3 days.
To cook, microwave on high for 1 min 30 sec - 1 min 45 sec. Serve with any manner of toppings - sliced kiwi fruit, nuts, fruit salad, muesli. Go crazy and enjoy!
Notes
Don't fall to temptation and blend your kiwi fruit, those little black seeds can be incredibly bitter.