Yes, I do call onions "fun-ions". I am a complete dork 😛
This is another recipe from Appetite for Reduction and was made primarily for my onion-ring loving boyfriend. Baked in the oven, I'm definitely much happier serving him these than watching him eat from a greasy takeaway place. Much less oiler, more delectably chewy and slightly crunchy, this is a great snack side dish for a big fat home-made veggie burger. As Isa states – "the greasy mess that is a diner onion ring became a thing of beauty… baked in a superhot oven".
Instead of plain flour and breadcrumbs used in the original recipe coating stages, I coated my onion rings in whole wheat flour and then wheat germ. Vegan, dairy-free, soy-free and nut-free, this recipe would also be easily made gluten free by using gluten-free flour and breadcrumbs.  I used very thickly cut, red onions for a slightly sweeter side dish, and next time I would increase the amount of vinegar in the recipe to a minimum of 2 teaspoons (I wanted it to taste more sour and 'vinegar-y'). The recipe makes enough to coat two huge onions, though I found I had HEAPS of the first stage coating mixture left over and used all of the crumbing mixture up. Also, definitely give the rings a quick spray of oil before going in the oven and after turning them over – Kam forgot the next night while cooking leftover onion (or I forgot to tell him) and they were burnt 🙁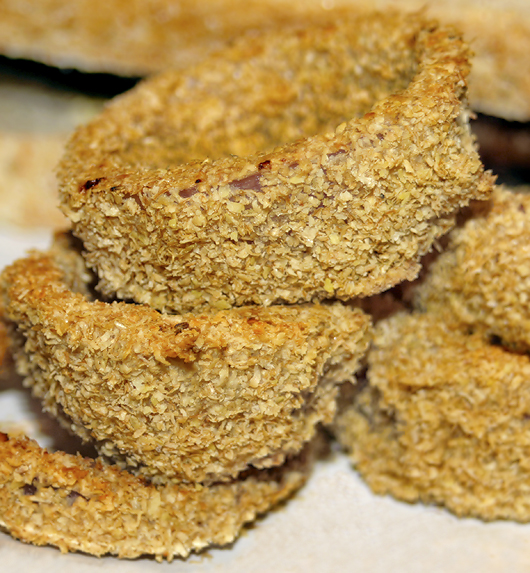 [fb-like-button]
Fun-ion Rings
Adapted from Appetite for Reduction: 125 Fast and Filling Low-Fat Vegan Recipes by Isa Chandra Moskowitz
(Vegan, dairy-free, soy-free, nut-free; gluten-free with substitution)
2 large onions (red works really well!)
1/2 cup + 2 tbsp whole wheat flour (gluten-free plain flour  for gluten-free snack)
2 tbsp arrowroot (or cornstarch)
1 cup cold non-dairy milk
1 tsp apple cider vinegar (I would suggest 2)
1 cup wheat germ (gluten-free breadcrumbs for gluten-free snack)
1 tablespoon ground Himalayan or celtic sea salt
2  tsp olive oil
Slice the onions. Separate the rings and put aside. Preheat the oven 220C and line a baking sheet with baking paper.
In a large bowl add flour and arrowroot, add half the milk and use a fork to dissolve.Add the remaining milk and vinegar and stir to incorporate.
In another bowl combine the wheat germ and salt. Drizzle in the oil and use your fingertips to mix in well.
From left to right dip the onion rings in the 1st bowl of batter, let the excess drip off and add to the crumbing bowl, coating evenly. Transfer each onion ring to the baking tray
Spray the rings lightly with non-stick cooking spray and bake for 8 minutes. Turn the rings, spray lightly with oil again and cook for a further 6 minutes until slightly browned and crisp.