Sometimes you just really crave biting into a cookie. Other times you discover you have 3 opened bags of cranberries in your pantry and need to make something with them before you forget and buy even more! Then other times you buy a book called  The Vegan Cookie Connoisseur. So many cookies!!!
A beautiful book, it's hard to know where to jump into cookie-making. Brownies and blondies and choc chip, oh my! Not a fan of the refined sugar, refined wheat flour and margarine used in most of the recipes, I do find myself substituting a lot even if I stick to the general vein of the cookie. Here I replaced 1/2 cup white sugar + 1/4 light brown sugar with just 1/3 cup agave, 2 1/4 cup white flour with 2 cups spelt flour + 1/2 cup rolled oats for extra fibre and a chewy texture. Canola oil was also swapped out for grapeseed and soy milk with almond milk. Perfection!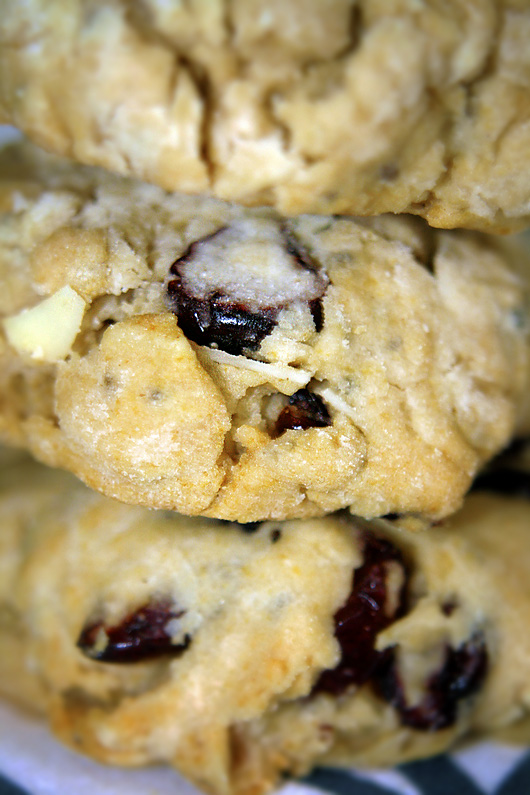 Generally not a fan of anything almond flavoured, Kam called these cookies 'amazing' and even 'scrumptious', going back to the cookie jar the moment he had finished chewing the last mouthful.  Studded with sweet cranberries and the tender chewiness of oats these were just what my sweet tooth was calling out for, lucky it makes a large batch!
[fb-like-button]
Spelt Cranberry Almond Cookies
(dairy-free, egg-free, soy-free, wheat-free, vegan)
Author:
Alison Murray @ Om Nom Ally (Adapted from The Vegan Cookie Connoisseur)
Ingredients
½ cup coconut oil
⅓ cup maple syrup (or agave syrup)
⅓ cup almond milk (or other non-dairy) plus 2 tsp chia seeds - mixed together and left to stand for 5 minutes
¼ tsp vanilla extract
½ tsp almond extract
2 cups whole spelt flour
½ cup rolled oats
1 tsp baking soda
¼ tsp salt
⅔ cup slivered almonds
½ cup dried cranberries
Instructions
Preheat oven to 180C. Stir together oil, agave and milk/chia combo and extracts in large bowl.
Combine flour, oats, baking soda, salt, almonds, cranberries in another bowl. Gradually add dry ingredients into wet until well incorporated. Add more milk if mixture it too dry. Knead in cranberries and almonds if necessary.
Roll tablespoon amounts of dough into balls, flatten on lined baking sheet. Bake for 12-15 minutes, let cool on tray for minute then transfer to wire rack to cook completely.
Notes
Gluten-free : Substitute wheat flour with gluten-free plain flour, gluten-free pastry flour or white rice flour. Substitute rolled oats with rolled rice or quinoa flakes.