I have internet again! After moving finally the other week, our internet bungle has been fixed. You have no idea how much how much you miss it until you start getting cold sweats from not being able to visit your favourite websites.
Even without working internet to entertain me, I've had a new kitchen to play around with and a fancy oven to conquer. Our last oven was always out 40C and left me in tantrums;  this one seems a lot less temperamental thankfully. Cookies have come out looking and smelling wonderful. I've baked a cake that barely lasted 2 hours out of the oven and a tray of crackers were dip-tastic. The oven has got all these fancy features, but no manual (and I can't find it online), but so far so good.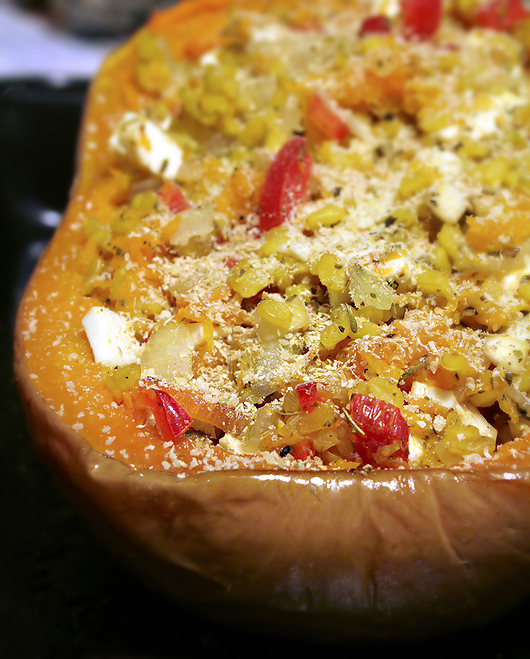 I've also had stuffed pumpkin in the oven, an easy and hearty dinner when filled with leftover brown rice and some vegies. Butternuts are a fantastic pumpkin for stuffing. Their bulbous, pear-shaped body makes it easy to scoop the flesh out after baking and the taste is delightfully earthy and sweet. You can dig straight into the pumpkin shell with a spoon after the second baking time or, if you must, you can serve out hearty portions next to a green salad or other roasted vegies.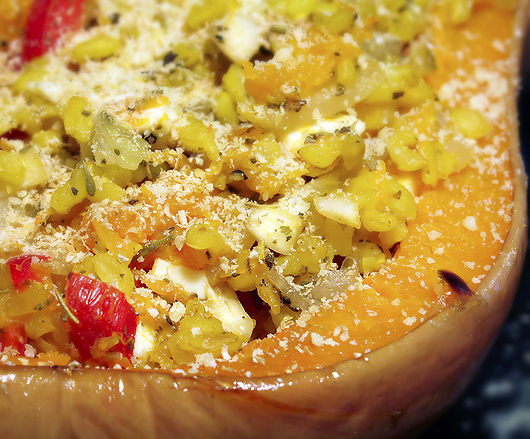 Brown Rice Stuffed Pumpkin
Get stuffed - pumpkin that is!
Author:
Alison Murray @ Om Nom Ally
Recipe type:
Main, Grains
Ingredients
1 medium butternut pumpkin
2 tsp oil, or cooking oil spray
1 cup cooked brown rice
½ medium red onion, finely diced
1 medium red capsicum, finely diced
2 cloves garlic, finely minced
2 tablespoons Italian dried mixed herbs
1 tsp salt
½ tsp ground black pepper
½ cup crumbled feta cheese
¼ cup wheatgerm/breadcrumbs (gluten-free breadcrumbs for gluten-free meal)
Instructions
Preheat oven to 200C. Cut pumpkin in half lengthways, scoop out seeds and discard. Spray or rub each half of the pumpkin with oil (approx 1 teaspoon per half).
Place pumpkin halves face-down on a baking sheet, bake for 45 minutes or until tender.
While the pumpkin is cooking prepare the stuffing ingredients - in a large bowl, combine onion, red pepper, garlic, spices, feta and the cooked brown rice.
Remove pumpkin from the oven at end of cooking time and let it cool slightly until able to be handled. Scoop the flesh out of the baked squash halves, leaving a 1-2cm wall intact to hold the filling.
Mash the retained pumpkin flesh and add to the stuffing ingredients, mixing well. Distribute the stuffing between the two pumpkin halves, sprinkle with wheatgerm or breadcrumbs.
Bake the stuffed squash for an additional 20 minutes until the crumbs are lightly toasted. Cut each pumpkin shell in half widthways again and serve with garden salad.