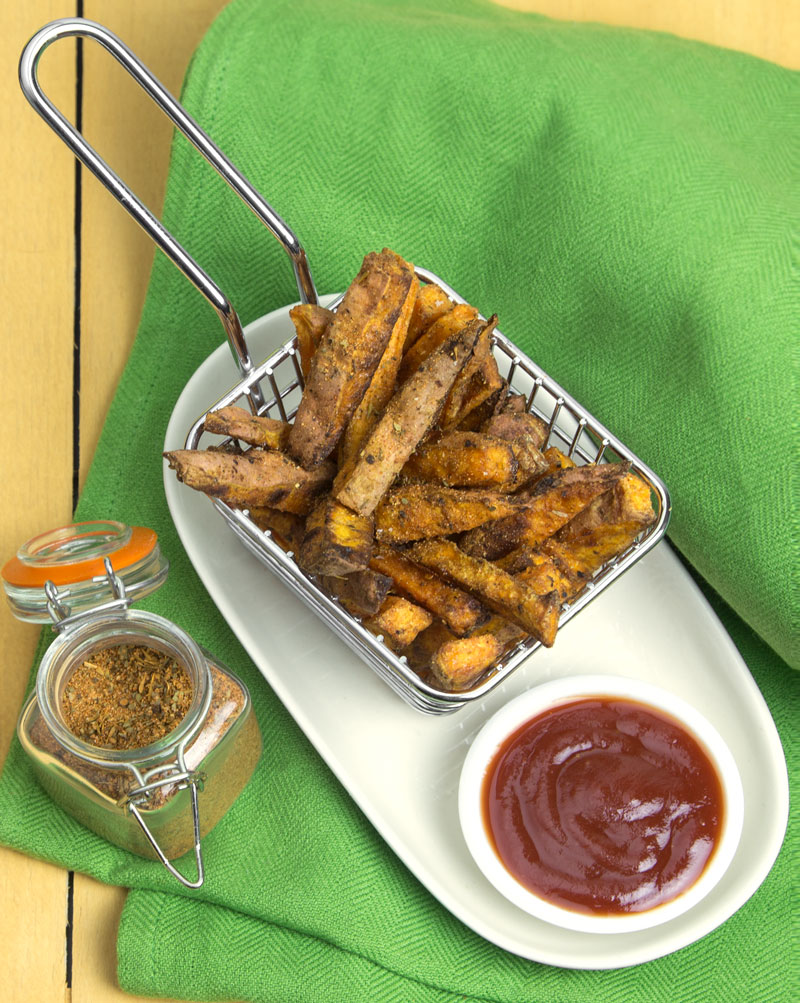 This week I finally discovered how to make the best-ever super crispy sweet potato fries! Sure, we've had plennnnty of sweet potato fries in this house (add Cajun seasoning and it's been my go-to studying snack for years) but I had never really perfected the crunchy-on-the-outside and soft-on-the-inside result I wanted. Normal potato fries are a cinch, I just toss cut potatoes with oil and seasonings and chuck in the oven for 40min (turning once) for fool-proof results. But sweet potato fries? That's been a whole other ordeal!
No matter what I tried – longer cooking time, higher cooking temperature, turning them more often, parboiling or presoaking before baking – my sweet potato fries always turned out pretty soft or soggy. Yes, they tasted as delicious as roasted sweet potato always does with a kiss of salt and spices, but I wanted crunch! Crunch, I tell you!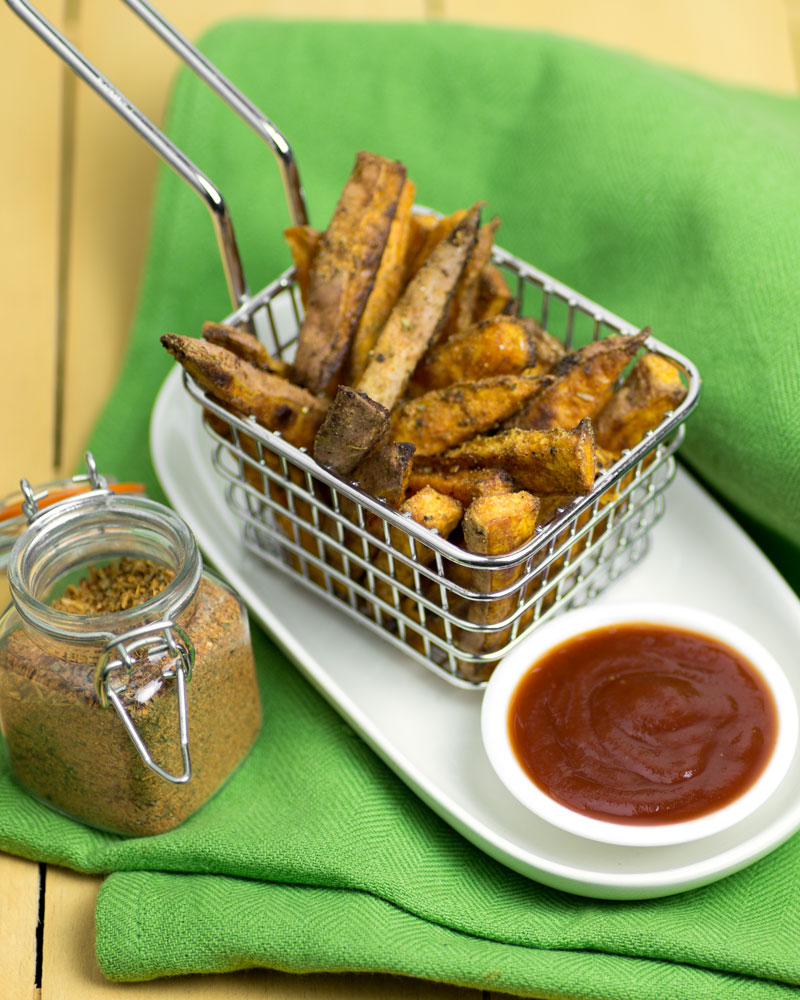 So, I asked the universe for crunch, and crunch has been delivered to me! I found this recipe post that guaranteed the best ever crispy baked sweet potato fries and my whole life has suddenly changed for the better. Ready to learn the secrets of my very own Foodie with Family inspired sweet potato fries?
The recipe instructional I followed did a lot of things similar to my current approach – namely cutting the fries uniformly as well soaking them in water before baking. These two steps are important as the former allow all the fries to cook evenly in the oven, while the latter helps to remove some of the natural starch content from the sweet potato. This of course aids turning your sweet potato into pillowing soft fries on the inside and crispy goodness on the outside. What's the next magical step then for extra crunch? Good ol' tapioca starch.
It's something that had never occurred to me but makes perfect sense; coating your fries in a super-thin layer of starch utilises the same technique that makes fried food so crispy (i.e. it's the floury batter that is cooking and getting crunchy). So by shaking your fries around with tapioca starch before baking you get an invisible coating that's the perfect base for your favourite oil (try coconut or grape seed oil) and seasonings. Genius!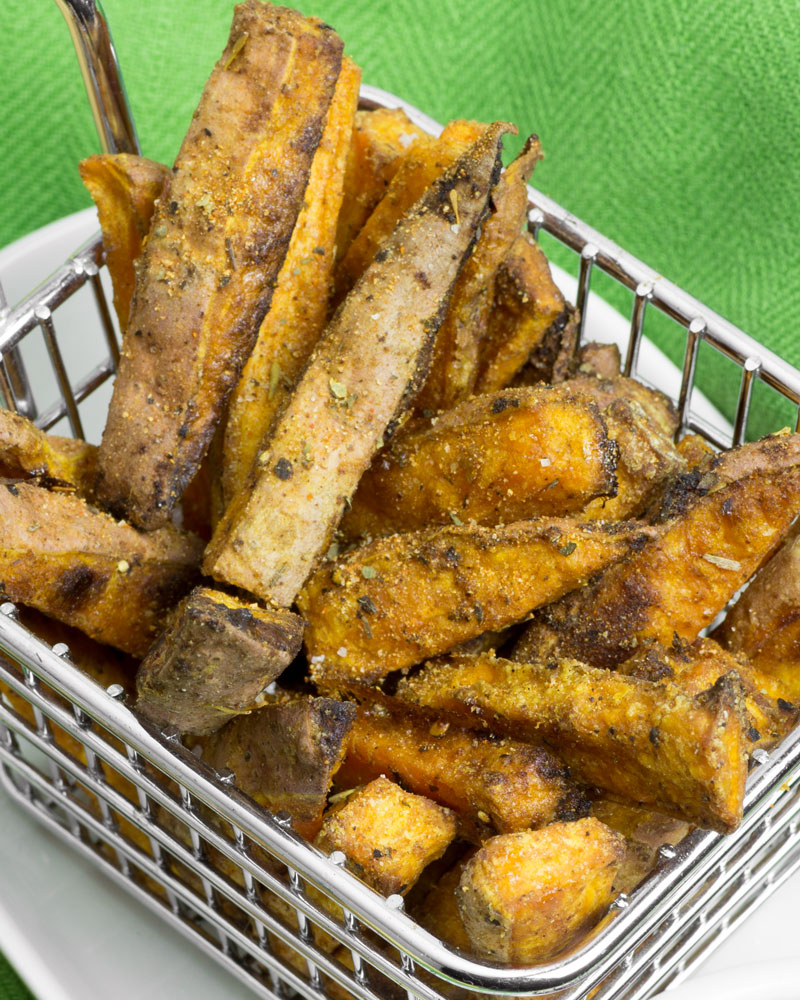 After this process everything starts to look more familiar again – lay out in a single layer on a lined baking sheet (they recommend aluminium foil, I use baking paper) and turn once during cooking. Make sure to turn the whole pan around too, as all ovens experience hot and cold spots. The last great piece of advice? After baking, let the fries cool on the baking sheet, in the oven, with the door ajar for a while to maximize crunchiness. It really does work, I tried it several times to super, super, super make sure 😉
So now I know to follow the six simple rules for super crispy sweet potato fries:
Cut your fries uniformly. Even size = even cooking.
Soak them in water to remove some of the starch.
Pat dry and toss with a small amount of tapioca starch (or potato/corn starch – non-paleo).
Toss again with a little oil and desired seasonings.
Don't crowd the baking tray!
Turn the fries once during baking. After baking let them cool for a few minutes in oven with the door open to crisp up even more.
The only decision we've got left to ponder is what seasoning we want for our fries? I've already mentioned how much I love Cajun seasoning, so it was a bit of as no-brainer
Ready to try a batch with some smokey, spicy Cajun seasoning and get your healthy vegan, paleo and gluten-free snack on?

Super Crispy (Baked) Cajun Sweet Potato Fries
A recipe for crispy baked sweet potato fries - that delivers what it promises! Make these paleo, vegan and gluten-free sweet potato fries and get your snack on.
Recipe type:
Sides, Snacks
Cuisine:
Dairy-free, Gluten-free, Nut-free, Paleo, Vegan, Vegetarian
Ingredients
1 large sweet potato
½ tbsp tapioca starch
1 tbsp coconut oil (melted) or grape seed oil
½ - 1 tbsp Cajun seasoning
Instructions
Preheat oven to 220C and line 1-2 large baking trays with baking paper.
Clean sweet potatoes under running water with a potato or vegetable brush. Cut evenly into 1cm thick matchsticks and place into a large bnowl of water to soak for at least 1 hour.
Drain and rinse, then pat dry with paper towel. Transfer to a large bowl and sprinkle thoroughly with tapioca starch, then toss thoroughly to coat all fries with a very thin and light coating. Add oil and seasonings and toss again to coat well.
Alternatively, add fries and tapioca starch to a large plastic freezer or zip lock bag. Hold top of bag closed and shake fries until finely coated with starch. Transfer into large bowl and proceed to toss with oil and seasonings.
Place fries in a single layer on prepared baking tray/s, making sure fries are well spaced for optimal baking. Bake for 15 minutes, turn fries and rotate trays backwards and forwards, as well as from highest to middle of oven. Bake for a further 15 minutes.
Optional: After baking, turn oven off and leave door open ajar. Allow fries to cool on baking tray, inside oven for 10 minutes for an even crunchier result.
Serve with condiments of choice and a sprinkling of course Celtic Sea Salt