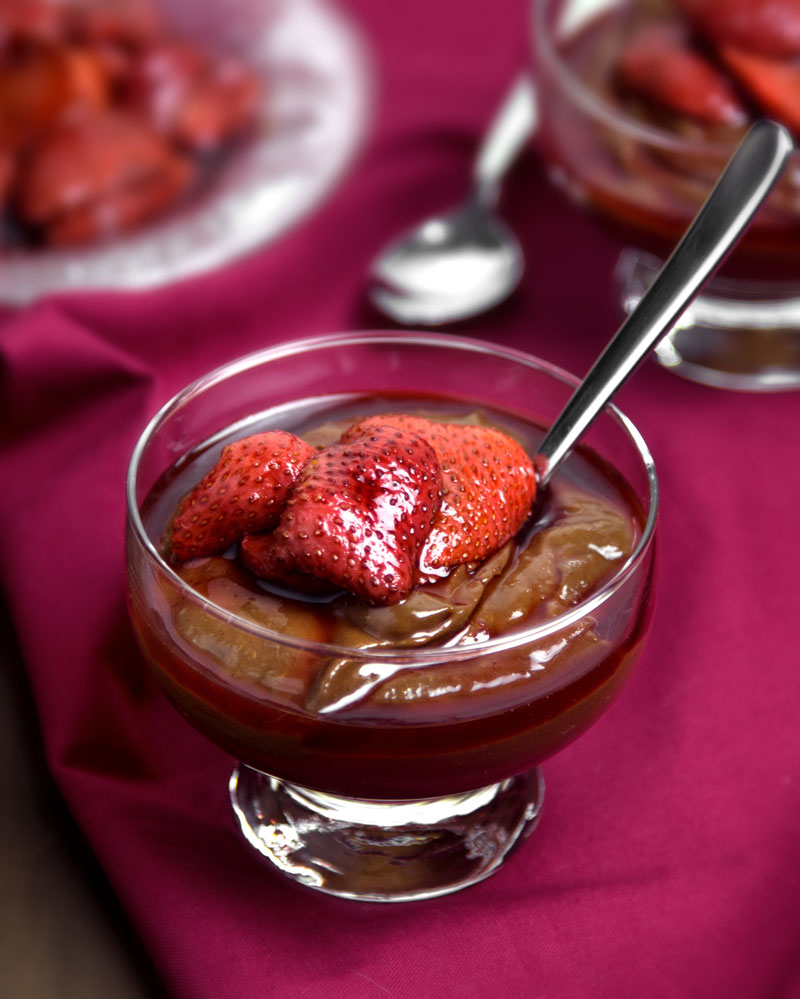 Welllll… It's a little difficult not to spoil the 'secret weapon' of this chocolate mousse, the reveal is right there in the post title! Prepare yourself to learn a little about the health and culinary benefits of all natural Date Vinegar (and vinegar in general) and then to whip up this deliciously vegan, paleo and deeply, dark chocolate mousse!
Exotic Date contacted me through the @OmNomAlly Facebook page the other day to try their delicious Date Vinegar and I jumped at the opportunity. We've got a few varieties in the pantry at the moment (including apple cider, champagne, white wine, rice and coconut), but date vinegar? Never heard of it!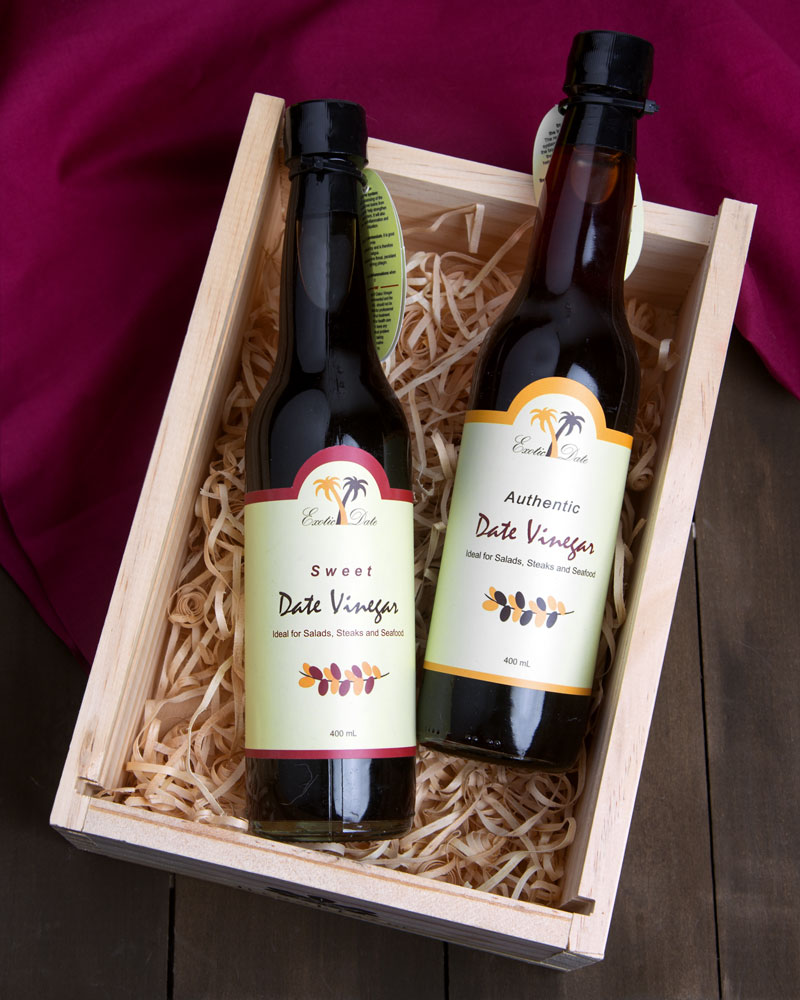 Well known in Middle Eastern cuisine, there are actually two varieties of Date Vinegar in the Exotic Date range (pictured above) which I've been lucky enough to sample. Exotic Date describes their Sweet Date Vinegar as being"reminiscent of authentic traditional balsamic vinegar… ideal for marinates, barbecues, salads and delicious with fruit cocktails". My first experiment for this vinegar was in a couple of  balsamic-style vinaigrette salad dressings as well as a steak marinade. I also found this sweet-style date vinegar was the perfect accompaniment for some syrupy, roasted strawberries. Doesn't that sound like bliss?
The fun doesn't stop there though, as Exotic Date also makes an Authentic Date Vinegar, described on their website as a "fruity date vinegar [with a] semi sweet taste". That sounds like my kind of condiment! It's recommended to use this one in place of vinegar in all recipes, so that's exactly how I taste tested it. A splash in my morning water instead of apple cider vinegar, a tablespoon in with a stew I made made one week and a batch of Instant Raw Applesauce. Even better, the Authentic Date Vinegar went straight into vegan chocolate mousse recipe as my not-so-secret, secret ingredient!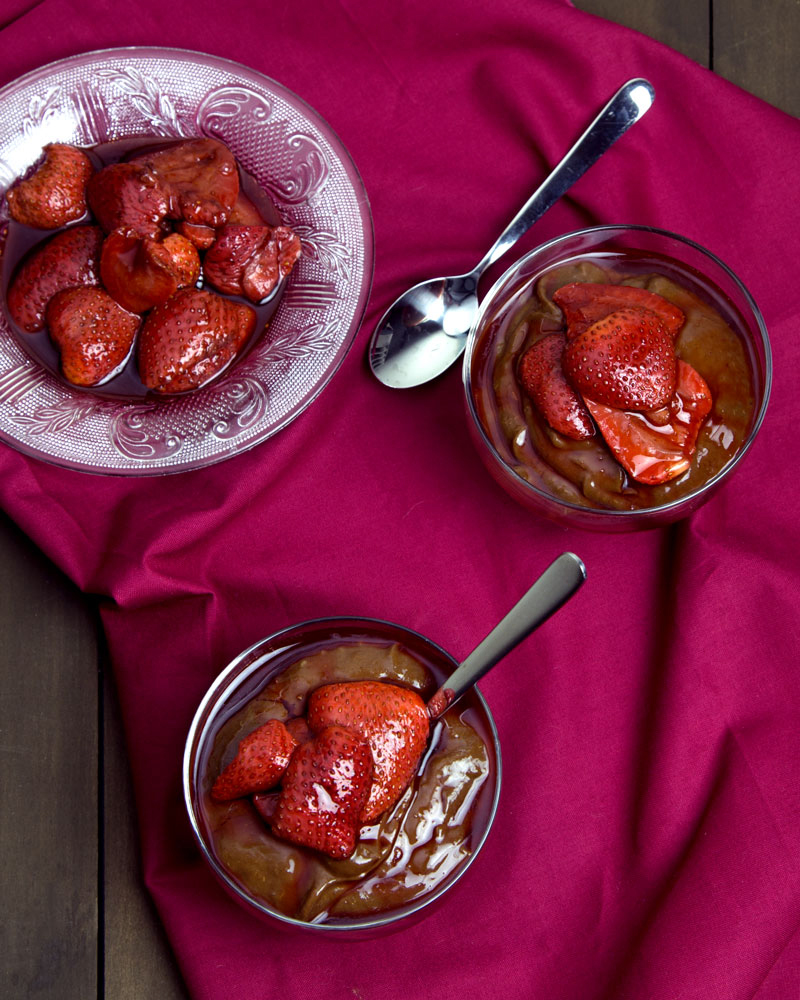 So now we know how to use these date vinegars in the kitchen, but what else are they good for? Not surprisingly, the health benefits of date vinegar are very similar to the benefits of dates themselves as both are high in potassium, calcium, iron and magnesium as well as vitamins B1, B2 and B3 (more info). Eating dates or using the vinegar may assist with cardiovascular health, a reduction in colon cancer risk, increases in reproductive function and fertility as well as a potent anti-inflammatory action (lots of research studies here).
In addition, ingesting vinegar in general has antimicrobial, antioxidant, antidiabetic and antiobesity effects (due to the presence of acetic acid and other phenolic compounds), that may be useful for the prevention of cardiovascular disorders and other chronic lifestyle diseases (read more here). If you've ever had vinegar in water before meals you've probably experienced the benefits of better digestive and elimination function, but did you know it's also wonderful for regulating your blood sugar levels and for preventing indigestion? Try 15ml in water (of date, apple cider or coconut vinegar) to get all those benefits and more!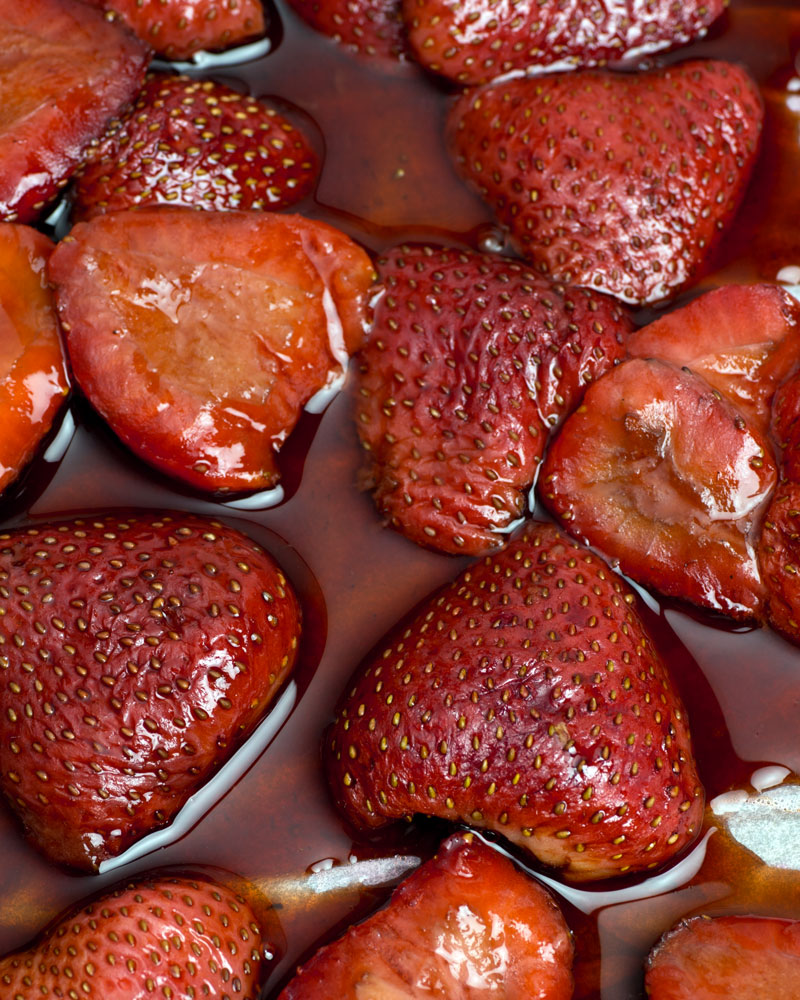 Exotic Date discusses all these benefits and more on their website, as well as a whole slew of recipes to use their Authentic and Sweet vinegar varieties. I actually considered recreating one of their recipe suggestions for this post – inevitably my love for chocolate overpowered that decision! I first came across the suggestion of pairing chocolate and vinegar from a client a few years back (you're right Sarah, it's amazing!), then was reminded after stumbling across this blog recipe.
The reason for the choc-vinegar pairing is that the acidity adds more depth to the chocolate flavour – with absolutely amazing results! The recipe I've linked above also uses soy sauce (for an increased umami flavour), but I've tried a couple of variations on this theme and don't find it's necessary at all. I've made my version with apple cider vinegar, white wine vinegar and now date vinegar so I'm also confident in recommending you can use any vinegar you have on hand. The result is a thick yet silky, deeply chocolate tasting, vegan chocolate mousse! You're going to love it 🙂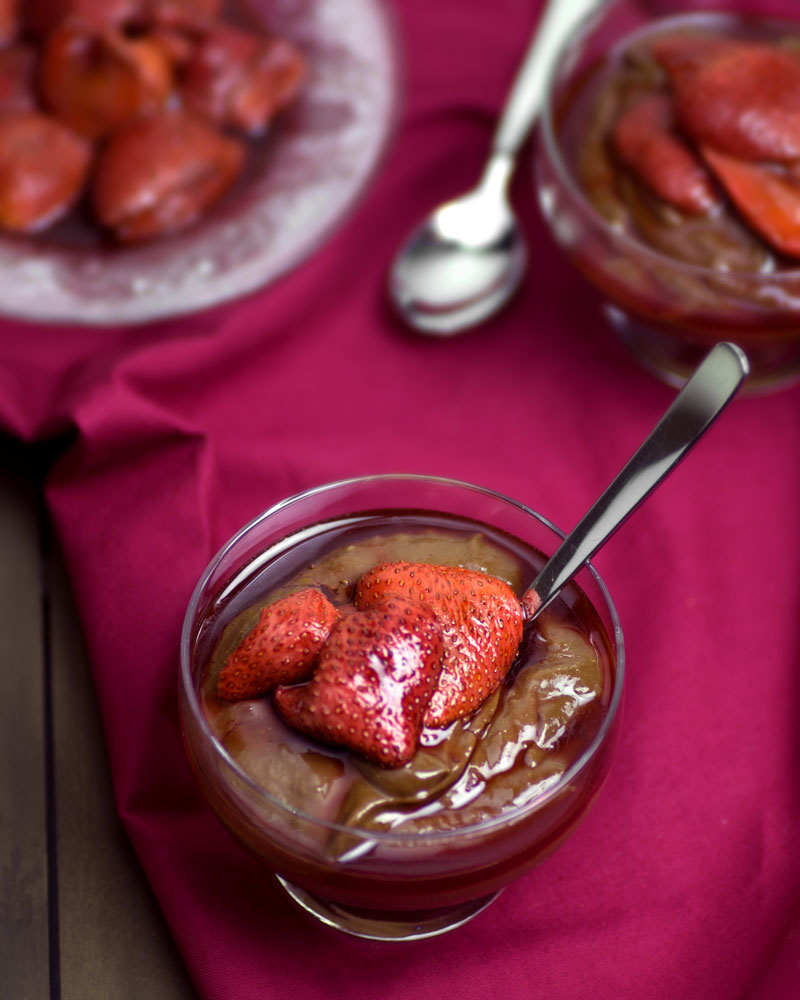 Now I didn't just stop with chocolate mousse for this review and dessert post – as this dish uses both my sample bottles of Exotic Date vinegar. Remember those 'balsamic-style' roasted strawberries I mentioned earlier? There's no better place for them than on top of chocolate mousse! Roasting strawberries with vinegar and coconut sugar really intensifies and transforms their unique flavour, resulting in syrupy punch of fruity goodness. We ate one punnet of strawberries this way over Greek yoghurt (and they would be delicious on their own, just pass the spoon), but they deserve to be spooned over this mousse. Chocolate mousse and roasted strawberries just belong together. 
Now you don't have to have Exotic Date vinegar to make either of these recipes, as other vinegar varieties can very easily take their place. Apple cider and coconut vinegar will help create a delicious deep chocolate mousse, and balsamic is perfection with roasted strawberries. I will tell you however that the two date vinegar I used absolutely added another level of flavour with their fruity characteristics and I was pleasantly surprised by how versatile these ingredients are in the kitchen. Ready to try date vinegar yourself?
The Authentic and Sweet Date Vinegar are available Australia-wide from selected health food stores, butchers and delis, retailing $13.90 per bottle. Head to the Exotic Date website for more information, stockists and recipe ideas – or get stuck into the recipe at the bottom of this post with Exotic Date or your favourite vinegar varieties!

Secret Weapon Chocolate Mousse
Author:
Alison Murray @ Om Nom Ally | www.omnomally.com
Cuisine:
Gluten-free, Dairy-free, Vegan, Paleo, Raw
Ingredients
Flesh of 1 medium avocado
1 medium banana
½ cup cacao powder
¼ cup maple syrup or coconut nectar (note: maple syrup not raw)
½ tbsp Authentic Date Vinegar (see below for substitutions)
1 tsp vanilla extract
Pinch of Celtic Sea Salt
Instructions
Add all ingredients to the bowl of a blender or food processor. Process on high until fully blended and smooth. Transfer to a large bowl, or two serving bowl and chill for at least one hour. Serve with Roasted Strawberries (recipe instructions below) or with sifted cacao powder, fresh fruit or shaved coconut.
Notes
Roasted Strawberries

Preheat oven to 150C and line a shallow tray with baking paper. Hull and halve 250g strawberries, then place in a small bowl.

Combine prepared strawberries, 1½ tbsp Sweet Date Vinegar (see below for ingredient substitutions) and 1 tbsp coconut sugar and allow to macerate for 10min.

Transfer strawberries and liquid to baking tray in a single layer. Roast for 30 minutes, or until softened and aromatic. Transfer strawberries and as much syrup as possible to bowl and chill in refrigerator until ready to use.
Makes 2 - 4 serves.



Vinegar Substitutions

Authentic Date Vinegar alternatives: Apple cider vinegar, coconut vinegar, white wine vinegar

Sweet Date Vinegar alternatives: Apple cider vinegar, balsamic vinegar, red wine vinegar