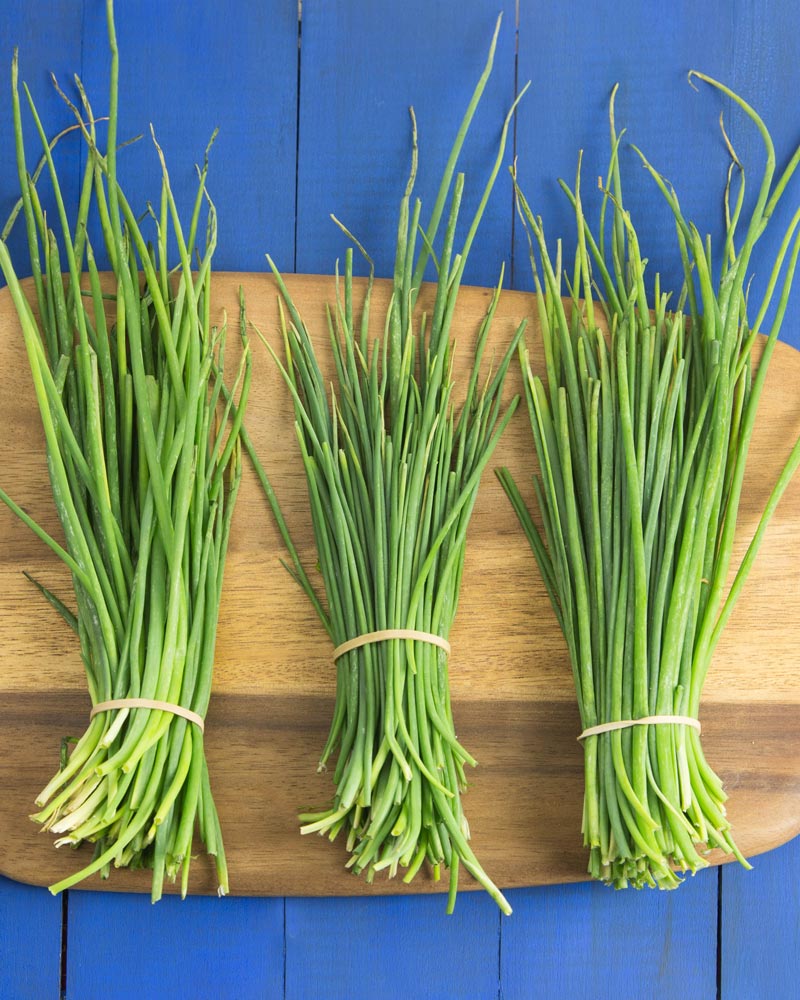 There are some pretty awesome perks to Kam working for a culinary herb grower, in fact there's three such perks illustrated in the photo above (yum, yum, yum) that he brought home this week. Sometimes he takes requests from me, depending on what's for dinner that night and sometimes he turns up with whatever didn't make the production cut that day (but still looks perfect to me!). It's funny that Kam's never, ever bought me a bunch of flowers in our relationship (yep, never), but as a wholefood cook I'm very happy to be surprised every few days with bunches of this or that for the kitchen.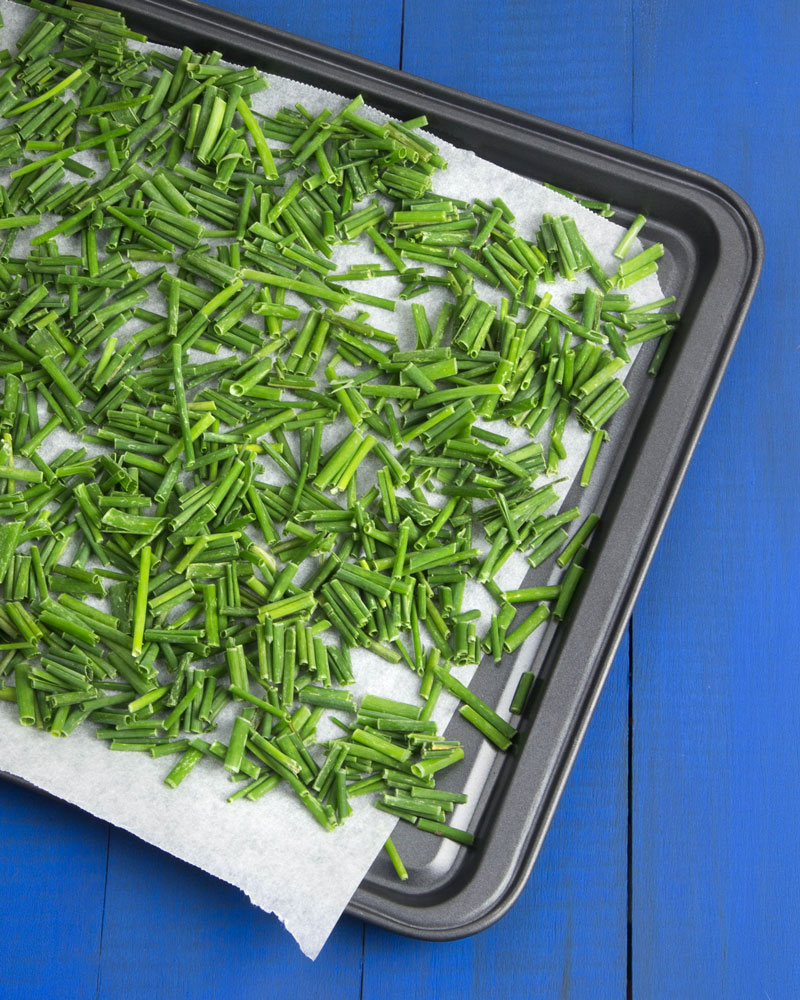 I like to think of chives as one of the easiest to use 'finishing herbs', perfect for sprinkling over all manner of meals thanks to their delicate oniony flavour that enhances everything they're mixed with. A plate of scrambled eggs, or a baked sweet potato is not a real meal until it's got a handful of chopped chives on top. Having said that, these three (large) bunches Kam brought home last week is a bit much for the two of us to get through before they start to wilt off. It looks like we need to talk about how to freeze fresh chives in order to preserve this glut!
While you could turn it into a delicious compound butter or dehydrated herb, freezing is definitely my favourite method to preserve fresh chives, as it means I can use the finished product in the same way I use fresh without any loss of flavour or texture. Chives actually freezes incredibly well thankfully thanks to it's hollow, tubular structure and while I've played around with freezing herbs with water, in oil, and in ice cube trays, I find they are chives are perfect for the flash freezing method. Simply chop fresh chives to desired length (you can see I like my long) and spread as a single layer on baking trays, to freeze for 1-2 hours, before moving to deep freeze in a sealed container. Foolproof right?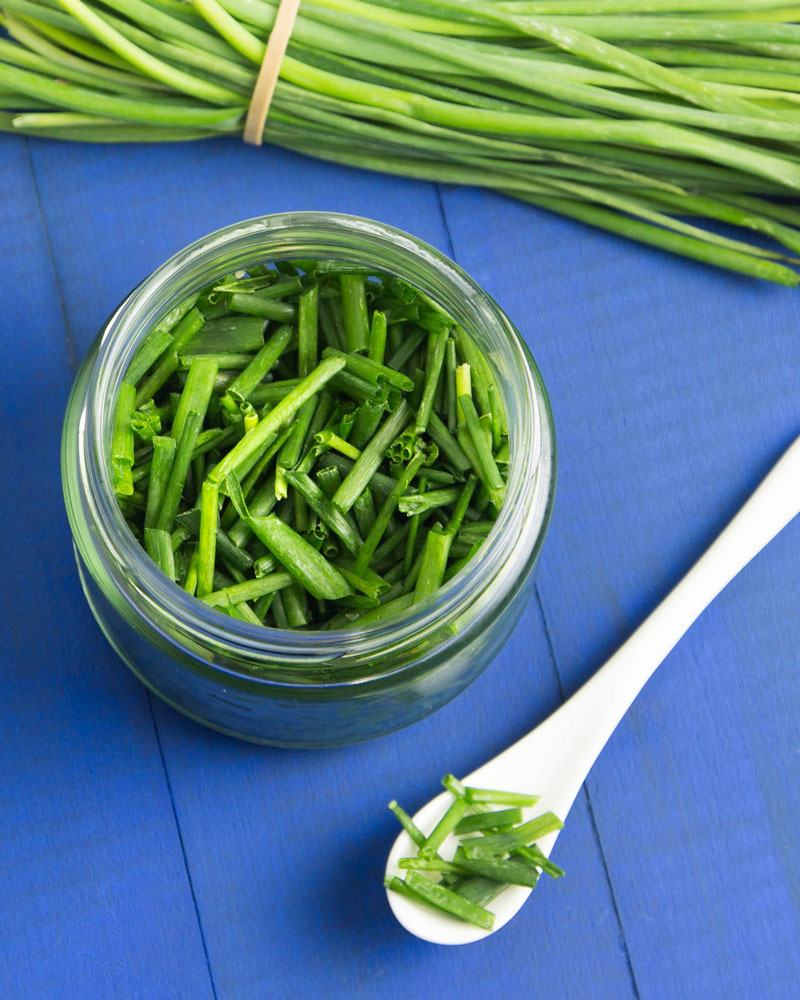 Using your this herb frozen is as simple as using it fresh, just spoon out your desired amount of chopped, frozen chives and smatter over all kinds of meals including savoury breakfasts, soups, stews and salads, or add to sandwiches or mix into fresh potato salad. Need more inspiration? Here's some other recipes I've got my eye on to use up this frozen harvest: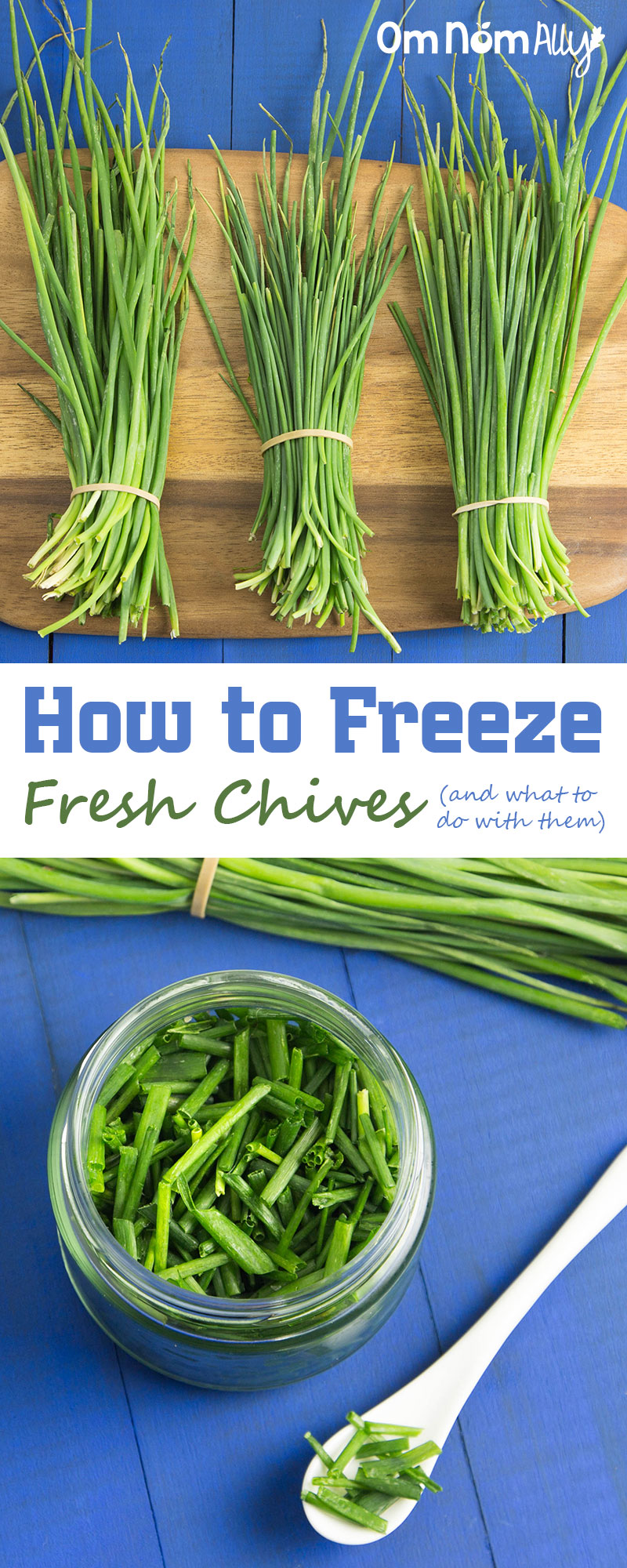 How to Freeze Fresh Chives
It's incredibly easy to freeze fresh chives, so you can preserve the harvest whenever you have a glut of this flavourful herb.
Author:
Alison Murray @ Om Nom Ally | www.omnomally.com
Ingredients
Bunch of home-grown or bought chives
Instructions
Line a baking tray with baking paper and leave aside.
Gently wash and pat dry fresh herbs to remove dirt or grit. Remove any withered, blackened or dried out sections and chop to desired length.
Lay chopped herb on prepared baking tray in a single, even layer. Flash freeze by laying flat in freezer for 1-2 hours or until completely frozen.
Transfer to sealed glass containers and keep in freezer for up to 3 months.
Notes
Use frozen chives straight from freezer (no thawing required):
Sprinkle generously over soups or stews
Add 1 tbsp into scramble eggs before/after cooking
Add to sandwiches and wraps for a flavour enhancer