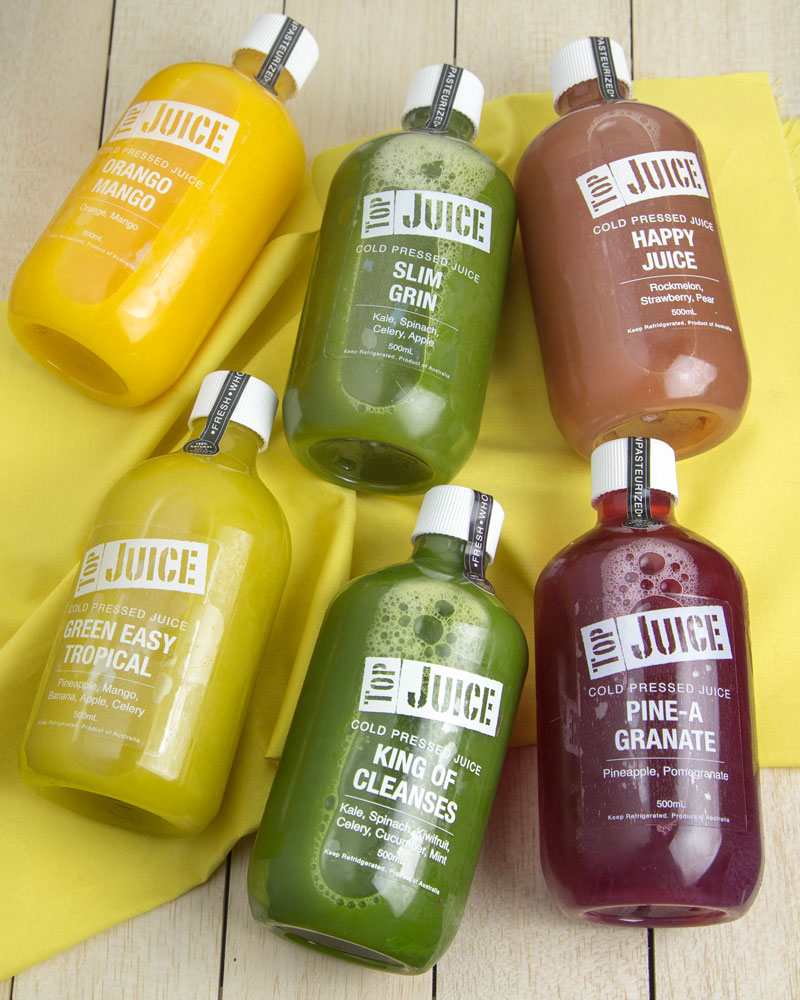 Talk about perfect timing. I had just started enjoying the (slightly) warmer weather and beginning to crave refreshing juices again, when I was contacted by Top Juice with an offer to try their amazing product range. Would I like to try and review six of their most energising and tasty juice creations? That's a no-brainer right there!
A chain of Aussie superfood and super-juice bars, Top Juice stores feature a huge selection of vibrant salads and healthy meals for all tastes and dietary needs. It's their bottled and made-to-order, cold pressed juices that they're famous for however and with alluring names like 'King of Cleanses' and "Slim Grin" I wished I could try every one of their exotic creation. Tasked with choosing only six flavours to review during my visit to the new Chadstone store, a I emerged victorious after fifteen minutes of deliberation, arriving home with a variety of old favourite ingredient combos and a few chosen due to their slick names (there's no way I could turn down a drink simply named "Happy Juice"). So what did I think?
Green Easy Tropical (Pineapple, Mango, Banana, Apple, Celery):
Containing highly anti-inflammatory pineapple, this was my first pick of flavours. I take bromelain tablets daily  since I started developing autoimmune issues and this tropical juice is very close to the ingredients I use in my cold pressed juices or smoothies at home.
Happy Juice (Rockmelon, Strawberry, Pear):
Rockmelon is one of my soul foods and I could eat it every day from now until the end of my days. I also loved that this bottle of sweet and refreshing juice listed the ingredient correctly, and not as cantaloupe. It's rockmelon forever!
King of Cleanses (Kale, Spinach, Kiwifruit, Celery, Cucumber, Mint):
This was a hard sell for Kam, as he generally avoids any green juice I make, no matter how I brighten it up with a little stevia, lots of berries of some fresh lemon or lime. Apparently the trick is to add mint however as he happily sipped this one at home before taking the remainder to work with him.
Kam: (reading label) Ewwwww kale juice…. (tasting juice) Mmmmmm minty!
Orange-Mango (Orange, Mango):
You can't go wrong with orange and mango as a flavour combination, and this one didn't disappoint. Fresh and fruity with a burst of tropical mango that reminds you summer is around the corner.
Pine-A-Granate (Pineapple, Pomegranate):
Another anti-inflammatory superstar, this pineapple and pomegranate juice was a nice addition to all the anti-inflammatory nutrients and herbs I'm on at the moment to get my CRP and ESR down.
Slim Grin (Kale, Spinach, Celery, Apple):
Another blend that's quite close to what I often make at home, I loved this flavour combination but wished it had a tiny bit of lemon as well to lift the flavour. This was my least favourite of the lot, but still fabulous.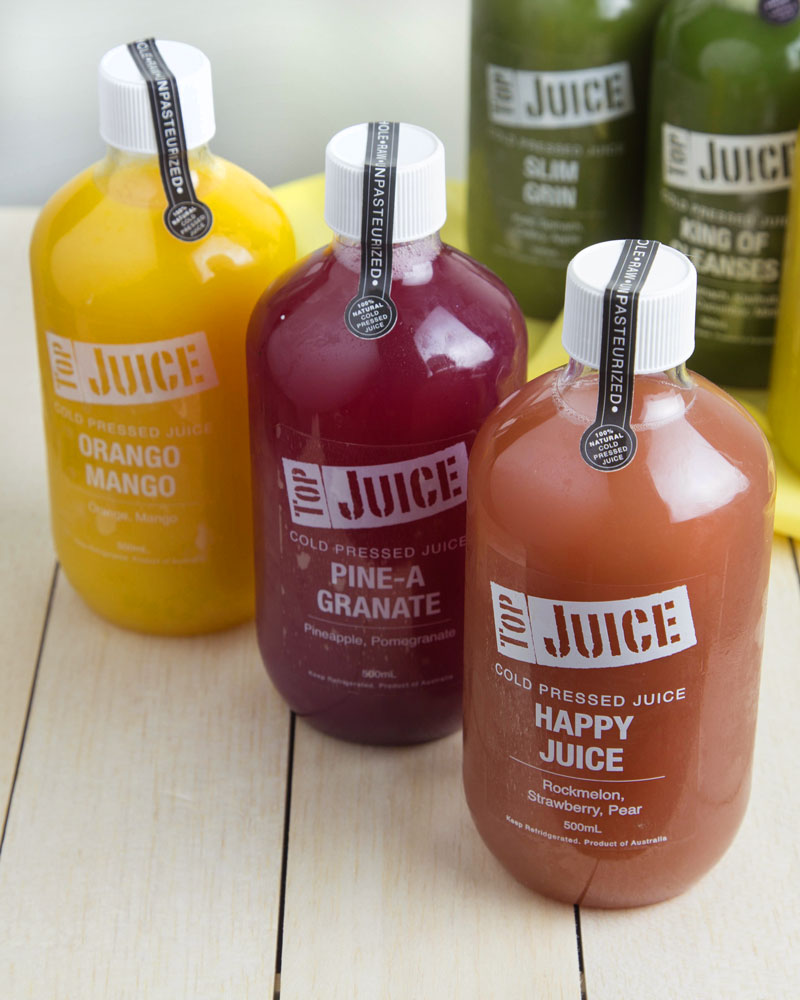 What I liked
No exaggeration, these juices are delicious and fresh, as if I had pressed them all myself at home. After trying a small portion of all of them, Kam and I drank a bottle in conjunction with our first two meals of the day as part of a mini cleanse. These are also a great single or double serving size at 500ml for around $5 – $8 each depending on what specials are running instore.
What I wasn't keen on
… Not much honestly, this stuff is delicious! The only issue I had was that the Monday I picked up my samples was also the use-by date on all the bottles I saw in-store. This meant that I technically only had the same day to drink all six drinks, though we ended up drinking the juices over a three day period  anyway (and they were perfectly delicious). While it doesn't matter as much for the situation where I would be grabbing a bottle to enjoy then and there, on this occasion I would have loved to have at least an extra day of expiry to enjoy the juices within the intended consumption dates.
I would recommend Top Juice for:
Anyone without the time, inclination or desire to make their own fresh-pressed juice, but still wants the best taste, quality and price possible. Anyone looking for healthy breakfast and lunch ideas and wants to pair it with a healthier energy drink full of vitamins and minerals. While I'll definitely be dropping by every time I shop at Chadstone, I do hope they open a store at my local shopping centre soon too!
Where to purchase:
Three Top Juice stores are located in the Melbourne CBD, though I went straight to the brand new Chadstore store, as it's so much closer to where I live in South East Melbourne. located in the lower food court of the shopping center.
There's also three stores in Queensland, though it's NSW customers who have the best chance of finding a local Top Juice, you've got a whopping 35 stores through metropolitan Sydney and south easter NSW. For more information, menu and location details, head to the Top Juice website or follow their fresh and funky Facebook or Instagram feeds.