If you regularly read this blog, it's no secret that I enjoy baking. Now, I'm not allergic to eggs and I don't find them loathsome – I love eggs! I do however use recipes for a gel egg as another way to include a range of wholefood ingredients in my diet; each with their own nutritional benefits. These different substitutes are extremely useful for egg-free and vegan baking and are also handy when you need to get creative during a missing ingredient catastrophe.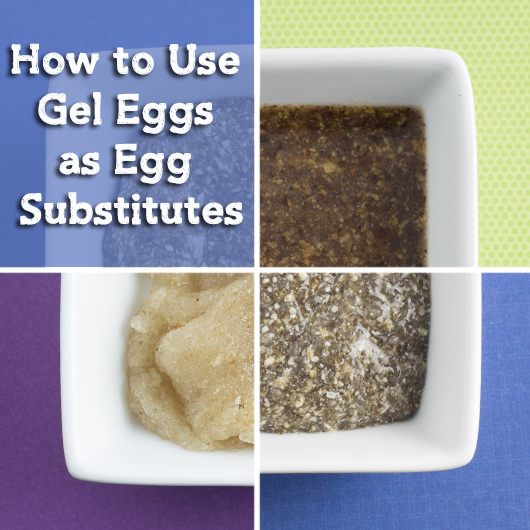 Think Outside the Box
I've tried boxed and branded egg substitutes in the past – and I whole-heartedly recommend you don't. With ingredients such as flour starches, calcium carbonate, vegetable gums including xanthum gum, or methylcellulose; these products are not real food, are highly processed and have very low nutritional value. You can get much better results from making your own simple gel egg replacers at home that will actually help to increase the nutrient content of your baked goods. The best part? You only need 2 ingredients for any of them!
What Do Eggs Do In Baking Recipes?
Eggs are the glue of baking. Eggs work as binders in most recipes and can provide moisture. They help to provide structure and rise to baked goods, as their alpha-nutrinocein content helps to create cohesion of dry ingredients.  Too few eggs and you get crumbling and very dry cookies, cakes or muffins. Too many and you get a gooey, wet mess.
The most basic necessity of an gel egg substitute then, is that it needs to be sticky. Very sticky. It needs to retain water and it needs to bind dry ingredients together, thereby creating structure in breads and muffins. Some of the best ingredients for the job then are two everyday superfoods, and a fibre better known as the main ingredient in Metamucil. That's right, I'm talking about humble chia seeds, flax seeds and psyllium husks. All of these ingredients make a delightfully viscious gel egg, suitable for all of your baking needs.
Types of Gel Eggs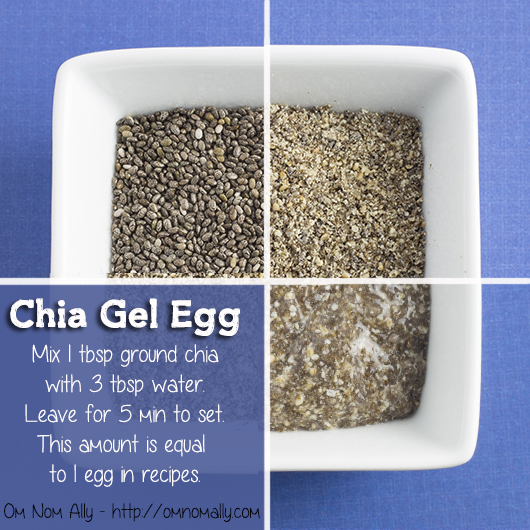 Chia Gel Eggs
Available from health food stores, chia seeds are my go-to gel egg for most recipes. I eat a lot of chia in my diet already and always have a big jar full on my kitchen counter. Chia seeds don't impart any flavour to your recipes, making it the best choice for any delicately flavoured baking products.
You can use the seeds whole but you'll be able to see them in the finished goods (and the seeds may get stuck in your teeth). This never bothers me and I generally use them whole, but you can also grind them down into a fine powder in a coffee/spice grinder to help it "disappear".
Chia seeds are more pricey than either flax or psyllium, but have the best nutrient content of all three with impressive amounts of omega 3 essential fatty acids, protein and fibre per gram.
Make it: Mix 1 tablespoon chia seeds with 3 tablespoons filtered or spring water. Leave for 5 minutes to gel up. This amount is equal to 1 egg in recipes.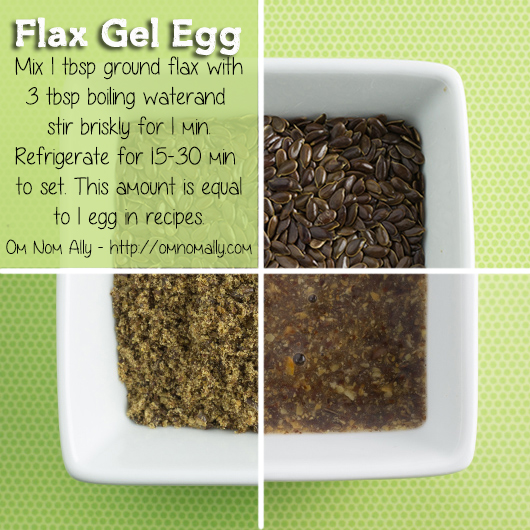 Flax Gel Eggs
Use in baked goods with strong flavourings or extracts, as flax has a stronger nutty flavour that is imparted on the final product. I always use flax eggs in banana bread and it's great in muffins, cookies and brownies.
Besides making the eggs seperately to add to a recipe, you can skip that stage and just add flax to the wet ingredients of any baking recipe. Try adding 1 – 2 tablespoon to any recipe in this manner to replace an egg. It's a fabulous binder when used in this manner – just don't get confused and add to the dry ingredients, you'll end up with crumbly baked goods.
While you can buy flax pre-ground, it's best to grind your flax fresh from whole seeds in  a clean coffee grinder. Ground flax can go rancid very quickly, so store any extra in a sealed container in the fridge. You can use whole flax seeds for your gel eggs if you want, but it's not easily digested – ground is best for getting the full benefit of it's lignans, fibre and omega-3 fatty acid content!
Make it: Mix 1 tablespoon ground flax with 3 tablespoons hot/boiling filtered or spring water. Whisk with a mini wisk or fork for 2 minutes and then refrigerate for 15 min-1 hour to thicken up. This amount is equal to 1 egg in recipes.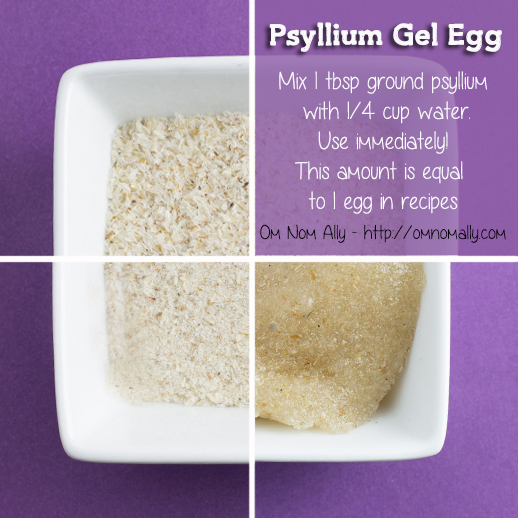 Psyllium Eggs
Use after grinding to a fine powder in recipes that you need to build "height". This is a great egg gel for desserts  such as custards, and yeasted or quick bread to help with rising and creating good structure. Make sure you buy pure psyllium husks from a health food store, while I've mentioned Metamucil in this post I don't recommend using it – the whole Metamucil range has some unsavoury ingredients including artificial colours and flavours, sugar/aspartame, maltodextrin and polydextrose.
Like flax, you can add this replacer straight to any other wet ingredients – use no more than 1-2 tablespoons and add all other remaining ingredients as soon as possible and bake. Due to it's high soluble fibre content it will suck up all the moisture in your batter and make for a very crumbly finished product if you don't get it in the oven fast enough.
Make it: Mix 1 tablespoon ground psyllium with 1/4 cup of water. Use immediately after mixing. This amount is equal to 1 egg in recipes.
General Tips for Using Egg Gels
When grinding seeds or psyllium, measure the amount you need after grinding to ensure accuracy.
You can make all the eggs for  recipe at once (e.g. a cake recipe that requires 2 eggs), you don't need to make each separately. So for a recipe for 2 eggs, mix 2 tablespoons of chia/flax and 6 tablespoons of water, then set aside to thicken.
Chia or flax gel eggs can make your baked goods brown more than normal, if you don't like the finished result trying using only white chia or golden flax seeds (both are available at your health food store).
For faster results, skip mixing with water and simply add 1-2 tablespoons of your chosen dry substitute ingredient straight to your baking batter.
Using more then 3-4 gel eggs can result in gummy baked goods. For recipe that require more than 3 eggs, consider using gel eggs in combination with actual eggs or with another substitute like mashed banana, cooked pumpkin puree or applesauce.
This post is linked to:  Clever Chicks Blog Hop, Meatless Mondays, Recipe Sharing Monday, Healthy, Happy, Green & Natural Party Blog Hop, Tuesday Greens,  Fat Tuesday, Natural Living Monday, Fresh Foods Wednesday, Allergy Free Wednesday, Real Food Wednesday, Waste Not Want Not Wednesday, Thank Goodness It's Monday, Mostly Homemade Mondays,