I get so excited when trying new ingredients and making a complete mess in the kitchen. Lately I've been enjoying the expanded availability of Bob's Red Mill products in Australia with the opportunity to try three flours (sorghum, teff and black bean) and creating a recipe pamphlet for customers at work.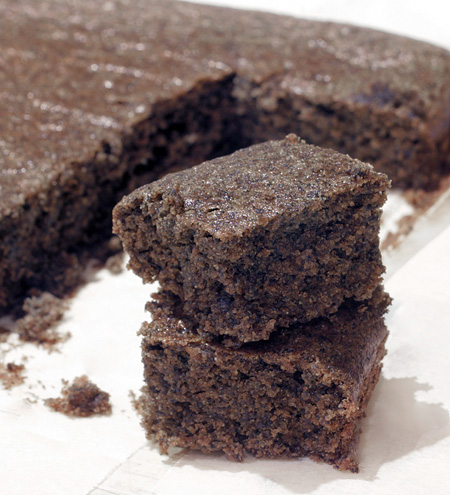 Out of the three new products I bought the black bean flour was by far the trickiest to use. A delicious, thick soup with onion, spices and herbs tasted amazing, but looked like gruel thanks to the flour's unappealing grey colour. Making a black bean dip seemed pretty ho-hum and I didn't find much inspiration online.  Having made brownies with black beans in place of flour in the past it was now time to turn the recipe back around.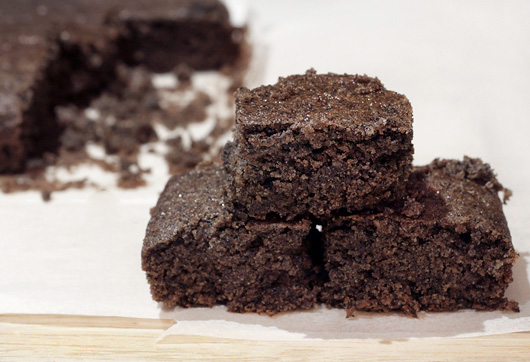 Going through my old recipe notes I had my brownie basics: dates and agave, raw dark chocolate, cacao and coconut oil. To create the fudgy texture I used half black bean and half quinoa flour. Quinoa flour in particular lends a beautiful moistness to baked goods and keeps them fresher for longer too. It's my go-to product for creating a finer and softer crumb, much in the same way I always reach for a cup of buckwheat flour for something heartier and more filling.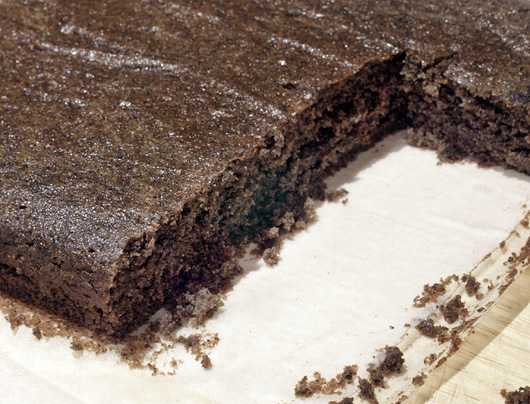 These brownies are so good a friend insisted they should be named "Ridiculously Incredible Not-Brownies" after enjoying a choc-mint version! I hope my neighbours enjoy the choc-orange version, I'm delivering them some as a thankyou for mowing our lawns last week, so nice!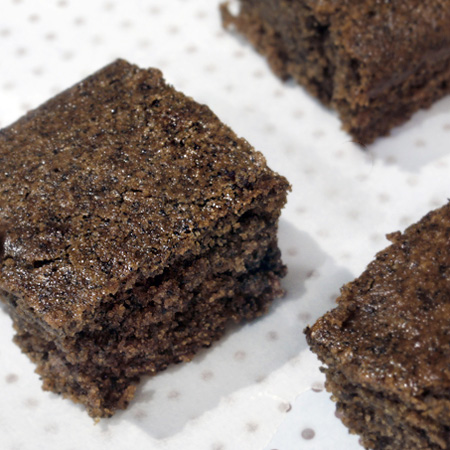 Fudgy Black Bean Brownies
(egg-free, gluten-free, nut-free, soy-free, vegan; dairy-free with dairy-free chocolate)
Author:
Alison Murray @ Om Nom Ally
Recipe type:
Dessert, Baking
Ingredients
12 dried dates or prunes
1½ cups water
⅔ cup + ½ cup dark or milk chocolate (separated), coarsely chopped OR ⅔ cup dark chocolate and ¼ cup cacao powder
½ cup coconut oil (or other oil or butter)
½ cup agave syrup (or ⅔ cup rapadura sugar)
1 tsp vanilla extract
1 cup Bob's Red Mill Black Bean Flour
1 cup quinoa flour
1 tsp baking soda
1 tsp salt
Instructions
Preheat oven to 175°C. Line a brownie or other deep rimmed tray with parchment paper.
In a small saucepan, simmer dates in 1½ cups of water until soft and rehydrated.
Microwave ⅔ cup of chocolate in a glass on high for 20 second bursts until melted (or use simmering saucepan as a double boiler to melt)
Blend the water and dates together before adding the chocolate, oil, agave syrup and vanilla. Blend until well combined and smooth.
Mix all dry ingredients together in a large bowl and add these to wet mixture. Add ¼ cup remaining chocolate or cacao.
Smooth into lined tray, using the back of a spoon to spread brownie mixture into corners of the tray. Bake for 35 – 40 minutes for a fudgy dense centre, or up to 50 minutes for a firmer bite.
Remove from oven and allow to cool in the tray before cutting into squares to serve.